5 Key Success Factors for Accessing the Market with Companion Diagnostics
October 09, 2020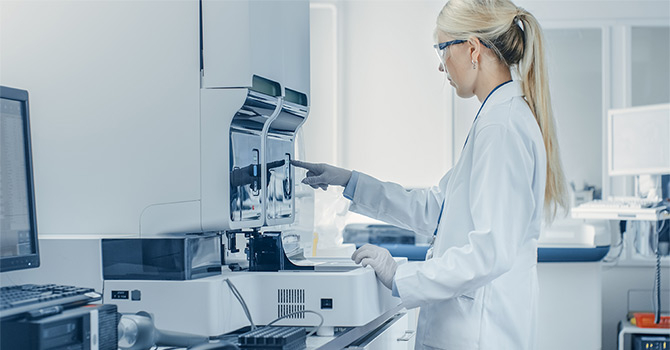 With precision medicine on the rise, more and more therapies that require a companion diagnostic to identify eligible patients enter the market. Securing funding and access for companion diagnostics is of growing importance for the success of these therapies. What are key success factors for a successful market entry with a therapy that requires a companion diagnostic?
Precision medicine has become a top priority for many pharma and diagnostics companies. Companion diagnostics, which are used to identify eligible patients for a specific therapy, are a key driver to enable personalized treatment choices and precision medicine. In recent years, this increasing importance is reflected by an evolving companion diagnostics landscape: First of all, the number of available companion diagnostics started to increase. At the same time, new test methods like NGS (next generation sequencing) are emerging. Furthermore, an increasing number of clinical trials includes biomarker stratification. Lastly, even though oncology used to be the main focus of companion diagnostics in the past, now more and more companies have started exploring opportunities outside of this area. We expect this development to continue in the future.
Considering all of the above, it has become a necessity for pharma companies to improve their understanding of market access with companion diagnostics.
Due to our industry experience, we were able to extract five key factors pharma companies should consider to ensure a successful market entry with a companion diagnostic.
1. Brush up your knowledge on CDx funding and how to influence it
The heterogeneous and evolving CDx funding landscape requires an in-depth understanding of pathways, stakeholders, and decision drivers. It is important for pharma companies to identify any funding gaps and opportunities to directly or indirectly influence funding.
This is not an easy undertaking since various countries have very different approaches to fund companion diagnostics. Generally speaking, they can be divided into two groups:
Predominantly budget-based countries like Spain or the UK where cost of testing is funded out of budgets and no specific funding amounts are allocated for specific tests.
Predominantly code-based countries like France or Germany where cost of testing is reimbursed via a list of outpatient tariffs and specific reimbursement amounts are allocated for each tariff/code.
While some countries, e.g. Netherlands or Austria, show characteristics of both funding systems, each country typically displays stronger characteristics of one system over the other.
On top of that, the degree to which the funding decision for the drug (Rx) is linked to the funding decision of the CDx varies strongly across countries:
In countries with a strong, formal link like Germany or the UK, the evaluation of the Rx takes the CDx into account. A joint or integrated process assesses drug and the CDx. The decision to fund the drug mandates funding of the CDx.
In countries with limited or no link, like Spain or France, the decision to fund the Rx is mostly separate from the decision to fund the CDx. Different stakeholders are involved in the decision-making. A positive funding decision for the drug does not mandate funding of the CDx.
But even though almost every country can be grouped along these criteria, decision making drivers still vary within each group.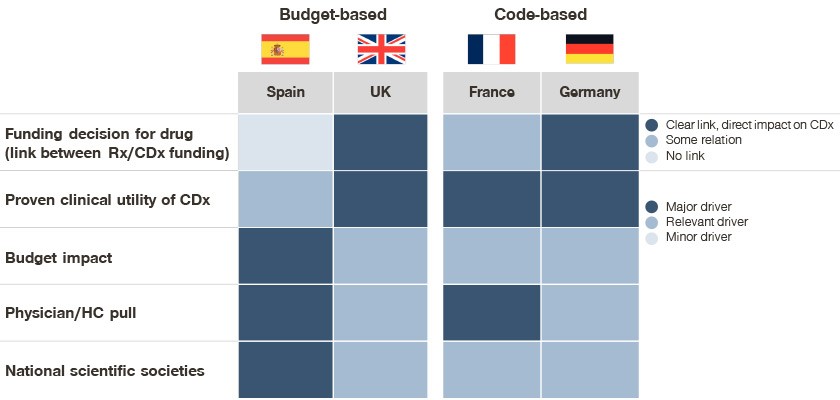 Because of this, there cannot be a one-size-fits-all approach to ensure the funding of a companion diagnostic. What makes it more complicated is that even within one healthcare system, different routes to funding exist. Depending on who the provider (public or private hospitals) and the payer (public healthcare system, private insurances, etc.) is, the funding pathway might vary. Due to this, funding gaps and hurdles for accessing funding as well as implications for market access diverge widely.
Not only are funding pathways incredibly complex, they are constantly undergoing a change process. First countries already started to combine the reimbursement processes for drugs and their accompanying CDx. Others started to introduce new funding and access pathways, e.g. UK with its genomic laboratory hubs. This heterogeneous and evolving funding landscape makes it absolutely mandatory to acquire an in-depth understanding of funding gaps, pathways, stakeholders, and decision drivers in order to successfully introduce a drug with a companion diagnostic to the market.
2. Be prepared to finance testing at least in the interim until funding is reached
The second factor for an effective CDx market launch is a broad access to testing at drug launch. To ensure that, pharma companies have to be prepared to finance testing in selected countries. Pharma funding is NOT expected in some countries, but very frequently observed in others. For instance, in Germany, funding of CDx by pharma companies is not common. Funding usually happens through existing/new EBM codes on a national level and is guaranteed following the G-BA evaluation of the associated drug. By contrast, in Spain, there is a strong expectation for funding of CDx by pharma companies at launch. Particularly when the CDx is new in the market and/or expensive, since CDx are funded out of hospital budgets. However, even in countries similar to Spain, over time, if testing becomes part of the standard of care treatment pathway and is recommended in guidelines, hospitals might be more open to fund.
3. Have a realistic expectation on achievable funding
Before encouraging the use of any specific commercial test kit for your drug, it is vital to have a realistic price expectation that takes market reality on achievable funding into account. But how to determine this realistic price? The price potential for CDx is driven by more than just their clinical value. To tell the truth, clinical value is often only a secondary consideration for price potential, especially in countries where the funding of drugs and their CDx is not linked. Additional important factors pharma companies need to consider are: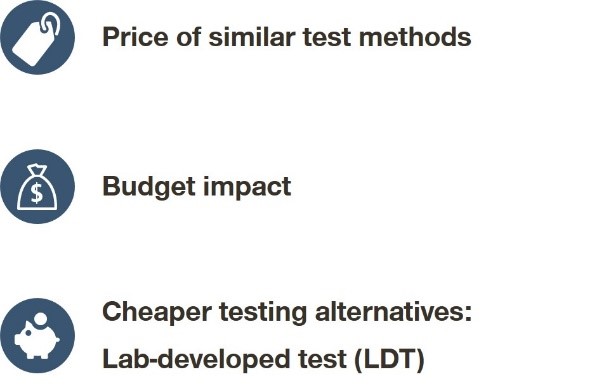 Each of these has different rationales. Making the price conditional of similar test methods caters to already familiar price benchmarks per method, i.e. immunohistochemistry (IHC), fluorescence in situ hybridization (FISH), Polymerase chain reaction (PCR) etc. in payers' minds. Also, tariff based systems typically design tariffs around test methods.
Looking at the budget impact when determining the price potential of companion diagnostics takes into account the payers concern about overall cost. In countries where CDx and associated drugs are assessed jointly, it is possible to additionally look at the yield rate of a biomarker and the resulting cost to identify one eligible patient for the drug.
Similar to the first factor is comparing the price potential to lab-developed tests (LDT). The drug's EMA label will not preclude use LDTs, which are common in some markets, e.g. Germany. Labs are more likely to use a LDT if commercial test kit costs are high.
So this is something to consider before encouraging the use of a specific commercial test kit at a specific price for your drug. If the price is out of line with market reality, usage and funding are difficult to achieve.
4. Consider market access barriers beyond price
But price is not the only thing that can prohibit a successful market launch of a drug with a CDx. Additional barriers that prevent access to companion diagnostic testing include:
Test method availability: If the platforms/devices required to perform tests are not widely available, access to testing is limited. Pharma companies might need to finance devices to ensure testing facilities are available or support through centralized testing.
No funding for a specific test method: Reimbursement systems in many countries explicitly exclude specific (typically more advanced) methods from funding. To remedy this, additional efforts to achieve funding have to be undertaken.
Central analysis: Not all countries will fund testing if samples are shipped outside of the country. This might result in no access to funding due to regulatory reimbursement requirements in some countries (e.g. France).
Taking all these additional challenges into account makes it sensible to pick the test with the least amount of extra barriers if you have the choice among different test methods for your biomarker. If there is no choice of test methods, pharma companies need to be prepared to support with test availability or to work on securing funding.
5. Ensure organizational readiness
Once you made sure to have understood funding landscapes, assessed the need to finance testing, determined a realistic price, and considered additional possible market entry barriers, there is still one vital part missing: the organizational readiness to plan and execute your chosen CDx market access strategy. Organizational readiness in multiple areas is key – pharma companies often experience low interest/ownership and lack understanding of CDx market access specifics. Three areas are of special importance:
Ensure internal stakeholder buy-in along the different functions, e.g. market access, commercial, medical, legal, …
Establish clear guidance on global vs. local interaction, e.g. with regard to the development of budget impact models and diagnostic payer facing value communication materials.
Secure or develop capabilities to approach and target new stakeholders (i.e. lab directors, diagnostics payers, scientific associations) and ensure sufficient resources to execute activities required to guarantee broad market access for the CDx.
Conclusion: Accessing the market with CDx is complex but possible
As you can see, entering the market successfully with a drug that requires a companion diagnostic is a complex undertaking. To ensure success, a market access strategy has to consider the heterogeneous and evolving funding landscape, the need to potentially finance testing, price expectation in line with market realities, market access barriers beyond price, and the organizational readiness to plan and execute your chosen CDx market access strategy.