Ask the Expert: Digitalization in Consumer Goods
December 06, 2017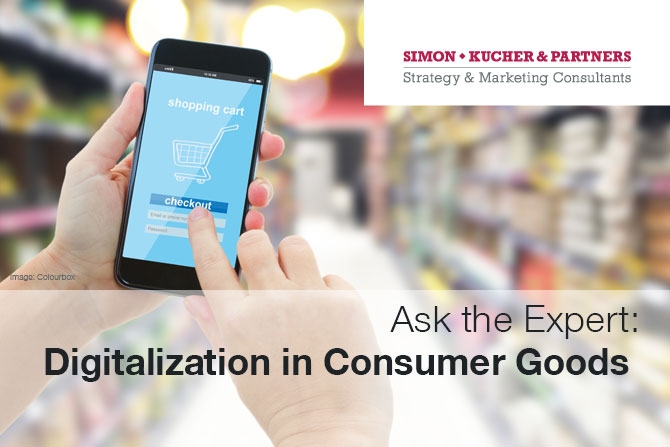 The digitalization of products and channels in the consumer goods industry has created new opportunities for companies to better serve their consumers while capturing willingnes-to-pay. Onno Oldeman, board member and managing partner, discusses successful digitalization strategies for the industry.
Simon-Kucher: Are consumer goods companies succeeding in digitalization?
OO: "Consumer goods companies have taken giant leaps in digital maturity, but they are definitely not there yet. Simon-Kucher's recent global research has shown that 79 percent of consumer goods companies have heavily invested in digitalization initiatives in the past years. But only 26 percent of the companies were able to achieve topline impact. This is a striking fact."
Simon-Kucher: Let's first focus on the traditional channel. What is the current state of digitalization in the retail industry?
OO: "Retailer investment in digitalization is on par with other industries. Pure online retailers' investments in online, which is just regular business for them, might slightly inflate the investments in digitalization by retailers overall. However, physical retailers are investing largely in digitalization as part of their omni-channel strategy. This is happening across food and non-food retail and all sub-categories, with differences in level of investment intensity. Companies in travel are miles ahead. What they are doing to spark interest and generate conversion, from orientation to transaction, is very advanced. In this case, it is not so much about digitalization, but about hyper personalization and mass customization. Tailoring your offering to the individual customer on a large scale. On digital maturity, all other categories are somewhere in between travel and food.
Simon-Kucher: What are the greatest challenges for consumer goods companies looking to digitalize?
OO: "Digitalization takes place on two fronts: Products and channels. Digitalization on the product level is about products transforming to actual digital products or through IoT. Channel digitalization is about digitalization of go-to-market channels for physical products. Different from other sectors, the digital transformation in consumer goods is mostly occurring on the channel digitalization front. Currently 30 percent of all purchases are made online, and growing as we all know. We are increasingly purchasing products online such as sports shoes, razor blades, clothing and groceries. This new customer journey needs to be effectively facilitated. The biggest challenge for the industry is dealing with online platforms, like Amazon, Alibaba and regional variations of these. The digital maturity of these champions is far ahead from consumer good companies and traditional retail, with regards to owning the customer journey, personalization, mass customization and dynamic pricing.
Simon-Kucher: What can we learn from best-in-class companies?
OO: "In our recent global survey, 18 percent of companies worldwide were clearly more successful than others in digitalization with investments focused on revenue and profit improvements. We identified the key success factors by researching these digitalization heroes to see what they are doing different. In summary, they are outperforming the rest on four fronts; strategy, marketing, sales and pricing. Strategy is simply about having a digitalization roadmap in place. Digital heroes have this in place 55 percent more often than others. It is quite remarkable that a large group still have not sufficiently thought about digitalization. Some companies think that an e-business plan is the same as a digitalization roadmap. We commonly see channel specific strategy, such as an e-commerce strategy to launch an online channel. In these cases, the strategy is not overarching across all channels. And that is exactly what digitalization is about."
Simon-Kucher: What are best practices in marketing and sales?
OO: "In marketing, data science is playing a key role, foremost focused on using data analytics for customer segmentation. The digitalization heroes use this competency 80 percent more than the others. This is of vital importance for switching from a product-centric to a customer-centric mindset. Many companies have product or category managers leading the way. I'm convinced that, five years from now, the majority of companies will have more customer segment managers. Especially considering the data availability about customers that we currently have.
In terms of sales, and customer journey specifically, digitalization heroes are also outperforming. The customer journey should be digital in order to effectively handle customer inquiries, transactions, and marketing campaigns. Many retailers are still thinking about customers that are visiting their physical stores. However, present-day customers are orientating online and want to be serviced cross-channel, and you need to be prepared for that." 
Simon-Kucher: How is pricing leveraged by digitalization heroes?
OO: "In pricing, it's all about dynamic pricing. The automation of pricing is what retail is moving towards. On average, digitalization heroes have a four times larger pricing team than other companies, according to Simon-Kucher's study. The key message is that developing skills is just as important as having the systems in place."
Simon-Kucher: Why is dynamic pricing so hard for traditional players?
OO: "Traditional retailers are indeed struggling. Their current business model is not designed for dynamic pricing, whereas for online players, it's in their DNA. Transitioning to the new omni-channel consumer journey is hard and requires serious investments. This is what we currently see in the United States. Large retailers are demanding from their suppliers that they contribute to the costs of implementing dynamic pricing. That illustrates the level of urgency."
Simon-Kucher: Dynamic pricing is easier to execute online than offline. Are offline retailers successfully implementing dynamic pricing?
OO: "Original online players excel in applying dynamic pricing, intelligently using market and competitive data to offer consumers the right price at the right time, and yes, at the right channel. That is the challenge for traditional players. You need to respond to the trend of webrooming, the on-the-spot price comparing of consumers. And let me be very clear: this does not mean that you need to have the lowest price point in the market. That is a race to the bottom.
You need to be fair and defendable cross-channel with your pricing to survive in this new digital era. Down to the store level, you need to be able to explain your price points at different outings and versus competition. Retailers and manufacturers need clear guidelines, especially for their salesforce, to deal with this trend. This is easier said than done because consumer goods companies most often need to fix a historically grown plethora of prices, trade terms and promotions, across regions, channels and customers. This is a multi-year journey."
Simon-Kucher: In a world in which retailers are competing with players like Amazon and Alibaba, is there still room for smaller players?
OO: "A disadvantage for large online platforms is the decrease in organizational flexibility and maneuverability. Smaller industry players have the opportunity to gain competitive advantage through service levels, developing unique concepts, and servicing niche markets."
Simon-Kucher: What does the consumer goods market look like in five years from now?
OO: "As indicated, the digital heroes are focused on the customer journey and continuously prioritizing the monetization of their value. This is the path to follow. In five years from now, consumer goods companies will be more capable in operating across multiple channels, especially in terms of service and pricing strategy. I expect eighty percent of retailers to have an omni-channel pricing and service strategy. Managing the omni-channel experience for the consumer, and embracing digital in their business will be a key driver for competitive advantage."