Building Materials and Technology: Future Growth from Service-based Offerings
October 08, 2020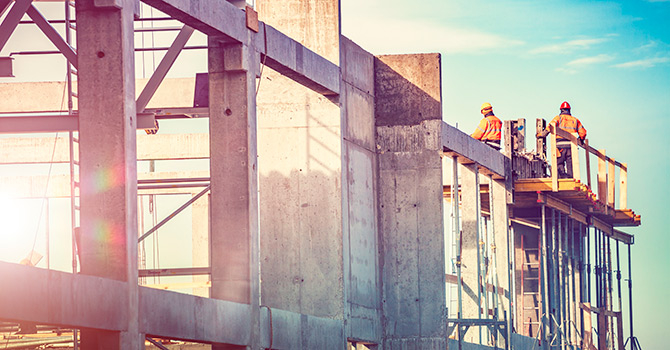 Companies that master the shift from making one-off sales to selling "outcomes as a service" can create competitive advantages and spur higher revenue growth. Some industries are more advanced than others in this regard. What could companies in the building materials and building technology industry learn from them? What matters for successful implementation?
Prior to the COVID-19 crisis, many companies across sectors faced a number of challenges: commoditization, price pressures, and stagnant growth. At the same time, Big Data and IoT-technologies had become increasingly practical and useful, paving the way for new service-based offerings. This trend is now even more relevant in the current situation, because service-based offerings help customers manage their costs and cash flows better.
In June 2020, in our new Simon-Kucher & Partner Servitization Study, we surveyed more than 200 managers and executives from commercial functions across multiple B2B industries on the benefits of service-based offerings. Our questions included:
What is the growth potential from service-based offerings?
What are the success factors?
What are the paths to success?
Hereafter, we reveal our insights and recommendations based on this survey.
Study shows growth potential from service-based offerings
Some 95 percent of companies interviewed expect their service revenues to at least double. On average, they expect service's share of revenue to increase from eight percent today to over 18 percent three years from now. Electronics and Machinery companies have the largest share of service revenues today (12 percent and 19 percent, respectively) but also see the greatest absolute potential. Chemicals and building materials companies currently show the lowest share of revenues coming from services (three percent each), but expect the strongest growth, with revenues' tripling in the next three years.
The magnitude of growth potential depends heavily on the type of service offered: Monetizing one-off service transactions such as planning, customization, delivery, or payment can increase service revenues by up to 130 percent, from seven percent today to 16 percent in the future. Lifecycle services with ongoing support such as insurance, maintenance, and repairs have a growth potential of 93 percent, from 13 percent share-of-revenue today to 25 percent three years from now.
These most disruptive solutions – and those with the highest absolute growth potential – are full-service solutions. In these cases, the entire business model centers completely on the usage of the product instead on the product as such. A simple B2C example is "Sell the light, not the lamp." In B2B industries, full-service solutions currently have the largest share of service revenues at 16 percent, but still provide a significant growth potential. Respondents expect the share of revenue to more than double to 32 percent (+102 percent) in three years. Examples include companies such as Ecolab or Solenis, which have moved from selling water chemicals to managing wastewater processes. Kaeser Compressors now charges based on usage of pressurized air. Innovative building technology companies such as dormakaba or AssaAbloy provide door-access solutions.
Top performers see three key benefits of service-based offerings
To understand what makes companies successful with their service offerings, we looked at the companies that already generate a significant share of revenues with services, which we determined to be the top ten percent companies with the highest share of service revenue. For these top performers, the three key benefits of service-based offerngs are higher customer loyalty and retention (87 percent), winning more deals with financially more attractive offers (73 percent), and better monetization of performance (67 percent).
The study also reveals that closeness to end-users enables higher service share of revenue. Companies with the strongest after-sales business report the highest service revenues, e.g. Machinery (19 percent) and Electronics (12 percent). They serve as benchmarks for other industries. Examples of their shifts include selling flying hours instead of jet engines, selling moves instead of cranes, and selling kilometers traveled instead of tires. But these models are still more exceptions than the rule.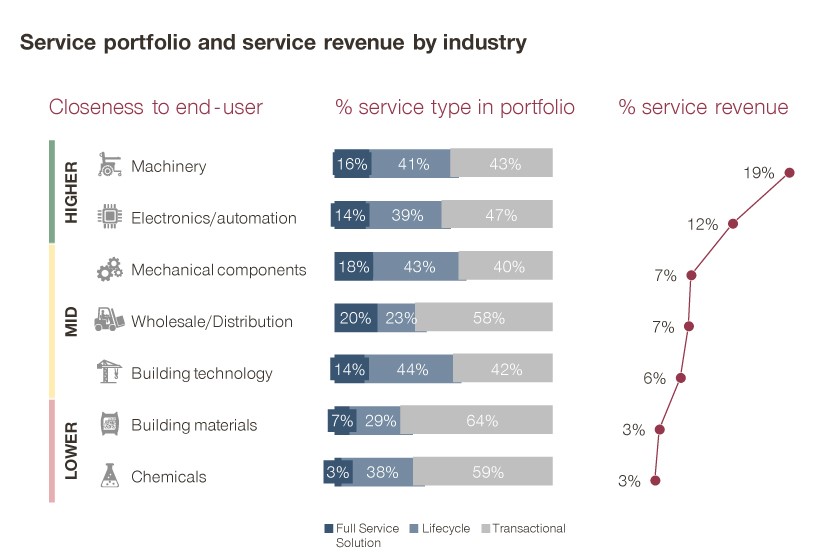 Figure: Service portfolio and service revenue by industry
3 success factors for service-based revenue growth
The typical journey to "outcome as a service" starts with getting closer to the customer. This means systematically improving and expanding the transactional service offering in aspects such as logistics services, training, and data delivery. Based on our experience, the three success factors are:
The sales skillset: For products, buyers typically have very precise ideas about the required capabilities and often the prices as well. When buying services, they seek a specific outcome like a more reliable delivery process or "peace of mind" when it comes to maintenance. It takes a specialized and well-trained sales force to convince the buying center of their ability to deliver that.
The value proposition: The customers' ability to capture the full benefits of a service offering varies, just as it does for products. The offer design needs to cater to these different customer needs and reduce purchasing barriers. A "basic offer" helps customers to get familiar with the offering, before choosing a superior service level.
The revenue model: Customers often have difficulties estimating the incurred costs for a new service. They are uncertain about their actual usage behavior and how it impacts costs. Defining the "right" revenue model is critical for adoption. We find that less successful companies underestimate the extent to which the direct link between the offer design and price metric (rather than the price level) drives adoption.
Many companies started their journey by offering services for free. We found that four of five companies currently struggle to charge for their services, in part because they view these services as a cost of doing business. They overlook a vital point: what is given away for free has no value!
How you can start tomorrow: 5 steps to increasing service revenue
Your first priority in response to COVID-19 is probably to keep cash on hand and mitigate risk as much as possible. De-bundling transactional services with "pay-per-use" models provides at least one type of quick-win to generate cash at the beginning of your service journey. These five steps will help you to define your "outcome as a service" opportunities more systematically and more precisely:
Revise your strategy: Service-based offerings can create new revenue streams. By mapping customer needs and evaluating market trends (including competition), you can identify and quantify the revenue opportunity from services.
Standardize your offer design: A standardized service definition is the prerequisite for selling any type of service proactively. Create a standardized service portfolio, define actions to fill potential gaps, and design service packages to meet customer needs by segment.
Choose the right price model and metric: The universe of price metrics is almost infinite, ranging from usage- to performance- to result-based models based on value to customer. When choosing a model, consider unexpected user behavior and how it can impact your costs and your risks.
Optimize your go-to-market approach: Selling services will change the interaction with customers. Choose between "one-face-to-the-customer" and team approaches in order to align roles, responsibilities, and interfaces of the sales and service functions
Adapt processes and infrastructure: Any service consists of a specific sequence of tasks. Establish seamless processes for providing services, supported by specific software modules for ordering and billing, changes in service level, and contract renewals, as needed.
Summary: There is no excuse for waiting!
Service-based offerings help companies to differentiate themselves, creating new competitive advantages and supporting future revenue growth. De-bundling transactional services with "pay-per-use" charges is an important first step. Lifecycle services help to increase the closeness to customers with strong(er) after-sales support. Many sectors have already adopted service-based strategies and revenue models to increase customer loyalty and retention, to win more attractive deals, and to better monetize performance. There is no excuse for waiting to make this transition yourself.