Facing the Digital Revolution: Life Sciences Companies Invest into Digital Health Solutions
June 14, 2019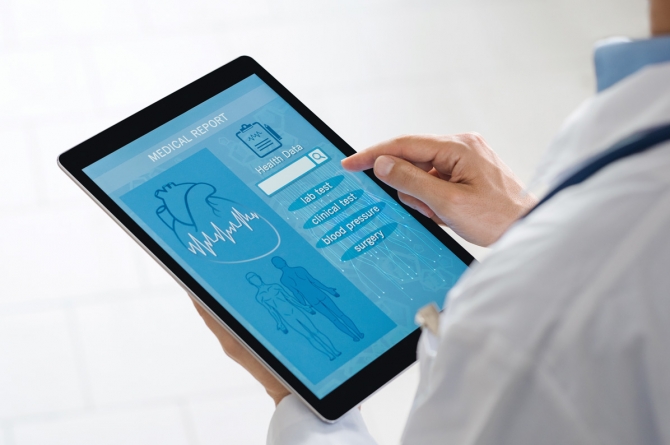 Life sciences companies have put digital health on the top of C-level agendas and have ramped-up their investments into digital health technologies. Read on to learn more about the top three investment categories.
55% of life sciences companies are investing in connected solutions such as smart insulin pens that improve the patient/user experience, but also allow providers and physicians to extract additional health data for personalized treatment adjustments. Furthermore, connected solutions offer increased patient visibility on their therapy progress and increase patient adherence. For life sciences companies, utilizing connected digital features is a great opportunity to differentiate their portfolio offerings from competitors, especially in highly commoditized markets.
55% of life sciences leaders are devoting significant resources to remote monitoring solutions such as smart pacemakers, implantable defibrillator or loop recorders. These technologies have enhanced alert systems to prevent severe complications and improve the cost efficiency of patient monitoring. Life sciences leaders see remote monitoring solutions not only as an opportunity to expand their core portfolio with remote digital features and corresponding services, but also as a way to establish new revenue streams and tap into innovative contracting models.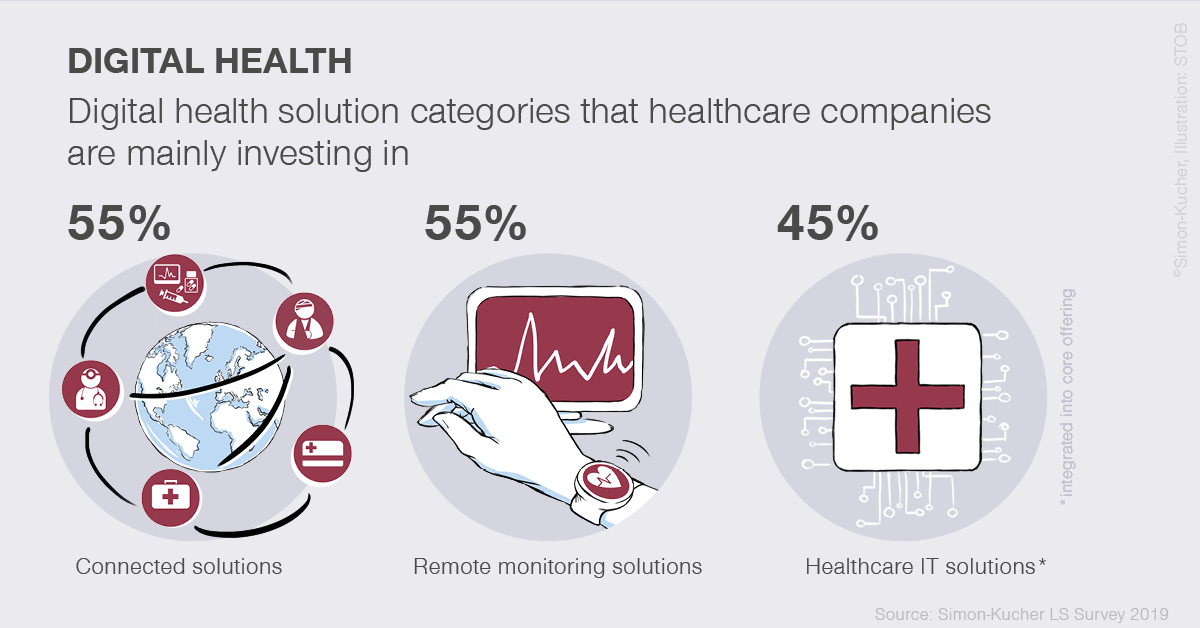 45% of pharma and medtech companies are investing into healthcare IT solutions (e.g. digital tumor boards, imaging evaluation algorithms, digital operating theatres, digital multi-disciplinary team solutions etc.) to gain a competitive edge. These healthcare IT solutions aim not only to improve hospital operational efficiency, but also patient outcomes by simplifying workflows and increasing data transparency and availability. Healthcare IT solutions make it possible to collect data that (depending on regulations) can be leveraged to learn more about specific indications and fuel the product pipeline. More importantly, these digital solutions can create a lock-in effect to upsell and cross-sell along the core product portfolio.
We also see that some firms have developed a strong strategic interest in other investment categories: Therapy support solutions (38%), digital therapeutics (24%) and digital patient education (21%).
Conclusion:
Across the life sciences industry connected, remote monitoring and healthcare IT solutions are the key investment categories. The investment focus is driven by the overall digital strategy and the existing product portfolio. Companies are especially interested in the commercial opportunities evolving with increased data availability and transparency. Furthermore, they need to ensure that their investments either can be positioned as standalone solutions with own revenue streams or to push the core business.
What are your digital health investment categories? Contact our digital health experts to discuss how to leverage your investments and gain a competitive edge.
*Source: Simon-Kucher LS Survey 2019, N=32
Get more insights on: 
Health Goes Digital: Why the Life Sciences Industry is Embracing Digitalization
Staying on Track: Action Items for Commercializing Digital Health