The Future of Smart Packaging
January 31, 2018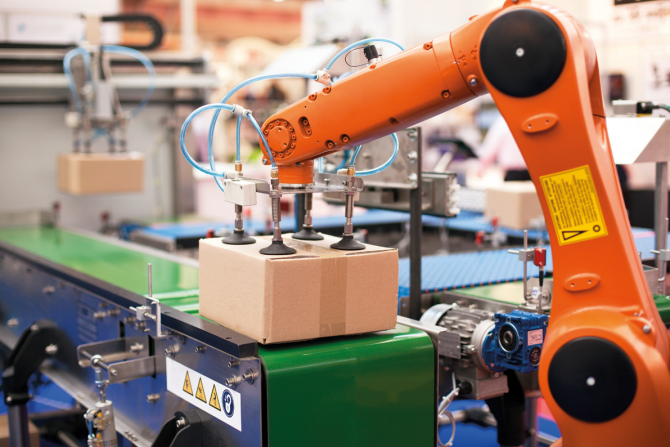 Revolutionizing product and brand protection, parcel tracking, and customer communication. Until now, the function of conventional packaging has been limited to protecting products from the elements, keeping contents private, and being a surface to place stickers on. However, with the arrival of digitalization and other technologies, "Packaging 4.0" offers companies promising new business models and monetization strategies.
Intelligent packaging provides consumers with extra information, communicates with retailers and manufacturers, regulates temperature and oxygen/CO2 supply, protects against theft, and makes it possible to track a product's journey during transit. However, this is only the beginning – digital transformation and Industry 4.0 have much more to offer the packaging sector. Here is an overview of the most promising applications for smart packaging technology.
1. Protection against counterfeiting and theft
Product piracy is a constant challenge, particularly for manufacturers of brand-name products and luxury items. The financial damage caused by imitation goods is only one aspect of the problem – there are also potential health risks due to counterfeit medication and the use of harmful chemicals. The packaging specialist STI Group is trying to resolve some of these issues using concealed radio frequency identification (RFID) technology. RFID codes are either printed onto packaging or integrated directly into it. This RFID system sends identifying signals to a RFID reader, enabling automatic, contactless communication with the package. The reader could even be a regular smartphone. In this way, retailers can determine the current status of their goods in a matter of seconds.
Smart packaging solutions also offer opportunities in the area of theft protection. Products with RFID transponders integrated into their packaging can be tracked at all times. This not only helps to prevent theft from stores, it also supports manufacturers with supply chain management, transport, and logistics. Products can be traced along the entire value chain, at the factory, in the warehouse (inventory management, goods in and out, etc.), and during transit to stores and end-users (location of goods).
2. Packages are never out of sight
Sensors are in high demand, as they help protect products by continuously assessing the condition of the item. It is essential that perishable food products, sensitive pharmaceuticals, and luxury items remain at the right temperature, stay dry, are stored correctly, and remain within the protective atmosphere of their packaging. Paper and packaging manufacturers, such as Stora Enso, are working on sensors that can be incorporated into packaging. These sensors will enable manufacturers and retailers to receive data whenever they need it.
3. More personalized customer communication
For a while now, QR codes have provided a simple way for manufacturers to make additional product information available to customers via their smartphones when their products' packaging has limited space for text. The potential for smart packaging to enhance customer to manufacturer interactions goes way beyond this. NFC-based (Near Field Communication) solutions using the same technology as RFID enable contactless communication. This has practical benefits. The technology can be integrated inconspicuously into labels so that existing packaging doesn't have to be redesigned. Commercially available smartphones are NFC-compatible, allowing customers to interact with smart packaging easily, and ultimately communicate with the manufacturer too.
The ways in which customers will be able to interact with packaging will increase enormously when "printed electronics" come into play. This refers to liquid, electronic materials, which will allow printed batteries, sensors, circuits, and displays to be integrated directly into paper, plastic, and glass packaging. Timer functions will alert customers to remind them to take their medication. Displays will play explanation videos and give digital notifications about promotions, competitions, and product contents. The possibilities are almost endless!
In the future, these technologies will provide brand-name companies with a completely new way to interact with consumers. Furthermore, manufacturers will have greater access to end customers. Through high-quality smart packaging, communication will become more individualized and more personal. It won't be long until the era of "mass customization" is upon us.
4. Creating add-on services
Smart packaging exchanges stored information with its surroundings and supplies data. This technology relies on data platforms, which are themselves opening up a new monetization area for packaging companies – using smart data management to offer their customers value added services. In addition to the brand protection technology integrated into packaging, the packaging manufacturer could also make its brand verification platform available to its customers.
Similar services could be set up for logistics purposes and to protect against theft. The manufacturer is able to track the transit of its products, and in the case of theft, can trace their whereabouts. This data would be provided to packaging customers as an additional service. Customers would not be required to develop these platforms for themselves. Packaging companies should monetize these new digital services using models, such as pay-per-use or flat rates.
This approach can also be employed to manage customer data. The data that end customers generate by integrating their smartphones with smart packaging products can be used by manufacturers for marketing or product development purposes. With data management for digital printers, the packaging company could set up a value-added service by making decentralized digital printers available for their customers. This would mean customers' business models would no longer be limited by the number of printers they own, as their capabilities could be scaled up as required.
From a niche to the mass market
Many innovative ideas, scenarios, and applications for smart packaging systems are still in their starting blocks. Will the product ideas manage to make the leap to the mass market and become a permanent part of packaging companies' core business? This depends greatly on the value they provide and how well they can be monetized. Packaging manufacturers have an opportunity to move away from purely price-based competition, increase customer loyalty, and offer their customers real, long-term added value. To achieve this, it is key for packaging manufacturers to design and develop new products and services and work with their customers to bring them to market.
This article was originally published in "PackReport" magazine (in German language) in December 2017.