Preparing Your Business for All Climates: Trends 2020
January 17, 2020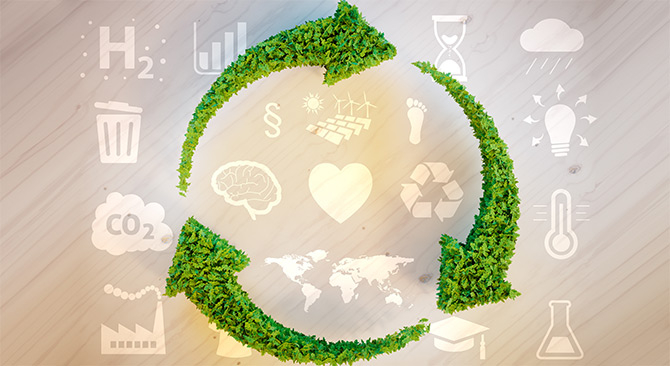 We reflect on a decade of booming business, and look through three lenses to advise organizations on how to build and bolster themselves for a changing world in the 2020s.
Decade in review: Ten years of growth!
As far as decades go, it's been a big one. The global economy was strong and steady, but what most marks these years are the business developments sparked by impressive technological changes, as well as the longest bull market in history:
Technology-driven growth
The first iPhone was released in 2007, but it was really in the 2010s that smartphone technology became the norm. And it changed everything: the internet was already well established, but the iPhone moved the world off their laptops, and onto their mobiles. Welcome to the world of m-commerce!

This gave the consumer new power. They became intertwined in the business ecosystem and value chain, not just as buyers, but also providers and sellers, too. Home owners became hoteliers, car owners became taxi drivers, and a myriad of platforms allowed everyone to become the seller of something or other. Consumers started ranking, they had a voice. Our global survey, The Rating Economy, showed that in 2019, ratings were important for over 70% of consumers, and were being used as part of product development by over 90% of companies. The 2010s were the decade when technology took the consumer from the edge of the business ecosystem, and put them right at the center of it.  

Read the full Rating Economy - Global Survey here!
Money-driven growth
In the last ten years, we saw a big shift in the way businesses were financed and capitalized. A new word entered our business vocabulary: the Unicorn. Since the term being coined in 2013, more than 400 unicorn companies are now spread across the globe. Think about the companies that are part of our everyday lives, but simply didn't exist outside this decade (e.g. Instagram, Uber), or even innovative startups in the healthcare space, like the biotechnology firm 23andme. In this very low interest rate environment, entrepreneurs were given huge freedom to build and scale businesses in a completely new way, supported by huge funding from venture capitalists and private equity firms.

Cash flowed in, but in the 2010s profits weren't required. Growth was the only thing that mattered. And inevitably, some personal fortunes were built on businesses that never had any chance of making money.

In the next decade we'll see a return to common sense profitability, largely driven by a changing economic climate. After years of impressive growth, in 2020 the focus must switch to ensuring companies are not only successful, but also sustainable. Business leaders and investors are increasingly aware of the fragility of the global economy, and while a full-blown crisis now seems unlikely this year, there is certainly a shift in sentiment. In the private equity sector, firms are already swinging into gear for a change of strategy.
Outlook: Sustainability is 2020's biggest business trend! 
In 2020, the biggest opportunities will be for companies that get their head around what sustainability truly means… and we believe it is about so much more than just environmental credentials. To thrive whatever the economic climate, businesses need to look through three lenses of sustainability:
1. Sustainable products
More than just wishful thinking, consumers now demand more responsibility from businesses, and companies are expected to play their part in protecting the environment. This cannot just be a marketing gimmick! Whereas in the past sustainability was something carried out by the PR team, this will now need to be driven by the C-suite and put at the heart of operations. A whole new generation of consumers – who grew up with new technologies and unlimited access to information – are fed up with how big businesses behave. And what was a marginal buying segment will now become the primary target segment with real money to spend. 
Example: 58 percent of packaging experts have named sustainability as an important trend for the years ahead. Read more here!
2. Sustainable business models
The idea of disposable products is swiftly becoming outdated. People are moving away from ownership, becoming less product-centric, and more service-centric. So while not new trends, the Sharing Economy and Servitization are crucial for sustainable business models of the future. It will be a products down, and services up world. Moreover, there's less excitement surrounding "pile it high, sell it cheap" business models. "Premiumization" will begin to displace mass consumerism and single-use products, driven by a higher willingness to pay among forward-thinking consumers.
Example: In the fashion industry, we found an impressive 80 percent of Gen Z consumers would shell out a premium, despite being the newest to the workforce. Read more here!
3. Sustainable profits
In 2020 and beyond, growth will not be enough. Businesses must ensure their own sustainability, too. In a bull market where consumer sentiment is high, it is possible to survive on a "growth at all costs" model. However, when the lights come on, what's exposed is the economic foundation of the business model that has been built. 
The changing economic climate must lead to a focus on growing profits. Low prices can no longer be the simple answer, and businesses based on "just being cheap" without offering something more compelling will find themselves poorly equipped for this decade. Value is becoming more important than volume. Profitability is back.
---
Enjoyed reading our article? You may also find this interesting:
Global Pricing Study: Make Better Use of Investments in Digitalization Initiatives
From Follower to Trend-setter: Actively Shaping Trends in the Paper and Packaging Industry
5 Ways to Escape Pricing and Sales Pressure through Digitalization