Sales Series Part 5: Selling Business Services
June 04, 2018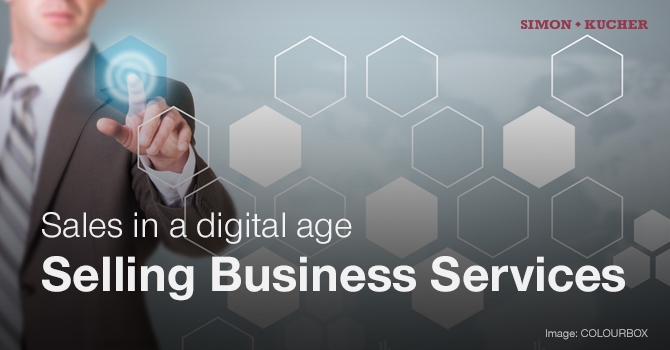 Selling business services in the digital age has nuances that can and should be optimized for customer satisfaction and maximum profit. How far will digitization eliminate the human component of selling business services? Will the change generate more profit? How does big data tie in? This scenario requires a completely new way for businesses to think about selling their services. Read part 5 of our expert blog series #SalesinaDigitalAge.
Selling services in the digital age
Compilation and sales of business services used to be closely linked to the 'production' of the service. While this is changing, sales of services still requires the 'high-touch' of human resources. The question remains for how long and to what extent.
More and more services across nearly every industry are offered now with minimal or no human interaction. For instance: cameras and biometric systems versus security guards; digital banking; airport and car rental check-in kiosks; etc. With the nature of service changing, the future holds more disruption to traditional service personnel roles.  
Sales Optimization
With the increased complexity of products and services, steady advance of technology, and ever-present competition for the hearts, minds and wallets of customers, we see many companies investing more in their service offerings and sales processes. If you have competitors (and chance are you do or will soon!), you will continue needing sharp, well-trained, and generously compensated sales people.
A sales force is still essential for building customer relationships and sustaining customer loyalty. People still want to do business with people and there is still tremendous power in a handshake. The traditional sales force is here to stay into the foreseeable future and is worthy of investment and optimization. Business services firms can better optimize their sales force and align their unique expertise to their competitive edge by investing in sales tools, training, and attracting and retaining high-value personnel.
Five Steps to Success
Digitalization creates efficiency gains along the value chain. Avoid losing these gains by establishing rules and processes; providing tools; service customization; and adhering to pricing. Follow these four steps to success:
1. Prioritization
Among an organization's top objectives are profit, market share and leads generation, sometimes followed by unit cost, customer churn and customer satisfaction. A proper sales approach always requires a clear understanding of objectives. Although challenging, management's role is to articulate the corporate goals and keep everyone down the line focused on achieving them.
2. Segmentation
The basis for your entire sales and marketing strategy, segmentation helps you thoughtfully pinpoint your customer targets and focus on your most important priorities. More nuanced than simply demographics, segmentation focuses an organization on treating customers differently based on their buying potential and needs.
3. Efficiencies
While integrating technology into the value-creation process improves efficiency, it is still critical to keep your people at the center of customer service and to customize the customer experience. The result should be downward pressure on your marginal costs. Word of advice: do not pass efficiency gains completely to your customers. Instead, reinvest in your business, especially your people.
4. Preparing Employees
When you have the right people with the right skills onboard, your workforce is by far your most valuable asset. Set up processes and escalation paths to guide and acknowledge your people. Provide training sessions and support materials, including instructional video to accommodate different learning styles. Incentivize your sales team and reward your best performers.
5. Big data
Big data is much ballyhooed and its potential to help businesses sell services is appealing. However, it is in its early implementation phase and not yet able to quickly and accurately provide fundamental account information, such as total turnover, product mix, and profitability on an account level. Therefore integrate big data thoughtfully, strategically and slowly. It is much too easy to jump in hastily, robbing your company of valuable time and money. With big data initiatives, crawl before you walk and walk before you run.
Takeaways
1. Align sales power with your competitive edge
2. Improve the capabilities of your sales force
3. Determine sales objectives and create proper segmentation
4. Implement rules and processes and provide more sales tools
5. Focus on little data before big data
---
Read more from our expert blog series #SalesinaDigitalAge:

Part 1: Reengineering your sales DNA: It's about more than building blocks

Part 2: Hybrid sales structures: State-of-the-art tools for a people business

Part 3: Translating customer-centric strategies into success

Part 4: Taking the driver's seat in OEM sales negotiations

Part 6: From digital flop to success - Insurance sales of the future