Stepping Down Value to Enhance TopLine Power®
August 17, 2017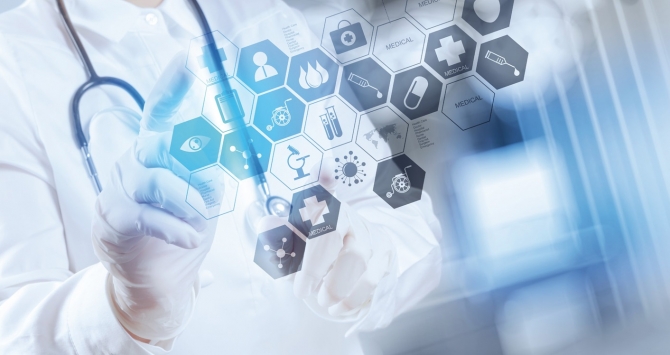 A decision pathway to determine if a value brand launch is right for you.
The MedTech industry has traditionally grown through innovation – new products with improved features and benefits fueled revenue growth.  However, innovation alone does not garner the price premium it did in the past.   As customers become increasingly value-oriented, a widespread acceptance of products that are simply "good enough" threatens to further undermine the position of innovation in the value hierarchy.
As a result, going "the wrong way" down the value staircase (Figure 1) can create solutions aligned with customers' needs and willingness-to-pay.  Removing select non-essential attributes creates a value brand, an offering with fewer features and benefits used to target customers with a unique set of needs.
Launching a value brand as a new product represents a wholesale shift from the traditional MedTech portfolio management strategy, wherein legacy products were positioned as the de facto low-cost and lower value option.  Yet an increasing number of leading MedTech companies are pursuing value brands - so should you be considering a value brand launch?
While launching a value brand can be an effective strategy, it is not a cure for all commercial challenges - there must be a compelling "why."  Often, the companies that stand to benefit the most are premium market leaders seeking to:
Protect existing market share against growing competitive threats
Reignite growth by expanding market share in lower-value segments
If either of these scenarios are mentioned in your leadership meetings, then a value brand launch is likely a relevant strategic consideration.  This article aims to guide established premium market leaders through the key steps that inform a "go-no-go" value brand launch decision.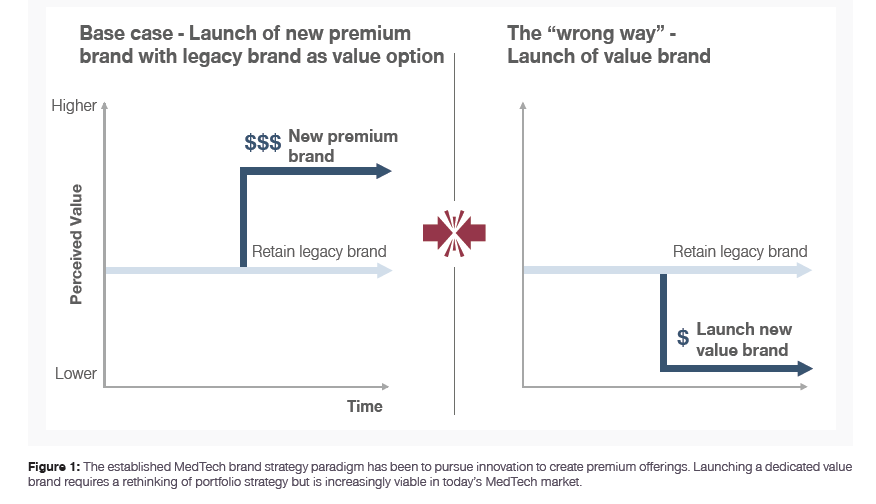 "Go-no-go" value brand launch framework
Simon-Kucher walks clients down a five-step staircase to guide them toward the decision of whether or not to launch a value brand (Figure 2).  This decision is informed by thoughtful consideration and rigorous analysis at each step of the process.  Given the novel nature of dedicated value brands in MedTech, case studies (Figure 3) will highlight not only recent strategies employed in the industry, but also success stories from other industries with a more established history of value brands, such as consumer goods and industrial chemicals.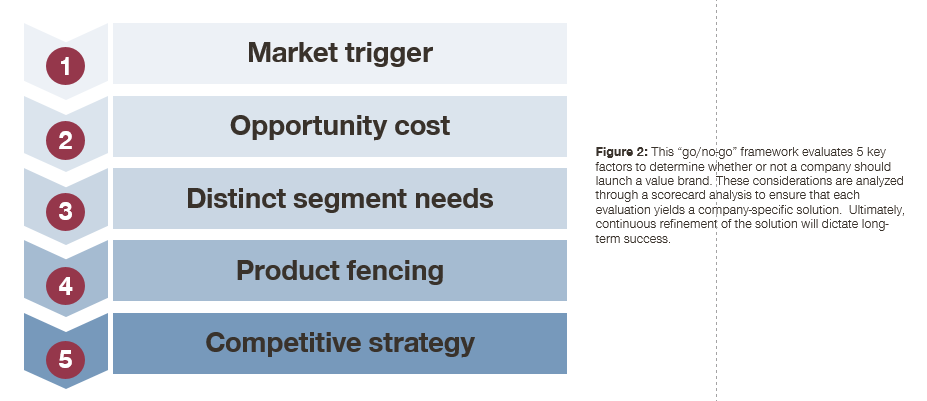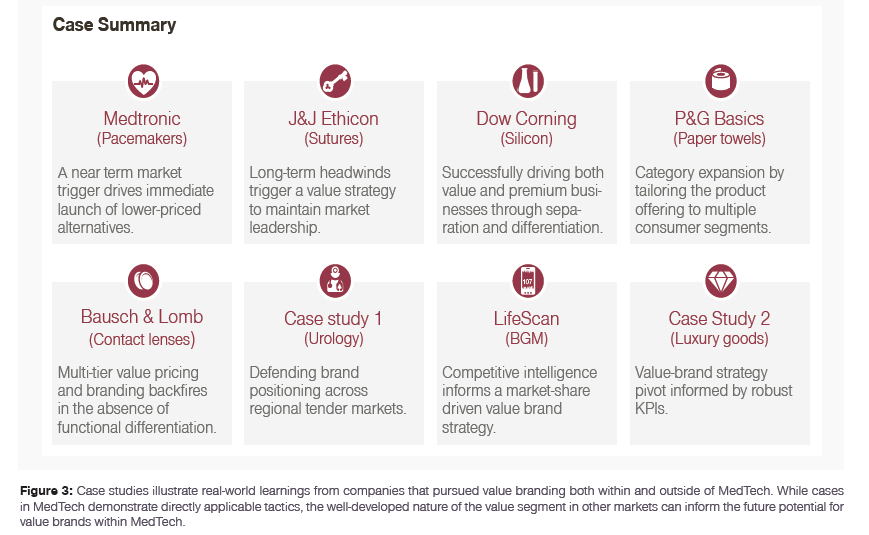 Market trigger
The decision to launch a value brand should be driven by market trigger (s) – an event, either ongoing or in the future, that threatens an established market position.  Determining the appropriate response to this market event ultimately guides the path forward.
The trigger magnitude is the first key consideration.  The downside impact of the trigger must be substantial enough to justify investment in a value brand.  Medtronic faced an imminent shift to lower-priced alternatives in a tender-controlled pacemaker market.  In light of this shift, the company launched a value brand to avoid market share erosion in tenders while protecting the price position of their premium brand.  Here, the downside of being priced out of the market truly justified the investment.
Next, it's important to evaluate timing of the response to the market trigger.  Is this a near-term threat that must be addressed now, or a long-term headwind? Near-term threats, as seen with Medtronic, often drive commercial decision-making; however, value brands can also serve as a tool to insulate companies from long-term headwinds.  For example, J&J's Ethicon suture division faced slight but persistent market share erosion in Brazil's mid-tier hospital segment.  Historically, flagship private institutions (15% of market) sought the highest quality products, public hospitals (35% of market) chose products solely on price, and mid-tier hospitals (50% of market) balanced these factors.  Market maturation, economic downturn, and increasingly savvy hospital administrators drove consistent, measured market share erosion from Ethicon to low-cost players in the mid-tier segment.  Ethicon countered by launching Qualtrus, a "good enough" value brand, which successfully defended Ethicon's position against a persistent long-term headwind.
Opportunity cost
MedTech companies have a variety of tools at their disposal to confront market triggers.  Thorough vetting of available options can determine if a value brand is the right strategic option for your company.
Brand equity and brand positioning
Alignment of a value brand with the corporate brand positioning is the first consideration. Generally, launching a value brand should not jeopardize the existing brand equity unless the trigger magnitude is substantial enough to require a pivot.
However, when deviation is necessary in context of a market trigger, careful steps should be taken to insulate the company's brand equity.  For example, Dow Corning, a company outside of MedTech but known for its success with value brands, is the market leader in the global B2B silicon market with a strong premium brand.  When faced with market commoditization, the company introduced Xiameter, a lower-cost brand differentiated by limited services and restrictions on available products. By creating a separate brand, Dow Corning was able to protect its brand equity.
Top and bottom-line potential
High level analysis of the financial impact of a value brand launch should be an early consideration in the decision-making process.
Before Dow Corning decided to launch Xiameter, they evaluated the portfolio wide top- and bottom-line impact.  This included cannibalization, market price erosion, and brand positioning, and multiple scenarios through the lens of a realistic go-to-market strategy.  Initial models considering multiple scenarios predicted that Xiameter would improve both the top- and bottom-line, while delaying a decision would jeopardize portfolio financials.
The actual top-line success met Dow Corning's initial estimates under the final go-to-market strategy.  As a result of the launch, Xiameter gained sales from cost-conscious customers, and the contrasting presence of Xiameter increased the value proposition of the Dow Corning brand, ultimately resulting in +63% portfolio revenue growth over 4 years.
While there is a common misconception that lower-value products will be less profitable, Dow Corning's financial analysis indicated the opposite.  Similarly, the real-life bottom-line impact confirmed modeled expectations.  Synergies with existing products as well as reduced SG&A spend facilitated profit improvement from -$28M to +$500M in the same 4 years.
Favorable ROI vs alternatives
Choosing the right strategic option is a non-trivial process, and other approaches should be considered to determine if the same or greater impact can be realized in a similar or shorter timeline.
Remember Dow Corning?  In only three months they were able to recoup their investment. While this level of Return on Investment (RoI) is easy to justify, it is highly challenging to predict.  Thus, it is critical to weigh all market relevant scenarios and consider contingency plans, as this will minimize downside risks.  In Dow Corning's case, they also considered the RoI of creating a next generation product, acquiring existing products, or divesting assets.  Dow Corning's forecasts indicated that developing a separate value brand would offer the highest RoI, but this will not be the case for every situation or company.
Distinct segment needs
Finding market whitespace with enough underserved need is a requisite for value brand success.  This requires a customer segment with differentiated needs that will accept a product with fewer features and benefits at a lower price.  Without a viable and discrete target customer segment with the potential to support the new brand, there is nothing to be gained from a value brand launch.
Segment separation
One consumer products company known for precision in executing on untapped market segments is P&G.  The company is the household products market leader and has continually recognized opportunities for category expansion by targeting new consumer segments.  P&G introduced a series of brands to serve these untapped segments, creating a "basic/better/best" paper towel product lineup.  Here, P&G recognized that there were customers willing to sacrifice certain attributes, such as strength, absorbency, and softness, in exchange for a lower price.  This ability to segment the market strategically based on needs is key to P&G's success.
Opportunity magnitude
The market potential should be large enough to achieve the goals of the value brand.  High aspirations determined in the "Opportunity cost" phase should be grounded by a deeper dive into the realizable potential of the market.  P&G thoughtfully considered this – while 40% of the paper towel market preferred premium products, 60% of the 300 million consumers were willing to accept a lower value product. 
Entering a lower tier market meant that P&G was competing directly with a number of established low-cost brands, which notably impacts opportunity magnitude.  This is often a major barrier in niche markets that are only able to support a limited number of "me-too" brands.  However, P&G capitalized on the size of the paper towel industry, leveraged existing brand equity to differentiate themselves from other low-cost products, and gained market share as a new entrant in a crowded space.
Product fencing
Launching a lower-cost option should never come at the expense of a company's existing portfolio.  A well-designed fencing strategy will guide customers to the appropriate product and control cannibalization.  Functional product differentiation should be apparent, targeting the wants and needs of distinct segments while steering premium customers to higher-value brands.
Necessity of functional differentiation
Multi-tier pricing and branding must be supported by functional product differentiation.  A crucial consideration in MedTech is whether or not a company can actually eliminate enough valuable attributes to create a functionally differentiated product.
Bausch & Lomb learned the importance of this the hard way when they attempted a multi-tier brand strategy by repackaging their long-wear lenses as disposables.  This resulted in effectively charging a different price for the exact same lens model under a different brand.  While this strategy was initially successful, ensuing litigation courts deemed the practice unfair.  This type of consideration is crucial in MedTech where, by law, branding can enhance, but not create the impression of functional differentiation.
Functional differentiation strategies
Functional differentiation can be achieved through design and development that adds or subtracts product attributes in the form of features and benefits.  Attributes range from low-value features to key product benefits (e.g., quality of life improvements).
Functional product differentiation is often vital to a viable fencing strategy in MedTech. A product with limited attributes - for example, medical gauze - would be difficult to de-attribute enough to create a value brand that served a distinct segment need.
But when it can be applied, successful functional differentiation can be a powerful tool.  A leading urology care provider in Russia experienced ongoing tender pricing pressure that threatened to erode the positioning of their premium brand (Figure 4).  In this market composed of 83 geographic regions and hundreds of tenders, the company established several lower-cost value brands with different but substantially reduced attributes.  This allowed the company to drive price sensitive tender bids through value brands, while maintaining the premium positioning of other product lines.
Once feature differentiation options had been exhausted, this company then pursued clinical differentiation to further fence products.  Demonstrating a variety of quality of life improvements (e.g., pain reductions, usability), the company justified differential pricing across the value brands and premium brands.  Additionally, this diffuse brand strategy limited price referencing by having a multitude of differentiated products.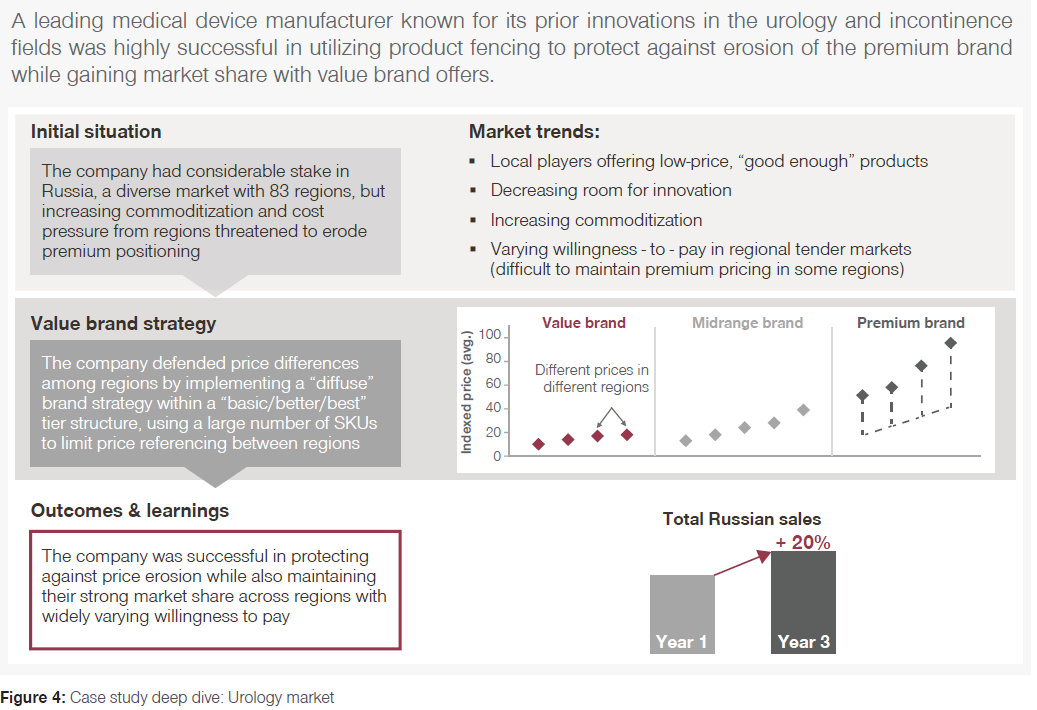 Go-to-market considerations
The go-to-market strategy needs to be adjusted for a value brand.  Companies should consider utilizing a separate brand name and correlating SG&A investment with product positioning, while also optimizing the availability of associated services.  Careful alignment between positioning and operationalization will ensure that commercial costs do not prohibitively reduce the benefits of a value brand launch.
Competitive strategy
Value brand success is often a byproduct of an appropriate reaction to the changing competitive landscape.  As noted earlier, there is a trend in many MedTech markets towards commoditization or high substitutability, which may indicate that a market is primed for a value brand launch, so understanding the competitive landscape is crucial.
Competitive intelligence
Understanding the positioning and expected strategies of market competitors can further reveal if a value brand is the right strategic move.
Historically, blood glucose monitoring (BGM) was an attractive market in developed countries with premium prices, high margins, a growing customer base, and stable reimbursement.  However, a perception of product parity and deep cuts to reimbursement through numerous country-specific regulations drove rapid adoption of low-cost products from secondary competitors.
LifeScan, one of the global premium market leaders, identified this trend and created a reactionary plan based on their understanding of the tactics of low-cost secondary players.  The company launched several value platforms, including OneTouch Select Plus.  This product was differentiated from other low-cost products by its higher quality, but the true key to its success was the competitive strategy.   LifeScan realized that their massive scale, distribution, and market access would allow them to maintain high levels of profitability, even when undercutting other value brands to secure market share in price-sensitive channels (e.g., tender bids, CCG formularies in the UK).  Conversely, limited reaction to competitive intelligence by other premium competitors resulted in declines in market share over the past 5 years.
Competitive reaction
Analysis of scenarios related to competitive reaction will enhance the understanding of risks associated with a value brand launch. For example, launching a value brand in a basic product category with limited potential for differentiation, could substantially devalue the overall market by driving price down.  A second consideration is the impact of a successful launch - success of a low-cost brand strategy may drive even more "me-too" offers to the market.
Value Brand Scorecard
When large organizations drive toward transformative decisions, the resulting decision pathway is often complex and lengthy.  When it comes to a high investment launch decision, these challenges are magnified. 
The decision process is further complicated by the variety of scenarios that must be considered and the spectrum of decisions to be made, including timing of launch, marketing strategy, and portfolio positioning, just to name a few.  As a result, coming to a consensus on a "go or no-go" decision may be virtually impossible without a semi-quantitative approach to scoring the attractiveness of a value brand scenario.
Simon-Kucher addresses these challenges by leveraging the Value Brand Scorecard process, in which different scenarios are compared in a consistent manner via a series of exercises. The sum of each criteria is consolidated to provide a systematically achieved score that outlines the attractiveness of a given scenario across each of the five steps of the "go-no-go" framework.  Scores are generated by a mix of qualitative and quantitative inputs, ranging from financial impact to stakeholder perception of attractiveness. The weight of each consideration and stakeholder's response is tailored to the company's unique business situation, as firms will have varying priorities and trade-offs depending on their goals.  For a recent client, Simon-Kucher prioritized the impact on market share development while the effect on portfolio complexity was weighted as relatively unimportant; however, the exact opposite may be more appropriate for a different company or situation.
Finally, the aggregate score is used to inform a "go-no-go" decision under each scenario to provide analytical decision support for a range of options.
Targeted refinement
After a "go-no-go" launch decision, it is important to track performance and refine strategy as necessary.  KPIs can be used to determine if the strategy should be to stay the course or pivot in a different direction.
Real-world corporate impact
Internally, KPIs should be systematically and regularly monitored to understand both the success of the value brand and its impact on the broader portfolio.  This should include both financial metrics (e.g., cannibalization, share growth of distinct market segment) as well as corporate equity metrics (e.g., quality perception, net promotor score).
Aside from quantitative measures of success, qualitative feedback from customers offer further insights on areas of improvement based on customers' desires and needs. It is important to gauge how existing and new customers are reacting to a new brand and whether there is a crossover effect from the wrong target segment.  Externally, the impact of the value brand on the larger market and industry should also be considered.  If the product has had a negative impact on the market (e.g., incites a price war), it is important to understand why and determine the path forward that will mitigate losses.
Targeted refinement in practice
KPIs were integral to refining the value brand strategy of a leading luxury consumer goods manufacturer.  This company reacted to low competitor pricing by launching two new brands priced below their core premium offer, creating a "basic/better/best" portfolio structure.  They continuously monitored performance of the value brand after launch in China and the US, and noticed two significantly different outcomes.
In China, the company successfully leveraged the value brands to penetrate an emerging market, while fencing their premium brands by selling them only in different stores.  By monitoring cannibalization through tracking sales volumes and portfolio ASPs, the company observed significant growth in both the value and premium brands.
However, in the US, they decided to sell all brands in the same store, hoping that the prestige and equity of the premium brand would boost the value brand.  Resulting price and value differentials led to significant cannibalization of the premium brand, as evidenced by declining premium brand sales volume and falling portfolio ASPs.  Based on these findings, the company ultimately pivoted from their US strategy and fenced products by placing them in different stores to mitigate cannibalization.
The two strategies resulted in two substantially different outcomes – made observable by clearly defined metrics that were quantifiable and comparable.  As a result, the manufacturer was able to reevaluate and revamp their US strategy to be more aligned with their intended goal for the value brand.
Adapting for the future
The MedTech industry is evolving, and the tactics that previously created paradigm-shifting innovations may no longer be the keys to success.  Many customers believe that innovation in certain sub-segments has plateaued, and are instead looking for products that offer optimal value at a lower price.  Launching a value brand might be the best option you, but whether you step down or fall will depend on a rigorous decision-making process.  Learning from previous experience both within and outside of the MedTech industry will help guide your decision-making.
This article was originally published by "In Vivo" magazine on June 21, 2017