Frederick on Tour: Australian Adventures
August 27, 2020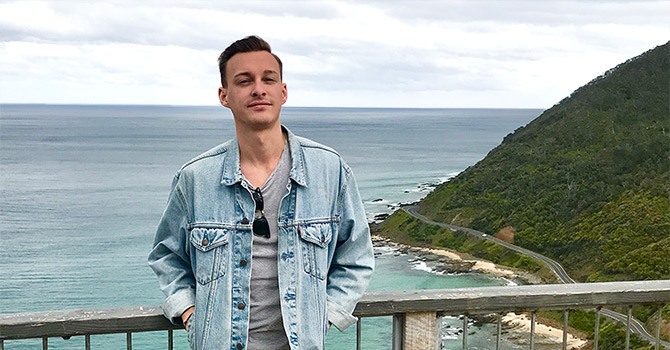 Frederick Marczyk fell in love with Australia when he visited shortly after graduating from high school and when he later returned to study abroad. When he heard that Simon-Kucher offers all associates an exciting global office rotation program, it was clear: This is was his chance to return to Australia once more.
I've worked at Simon-Kucher since 2016, after completing a great internship here in 2015. I was particularly impressed by the people and the corporate culture, because everyone is very helpful and often on the same wavelength. This means that it's very easy to socialize with colleagues outside of work and that's why many of my colleagues have now become good friends.
Three visits to Australia
The first time I travelled to New Zealand and Australia I stayed for nine months after graduating from high school, and I just fell in love with "Down Under". That is why I returned to Sydney for my Master's degree. I had an unbelievably great time – I practically spent the whole six months there on the beach. And I knew immediately: I absolutely need to return again. When I started working at Simon-Kucher in Cologne, I took part in our rotation program and spent four months in the Sydney office, starting in August 2019. Apart from my enthusiasm for the country, the main goal was of course to introduce variety through the change of location, getting to know new colleagues, meeting new customers, and simply learning a lot of new things in general. Spoiler alert: That worked out really well!
Cross-industry experiences
My work in Sydney was different from my previous experiences: In Cologne, I specialize in the software, internet and media industries. However, since our office in Sydney is somewhat smaller, there was no such clear allocation to specific industries and everyone worked on several. I was therefore able to grow my experience within the consumer goods sector and worked on three projects during the four months that I was there.
A particular highlight was working with my Sydney colleagues. I got to know and like everyone there and we made a great team. The Sydney office has a tradition of having breakfast together every Friday, where everyone talks about what they are currently working on. This highly strengthened our team bonding. We also spent quite some time together after work, such as taking a boat trip on Melbourne Cup day, spending an evening getting out of an Escape Room, playing Lawn Bowls (a typical Aussie game) and much more.
The daily exchange of knowledge was also great. I was able to help junior colleagues with my experiences from Germany, but many people also helped me with their local knowledge. I really experienced how much you can learn from colleagues with different perspectives and approaches.
More focus on work-life balance and sports
In principle, the job of a management consultant in Australia is very similar to one in Germany – but there is a greater focus on work-life balance. Practicing sports in the evening or having dinner with friends is incredibly important. This may also be due to the fact that Australians are surrounded by beautiful nature and beaches that can be reached in no time. So a weekend almost seemed like a holiday, when I went surfing or played beach volleyball or went on day trips to the national parks.
Above all, Australians are different than Germans, which I (almost always) liked: Australians are typically very sporty and outdoorsy, for example they spend a lot of time doing activities in the fresh air, and work out or go on hikes regularly in the mornings or evenings. This goes so far that even in the supermarket or in the city people walk around in their active wear. Noticing this motivated me to also do a lot of exercise a lot. Moreover, Australians are very open and casual. They are usually very friendly towards strangers and as a "friend of a friend" you are always welcome at activities or parties. Australians also don't take themselves too seriously and like to postpone their plans. This makes everyday life very relaxed. However, it also creates a certain amount of non-commitment. Often people cancelled on me spontaneously although our appointments had been planned long in advance, which was frustrating. Nevertheless: The high quality of life in Australia is reflected by the constantly satisfied and smiling faces in the city. I try to continue to integrate this positive attitude into my everyday life in Germany.
Time to go back?
Why didn't I just stay there after the rotation you may ask? I occasionally wonder that myself. Australia is a great country, not only because of the nature but also because of the people. I have always felt comfortable there, that's why I have been there and back three times already. After my Master's degree I thought about starting my first job in Australia, and some of my Sydney university friends even did so. So it was great to go back again to build on existing friendships. I can also imagine myself living in Sydney for a longer period of time or even forever. However, in the last few years I have also built up a base in Germany, I have family and friends here whom I would unfortunately see less of because of the distance.