Working from Home at Simon-Kucher: Virtual Team-Building Events
June 15, 2021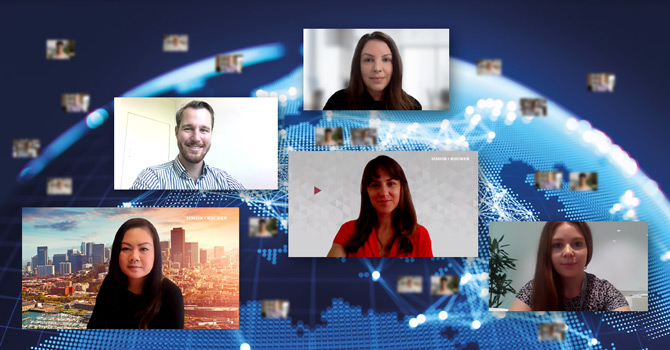 Looking for some remote team-building ideas that you and your colleagues will love? We caught up with our offices worldwide to find out how they have stayed connected while working from home. Here are some of their answers!
"Strong friendships go beyond working hours"
The Amsterdam office has always had a strong focus on social activities. Our weekly Friday afternoon drinks are well visited (often extending after hours) and appreciated by many. Plus, we have many unofficial activities throughout the year. COVID-19 made organizing physical activities impossible, so we moved to Zoom instead, holding weekly events to connect colleagues outside of work. The many different activities included digital pub quizzes, movie nights, and wine tastings, just to name a few. For some of the more elaborate events, external parties were involved to host an activity, and drinks and snacks are sent to people's' homes.
Many of us have strong friendships that go beyond working hours, and our social events play a crucial role in forming them. As you can imagine, it can be quite challenging to organize a digital event for a large group that everyone enjoys, and our colleagues make a serious effort to make the events a success. Other events are literally nothing more than a digital Friday afternoon drink via Zoom, open to the entire office. Usually about six to ten people dial in with a drink to look back on the week or play a silly online game.
It's important to note that the digital events are never mandatory – they're supposed to be fun. Some of us are fed up with digital meetings after an entire week, and that's of course no problem. But for those who want to hang out for an hour with a drink to start the weekend, we've got you covered!
Of course these digital events can't compare to in-person events, but as long as bars are closed and our office lunch room is empty, we'll work with what we have. Luckily the Netherlands is slowly reopening, it won't be long before we can end the week again like we're used to.
Ivo van der Peijl, Senior Consultant, Amsterdam
"With no relatives living close by, our colleagues are like our family"
Life in Sydney has been pretty normal for the last seven months with only a handful of COVID-19 cases across the country. The office has been open pretty much since September last year – we are very lucky over here. But looking back to lockdown, we knew it was important to stay in touch with everyone, especially as many members of our team are either ex-pats or have moved inter-state. Very few of our colleagues have relatives living close by, so our colleagues are like our family.
When it was someone's birthday, I arranged for a cake delivery company to deliver balloons, cakes, and candles and we would have a Zoom call to sing happy birthday. We also had Zoom trivia afternoons, twice-weekly catch-ups, and many other activities to keep the office connected.
Although life has been pretty normal here since September, with most colleagues back in the office, our partners have still given us the option for flexible working, with most colleagues opting to work from home once or twice a week, which has been a great benefit to everyone! We still have drinks on Fridays, although these days we are lucky enough to have them in-person rather than virtually!
Jill Sheen, Office Manager, Sydney
"We wanted to try something that hadn't been done"
After a whole year of virtual events and in an effort to try something new, another one of our office managers in Chicago suggested we reach out to Chicago's own improvisation group, The Second City. We had already considered a Second City show before the pandemic, so we decided to check out their virtual offerings. The team at Second City was able to tailor a show to our company, complete with a "Simon-Kucher Says" gameshow, a mock town hall, and a guest appearance from our partner Adam Echter, also known as Star-Lord thanks to his 2019 World Meeting entrance dressed as the comic star.
In preparation for the event, we surveyed staff with a list of questions suggested by Second City to collect material. The responses were reviewed with the Second City team, who went through a few drafts of potential skits before we landed on the final program. It was a success, with a great turnout and positive feedback! Right now we are planning our first in-person events for late summer!
Ali Gatlin, Office Manager, Boston
"If the colleagues couldn't come to the snacks, we would bring the snacks to the colleagues!"
Usually, when everyone is working in the office, we have a lot of snacks available to keep us well-fueled during the day. When the pandemic meant that we all had to start working from home, I heard a lot of people talking in calls about how they were missing the office snacks – which gave me an idea. If the colleagues couldn't come to the snacks, we would bring the snacks to the colleagues!
We collected the required information from employees and sent it off to our vendor to process and ship. Every month we double check the list and add any new colleagues who have joined us – everybody looks forward to receiving their snacks!
Another way we all try to stay connected right now is through our monthly game nights across the US offices as well as bi-weekly coffee chats between the West Coast offices. As Ali mentioned, we're starting to plan for in-person events as soon as we all start heading back in.
Julie Nguyen, Office Manager, Silicon Valley
"Office Roulette"
A few months ago I started a weekly call called "Office Roulette" – this is a 30 minute zoom chat with a small group of colleagues, mixed into different groups. The groups change weekly so that each team has the chance to talk to colleagues they wouldn't usually chat with in the office. It also helps the new starters get to know people who are still working remotely. Colleagues seem to like it as it's an opportunity to take a break from work and chat about anything of interest! We also recently took part in a virtual escape room– this involved the office splitting into teams to work our way through a series of puzzles, unlocking evidence to solve a murder mystery. A great way to interact with each other during lockdown!
Carmelina Dilorenzo, Reception, London