James Brown, Partner and head of the UK Consumer & Retail practice at Simon-Kucher & Partners, comments on Tuesday's Consumer Price Inflation figures for May:
Brexit squeeze
The CPI rate climbed to 2.9% in May, a 0.2%pt gain from last month and its highest level since June 2013. This will be the fourth consecutive month CPI is above the 2% target set by the Bank of England.
Brexit has been the biggest driver of rising inflation through higher import costs feeding through following the pound depreciation last year against the euro and the dollar.
Simon-Kucher's latest nationally representative Brexit survey shows that Brexit-related price increases will continue to have a significant effect on the spending habits of much of the UK population, particularly the middle earners. For instance, 62% will spend less or do without the purchase of a new car. And it is not only large purchases that will be affected, but also essentials. More than half of those surveyed would scale-back on groceries by either spending less or switching to cheaper products.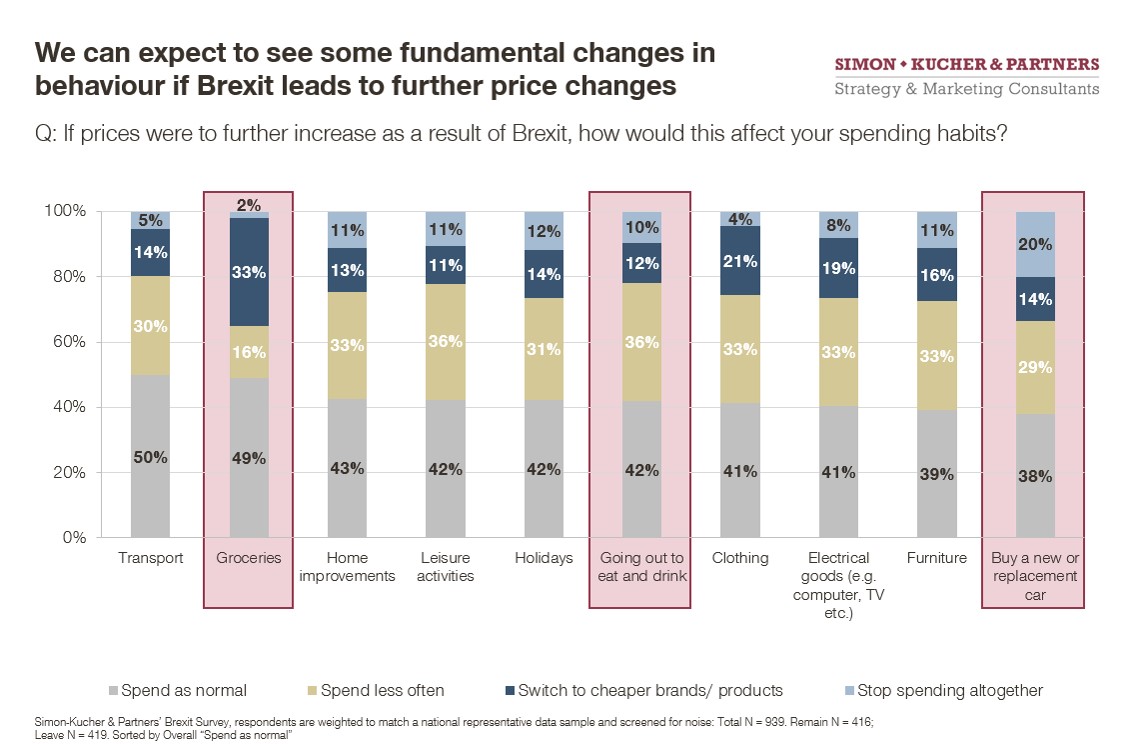 Who will be left on the shelf?
After more than 2 years of food prices falling year-on-year and a raging price war between supermarkets, rising inflation has made its way into groceries since the start of the year, and trading down on grocery shopping has now truly become mainstream.
Grocery prices were up 2.1% in May compared to last year. But whilst supermarket sales growth were at a 3.5 years high in the 12 weeks to 21st May according to Kantar Worldpanel, there are disparities in the market, and the main winners were discounters and cheaper or own-brands products, showing how rising inflation is affecting both consumer spending and Britain's grocers. Whilst the combined market share of Aldi and Lidl has risen to 12%, Britain's Big Four supermarkets all lost market share.
Brexit strategies
Some firms cannot delay taking action as they are no longer hedged against rising import costs and have to pass on some of the additional costs to consumers. A lot of food manufacturers have already had to increase shelf prices over the last few months, but that is only one approach to rising costs. Some manufacturers have resorted to shrinkflation, reducing product quantity but keeping the price the same. Others are scaling back the number of promotions they run.
Not going all out
Britain's newly squeezed middle income earners will particularly also be cutting back on eating out and going out for drinks if price increases continue to squeeze incomes. The price of alcoholic drinks was up 3% compared to May last year, with spirits rising above 5%. Our research shows that 68% will spend less on going out to eat and drink, a sobering fact.
There's no place like home
We also expect this squeezed middle to continue scaling back on their spending on holidays and our survey indicates that in the face of further Brexit-related price increases, 58% of respondents would adjust their holiday spending habits as sterling depreciation means it's now 12% more expensive to holiday in Europe in May this year compared to May last year.
It is not a case of cutting out the summer holiday, that is sacrosanct for most. But it does mean that they may instead holiday in Britain or cut out an extra holiday later in the year. And whilst an increase in "staycations" are good news for the British tourism industry, many holiday-makers will still have to cut back on their spending, as hotel bills and particularly fuel bills are now more expensive.
The Office of National Statistics has released its Consumer Price Inflation stats for the month of May today, Tuesday, 13th June. The ONS statistics are available here.