10 Tactical Pricing and Contracting Measures to Maximize COVID-19 recovery in MedTech
June 04, 2020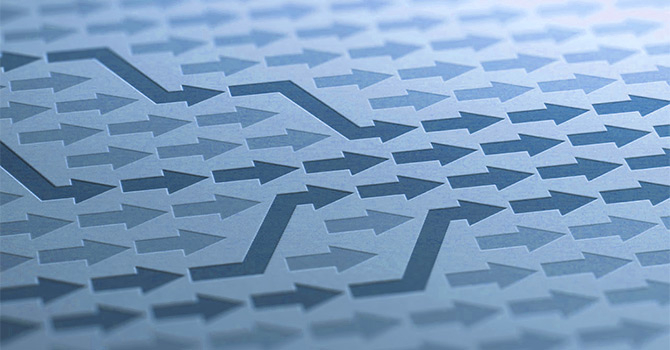 *The insights and recommendations shared in this article are based on the circumstances as of June 4th, 2020
For months, all of us have experienced the effects of COVID-19 in our daily personal and professional lives. Not only that, the commercial impact on the medical technology industry is undeniable. We expect customers to request flexibility and financial relief on many levels. Ten tactical pricing and contracting measures help companies to ensure a smooth transition during the COVID-19 recovery.
The COVID-19 crisis presents an unprecedented challenge to all MedTech companies irrespective of archetype. Nevertheless, we see equally unprecedented opportunities to set the direction for future success at an accelerated pace. Much has been written about this both in terms of short-term measures to tackle the change in demand but also predictions on the "new normal" and how MedTech companies should best position themselves. But it is just as important to remember that there is a step between immediate crisis management and the new normal. It is here that the recovery phase lies and undoubtedly will present its own set of challenges that will need to be addressed and overcome.


Archetypes of MedTech companies based on degree of business impact
Based on our own research and numerous conversations with key MedTech industry experts, we expect customers to request flexibility and financial relief on multiple fronts. To address these demands, we recommend ten tactical pricing and contracting measures to ensure a smooth transition during the COVID-19 recovery. They are grouped in three main thematic groups: offer pro-actively to strengthen loyalty, grant re-actively to support customers financially, yield as last resort to maintain business. Let's start with the first one:
Offer pro-actively: Show courtesy and solidarity to support customers and strengthen loyalty
Without a doubt, the COVID-19 crisis has taken a toll on healthcare providers with increased workload, overstrained resources and lost revenue from elective procedures. Showing courtesy is not only morally right and helps the overburdened healthcare providers but also goes a long way in building loyalty. The following measures will demonstrate solidarity with customers and can secure ongoing and future business, while keeping prices stable.
Grant grace period for contract renewals:




In such turbulent times, priorities for healthcare providers are shifting and internal capacities might be missing to renew and renegotiate contracts in time with manufacturers. Honoring contracts for a pre-defined three to six month grace period, after expiration, shows courtesy and ensures business continuity.

Customers can rely on stable prices and supply for the grace period and focus on the immediate tasks at hand. In addition, renegotiating once the dust has settled allows for a better view into the future and more reliable contractual commitments.



Grant grace period for contract renewals


 

Freeze revenue/discount tiers:


Based on the commercial policy in place, demand shifts can result in customers qualifying for a different discount/price tiers. As such, customers suffering from demand drops would be burdened with price increases if moved to a less favorable volume tier. Similarly, COVID-19 related demand spikes could result in artificially reduced prices for manufacturers for a demand that is temporary and does not reflect the mechanics of the price tiers in the first place. Proactively communicating that customers will not be penalized for COVID-19 related demand shifts and that the pre-COVID prices for the entire portfolio will be honored for the "freeze period" mitigates the risk for both customers and MedTech manufacturers and ensures a stable transition.



Freeze revenue/discount tiers


 

Show goodwill regarding committed volume:


Fulfilling committed volume obligations can become increasingly difficult if customers' demand drops through no fault of their own. Enforcing these through e.g. liquidated damages will be of no benefit for any party. Here it makes sense to show goodwill by either extending customers' timeline to reach committed volume for a pre-defined time period of three to six months or adjusting the committed volume temporarily based on a revised forecast for the ongoing contract period. This relieves customers of the financial burden of buying and stocking products not yet needed and allows the supplier to maintain price levels and a favorable customer relationship. Specifically this provides a good momentum to set realistic targets for the year after to drive incremental sales and higher share of wallet.



Show goodwill regarding committed volume
Grant re-actively: Make financial compromises without reducing prices
Undoubtedly, customers may demand price reductions to cut costs and improve liquidity. Granting straight discounts, however, will not only deteriorate suppliers' profitability and damage price value relations, but also drive unintended price erosion in the market.
Measures that provide financial relief to customers without a direct reduction of prices should be prioritized and reactively offered.
Offer early bonus payouts:


Paying expected bonuses in advance can help customers' liquidity while keeping prices stable. A part of the expected annual bonus could be paid out monthly or quarterly, based on customers' projected performance for the remainder of the contracted period. The retained part of the bonus would then be balanced at the end of the year based on the actual performance. Alternatively, it is always possible to consider good willing the bonus in case they do not fully reach their commitments.



Offer early bonus pay-outs


 

Offer less expensive alternatives:


Providing customers with less expensive alternatives to contracted products is one way to accommodate customers' demands for a price cut. It allows customers to save costs, while also protecting price levels for the premium products that are substituted. This can be realized by either offering products from a lower value category with reduced functionalities or by stripping down services. Caution should be exercised to ensure that down-selling to a lower product value category does not come at the expense of an incrementally lower contribution margin or risking a permanent down-grading of the customer to a lower product category.



Offer less expensive alternatives


 
Offer value-added services:




Reviewing your service menu or de-bundling services from core product offerings can provide additional opportunities to protect the price of your core products. This can be in the form of offering these services free-of-charge or at a highly reduced price for a pre-defined period of time. Even better, services that help your customer to reduce costs and/ or increase clinical efficiency and effectiveness can be especially relevant during the post-COVID recovery phase. However, new free-of-charge services should only be considered as a mitigation measure if otherwise price cuts would have to be made.





Offer value added services
Yield as last resort: Grant intelligent price reduction in exchange for commitment
Unfortunately in some cases the measures listed above might not be enough for customer looking for an immediate financial relief through a price reduction. Granting these price reductions could be the difference between keeping and losing the customer.
The guiding principle in these cases should be to create a win-win situation and link price concessions to a condition of value.
Share of wallet:




When price reductions are unavoidable, the first priority should be to link price reductions to a commitment for a higher share of wallet and a preferred supplier status. Ideally and if possible, these lower prices should come partly in the form of off-invoice rebates and bonuses. This provides customers with lower net prices while mitigating the negative business impact for the manufacturer through a higher share of wallet and revenue.

 


Share of wallet


 
Contract duration:




Linking a direct price reduction to a contract extension with the same volume tiers/ commitments should be the second goal if discounts cannot be avoided. This can be especially useful in sectors experiencing high price erosion or competitive intensity as it can lock a fixed prices and volumes over multiple years and keep competition at bay.





Contract duration


 

T&C adjustments:




A sometime overlooked opportunity is to push through desired permanent T&C changes in exchange for a "temporary" price reduction of your contracted products. In particular, win-win T&Cs are especially interesting since they can provide cost savings for both parties such as EDI ordering, ordering frequency, order volume, and so on.





T&C adjustments


 

Differentiated price conditions:




In cases where price reduction cannot be linked to a conditional counter value as those described above then the last resort should be a carefully thought through differentiated price reduction. Multiple options are possible here; among others, reducing prices for end of life or low differential value products can be a more favorable concession as it mitigates brand dilution and protects prices of your core products.




Differentiated price conditions
Plan your concession order and mitigation strategies
There is no silver bullet on how to react towards customer demands for lower prices during a post-COVID recovery. What is important is to make the decision based on your competitive situation and customer's needs by using a structured concession plan to minimize negative commercial impact on your business. This ensures a smooth transition during the COVID-19 recovery.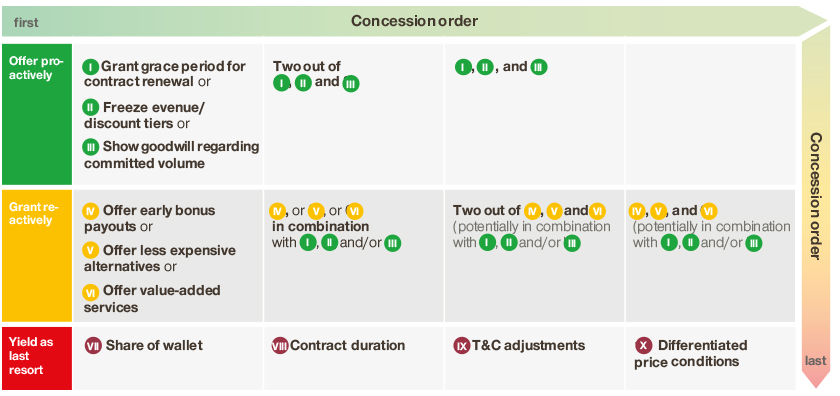 Concession and mitigation strategies                                         
Building such a concession plan based on the ten tactical pricing and contracting measures described above will equip your sales team in tackling the most demanding customers during the COVID-19 recovery. Moreover, it will ensure a win-win situations for both parties and strengthen the foundation for the expected new normal in the MedTech industry.