Checklists for Success: More Efficient Processes Through Proven Methods
October 26, 2020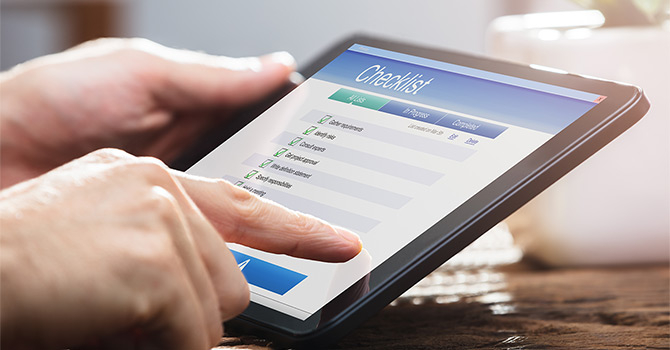 Complex processes aren't just annoying – they cost time and money. For this reason, many organizations invest numerous resources into optimizing their processes. Our project experience shows that solutions don't always have to be complicated and high tech. An effective tool for process optimization is simple: the checklist.
"We've always done it this way"– there's no worse statement when it comes to securing the future success of an organization. Despite the current challenges, public administrations as well as certain departments and management levels of private companies are unwilling to adapt to the new market conditions. However, companies need to continuously make improvements, to a certain extent, if they want to survive over the long term. It's not only important to review products and services but also internal and external processes. This is where the art of process optimization comes in. By testing their existing processes, organizational forms, and procedures, companies can identify where they need to optimize and how they can achieve this as quickly and efficiently as possible.
Process optimization to improve information flow and prevent overburdening employees
When Simon-Kucher is asked to support client projects, their starting points are often very similar. The process flows are complex and not clearly documented, resulting in suboptimal coordination with internal and external project partners. Information is typically hidden in numerous, extensive Excel lists, and approval coordination processes are sporadic and uncoordinated instead of following a given formula in a meaningful sequence. This inevitably leads to time discrepancies in the flow of information and requires employees to work longer, resulting in overtime.
We usually address these challenges in four steps. We start by creating a detailed process overview and then draft process checklists for the relevant processes in the organization that we have identified. The next step involves comparing the targets with the current situation to find and evaluate potential for improvement. We then use this information to derive a roadmap for implementing the optimization measures.
We have successfully applied this approach with many of our clients. For example, our methods enabled a German aid organization to optimize its processes in its finance department, resulting in a significant reduction in redundancies and overtime and improving its position for the future. In the automotive supplier industry, we advised our clients to use checklists to optimize sales processes in four core phases, from assessing the current situation and defining the target situation to preparing for and implementing measures. In the consumer goods sector, our client followed this approach to introduce change management concepts and support change processes. Lastly, we supported a number of banking clients in creating implementation lists to note all implementation topics, assign responsible individuals to tasks, and set deadlines for optimal project implementation. Regardless of whether our clients were in the social or private sector, their starting points were similar in that they had complex, unclear processes and no transparency.
Process checklists as a central component of process optimization
Improving processes is challenging but ultimately pays off. Issues caused by complexity, such as overtime and higher rates of errors in multiple steps of the process, can be resolved with process checklists.
Our approach can be found in the current management literature, namely The Checklist Manifesto by US researcher and author Atul Gawande. Drawing on his professional experience with checklists as a surgeon, he attempts to solve the problem of increasing complexity in our lives. He asserts that most mistakes are not made out of ignorance (as a result of not knowing enough) but out of inability (as a result of not using our knowledge correctly). Even routine tasks, such as those performed in operating rooms or before an aircraft takes off, are so complex that without a precisely defined process, it is practically inevitable that something will be overlooked. Experts need checklists as written guidelines to lead them through the most important steps of the complex process.
What does an effective process checklist look like? Once again, we can rely on set templates from Simon-Kucher project experience: process, phase, individual steps/tasks, responsibilities, starting point and time period, and, of course, checkboxes to tick off the individual steps.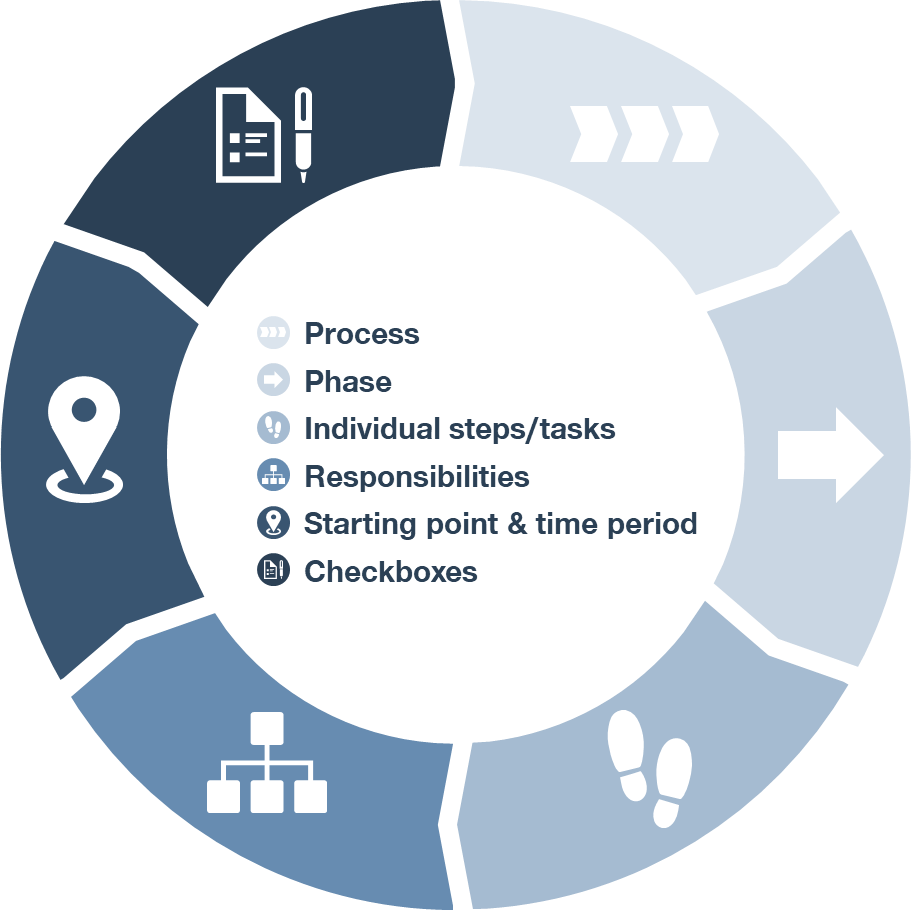 A well-designed checklist will include information for each component of this template. It helps to answer the following key questions:
When should the checklist be used?
Which individuals/roles are responsible?
What is the deadline, and which points are time critical?
In addition, it's important to make sure the checklists follow a consistent format and that they, above all, take into account the most critical and error-prone steps. Simple, understandable language and concise descriptions of the individual steps also help decrease the error rate. Finally, new checklists should be tested in day-to-day business situations and constantly reviewed and updated with knowledge gained.
Five advantages of checklists for your organization
Even though these steps may seem simple, it's important to approach them in a structured and thoughtful manner. In our project experience, we have observed companies gain several decisive advantages by using our method and consistently applying their checklists:
Saved time: Processes run faster and are more coordinated
Fewer errors: By reducing complexity, steps are clearer, and details are no longer overlooked
Increased efficiency: With tasks clearly differentiated, less time is wasted, and processes run smoother
Smaller workload for employees: Time savings and clearly defined responsibilities reduce the workload
Documentation: Carefully documenting processes over a long time period enables all employees to review and clearly understand them at any time, ensuring a simpler transfer of knowledge