Consulting in the Future: A Roadmap (Part I)
November 03, 2016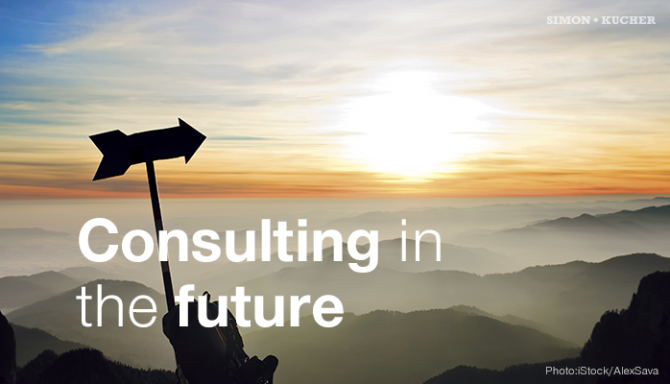 Simon-Kucher is constantly monitoring market developments and how they affect our consulting activities with one central question in mind: How can we continue to sustainably increase our clients' profits in the future?
In relation to this, we observe the following key developments: 
Quick, tangible solutions in dynamic markets
Pragmatic, tangible and understandable project results – this is increasingly what clients demand. Overly theo­retical PowerPoint concepts lacking in detail and imple­mentability are out – and of course, fast is in. Compa­nies want to see the initial results during the project phases, and not months later, especially in more dynamic markets. Consequently, quick wins are becoming more and more important, as they also help the company to quickly recover project costs. The longer the time to implement a solution and the higher the financial investment, the more likely it is to be rejected. While clients know that top solutions cannot be obtained without some investment, they demand a healthy balance and a focus on what's important. Speed, pragmatism and implementability are the three attributes of the future.
Implementation or "Make it happen"
It is wrong to think that the work is over once a new strategy has been developed. The next step is the real challenge: implementation within the organization. The maxim "Make it happen" seems simple, but this generally leads to profound changes in processes and struc­tures. The effort required to change an organization on this scale is often underestimated ‒ one reason why some good ideas get lost on the way. A concept alone doesn't lead to anything. Therefore, consultants not only have to develop first-rate solutions, but must also ensure that they become embedded in the client organization long term. Coaching and implementation support are becoming important aspects of a consultant's job: from sparring with C-levels on implementation issues to offering operative assistance when introducing new processes and tools. This requires consultants to develop special skills and build even closer, more trusting and long-term relationships with their clients.
Transformation or helping others to help themselves
Our studies and analyses repeatedly prove that what separates the top companies from the rest is their consistent focus on long-term profit orientation, or commer­cial excellence. This focus becomes the driving force behind every thought and action from the board to the sales department, and across every process, system and target. Companies are increasingly recognizing the advantages of adopting such an approach, but this kind of transformation is a monumental task. It requires a fundamental mindset change, getting all employees to really alter their way of thinking. In this phase, consul­tants need to guide customers down the path, however, at some point companies have to be able to run things themselves. Thus, a good consultancy does not create client dependency – the goal is to jointly build an appro­priate organizational structure, train the employees and equip them with the necessary tools to deliver commercial excellence. Throughout the transformation program, good consultancies combine quick wins with long-term change measures, boosting motivation within the com­pany. Also, they know that change can be secured only through repetition, and important processes must there­fore become embedded in workflows. True transformation is one of the most difficult tasks for both busi­ness leaders and consultants ‒ but it's worth it.