Consulting in the Future: A Roadmap (Part II)
November 09, 2016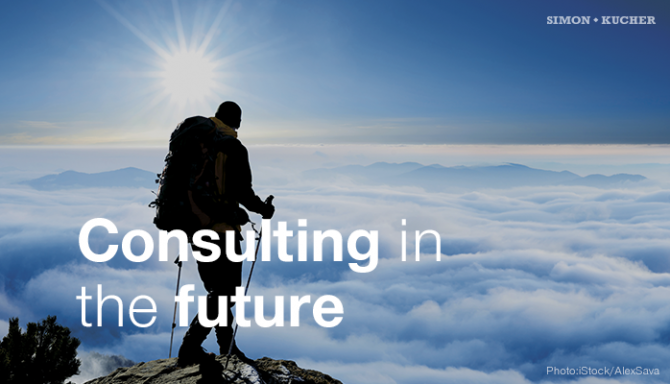 In my last post I've already presented three major developments that will shape the future of consulting. Here some more: 

New business models for markets in transition 

Megatrends such as big data, cloud technology, Industry 4.0 and the Internet of Things are triggering profound changes in the markets. In the future, compa­nies will develop products and offerings that are beyond the imaginations of today. Initially, this discussion often focuses on vision and technical possibilities, but it quickly shifts to the economic reality. Can we make money with this? And how? These are the deciding questions of the future. Business and revenue models have to be completely redesigned: Software as a Service (SaaS), sharing economy, usage-based prices and revenue sharing are only a few examples and are for many companies totally uncharted territory. For this reason, they now urgently need sound expertise to develop their own innovative revenue models. Otherwise they risk com­pletely missing out on the potential of these megatrends.
A holistic view
Everything is connected. Achieving sustainable growth in increasingly competitive markets requires an in-depth understanding of all internal and external factors, and how they affect each other. This includes everything from supply and demand, customers and competition to products and prices, sales and marketing, management incentives and online activities. What drives growth, and even more importantly, what gets in its way? Are country heads incentivized by market share and therefore overlooking profitability? Is the sales dialog in the online shop too complex, requiring a number of clicks that discourages customers from making a purchase rather than encouraging them? Commercial excellence requires that each piece of the puzzle be the best it can be, and that the picture aligns perfectly. Instead of optimizing each part individually, to drive growth compa­nies have to understand how all market dimensions work together and then strengthen the parts with the strongest overall impact accordingly. Therefore, in the future, top entrepreneurs will have to be holistic topline experts.
None of these major developments and challenges will take Simon-Kucher by surprise: As a global specialist for pricing, marketing and sales, we are ideally positioned to help our clients achieve sustainable growth in this difficult environment. Our projects have always been geared toward delivering pragmatic solutions that can be implemented quickly. Furthermore, it is our standard practice to work closely with our clients through the implementation phase: As operative assistants, sparring partners and coaches ‒ our work does not end with the presentation of a new concept. We help our clients achieve their full potential.