Data-based Services: Growth Potential for Banks
December 03, 2018

In May 2018, the European Union's new General Data Protection Regulation (GDPR) came into effect, ushering in broad transparency over the way businesses use customer data. The GDPR also provides banks with a legal framework on how to implement data-based services for their customers. Younger customers offer important growth and revenue opportunities for these services, a recent survey shows.
Are banks allowed to monetize their customers' data? And if so, how should they go about it? In the banking industry, opinion is divided over whether it is right to use data for commercial purposes. On the one side, there are those who sharply criticize this practice, arguing that it goes against banks' commitment to maintain confidentiality and also undermines consumer trust. However, numerous bank managers and fintech executives see customer data as the future currency of the coming open-banking space. Faced with low interest rates and a high level of competitive pressure, they expect improved access to data (provided by APIs, etc.) will help identify new sources of revenue.
The debate is further complicated by the recently implemented GDPR. The EU regulation redefines how private companies, self-employed individuals, public authorities, and banking institutions process personal data and standardizes how this information is handled across the EU. The regulation focuses in particular on establishing transparency for the consumer in commercial use of data. One thing is made very clear: it is simply no longer possible to monetize data without providing value to the customer.
Banks have to be more effective at explaining how they use data
A recent survey* conducted by Simon-Kucher & Partners shows that only a small minority of customers know how today's banks use their data. A poll of internet-savvy customers aged 20 to 35 revealed that over 70 percent of people in this age group are poorly informed about their bank's data usage policy. In comparison, when asked about social networks, such as Facebook, this figure is less than 40 percent.
This lack of information does nothing to reduce customers' basic distaste for data-based banking services and demonstrates that blanket data collection isn't the right way forward. No customers want to conduct their banking transactions with a data shark. Bank customers will only accept data-based services if they offer actual added value.
Digital data services attract younger customers
Younger customers are now ready to share their banking data in order to receive personalized advice, more effective financial tips, and individual product suggestions tailored to their specific life situation. The figure below shows which data-based services these customers rate as attractive.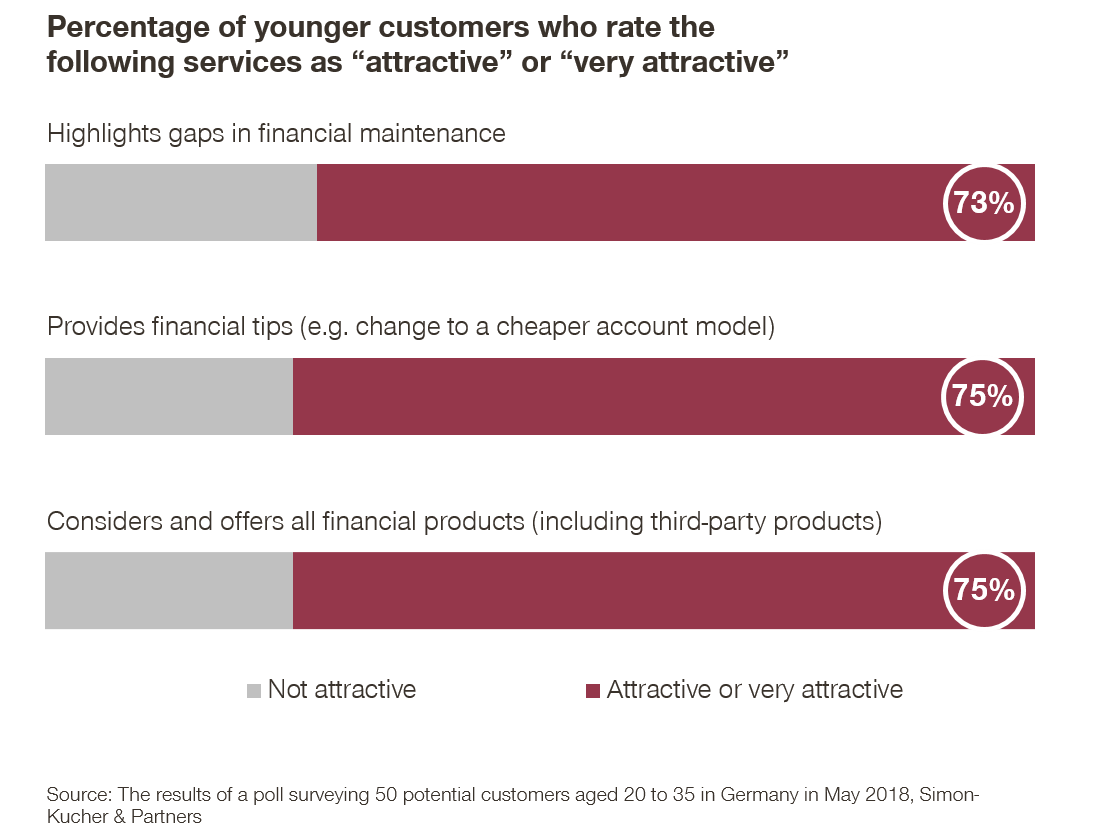 Over 70 percent of young potential customers between 20 to 35 years old are interested in receiving financial tips based on the movements in and out of their accounts. The majority also positively rated a service that offers them advice on possible gaps in their financial maintenance. Multibanking and consultations that cover all financial products (including those offered by other service providers/third parties) were equally well received, with three quarters of study participants rating these services as "attractive" or "very attractive."
With the Payment Services Directive 2 (PSD 2), using alternative data sources to provide benefit to the customer opens up new possibilities in advising services and can result in additional growth and revenue opportunities.
Banks need to design digital services around customer benefit
Banks must act fast to strategically position themselves well and monetize customers' data successfully. In terms of data use, they are already highly trusted by their customers. The task now is to demonstrate to the wider public outside of the banking industry that data-based services and data protection aren't necessarily a contradiction. Transparent and customer-oriented use of data that clearly focuses on value to the customer is crucial. Banks should concentrate less on "collecting" data and instead put their efforts toward developing successful, long-term growth and monetization strategies designed around those services that excite customers and earn their loyalty. This requires banks have an in-depth understanding of their customers; otherwise, investing a large amount of resources in IT could end up generating minimal economic value in return – and increase the risk of losing valuable customer trust.
*The results of a poll surveying 50 potential customers aged 20 to 35 in Germany in May 2018.