From Follower to Trend-setter: Actively Shaping Trends in the Paper and Packaging Industry
January 10, 2020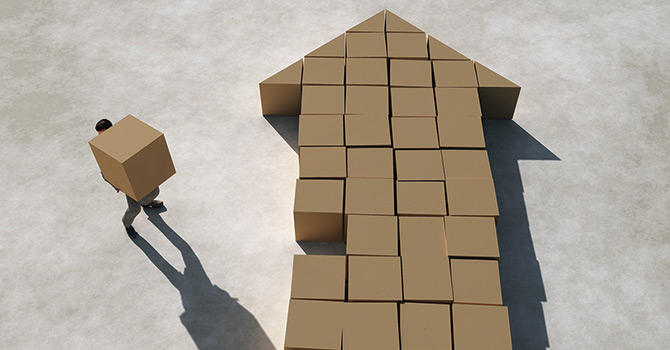 Sustainability and digitalization will be the two most important trends in the years ahead, packaging experts predict. Until now, cost reduction has been the industry's main focus, with few firms taking action to develop market potential. Which challenges will decision makers have to address in order to strategically reexamine their business models and proactively shape trends?
What are the biggest trends and challenges that the paper and packaging industry will face in the next few years? We asked leading packaging experts this question at a recent industry conference. At the top of their list are sustainability and digital production processes, while digital sales and the commoditization of product offerings are also important topics. It is noteworthy that initiatives in these areas are primarily motivated by cost reduction and that actively managing trends from a market perspective is rare.
Here, we will summarize and outline the discussion on the most important trends for the paper and packaging industry, and show where the experts see the main market challenges:
Sustainability: Commercial excellence, not greenwashing
In our survey, 58 percent of packaging experts named sustainability as an important trend for the years ahead. It is by far the most important topic for paper and packaging manufacturers. Many companies have recognized that products and processes that use fewer resources have a huge impact on their ability to compete on cost. Furthermore, industry leaders say they have a social obligation to fulfill. This way of thinking is already being rewarded by investors and is helping firms maintain their market position.
However, most sustainable paper and packaging products occupy a niche that serves a small – albeit growing – segment of environmentally conscious customers. This may be one of the reasons why comprehensive sustainability strategies are lacking in multiple aspects, and the development of more differentiated product portfolios is progressing so slowly. Moreover, purchasing departments at the majority of packaging customers have yet to move away from their traditional mindsets. Incentive schemes for these departments could be adapted to support purchasing of sustainable products, but in the medium term, the focus for manufacturers has to be on overcoming logistical and price-related hurdles and developing sustainable solutions that purchasers will find attractive.
Clear target dimensions that define what "sustainability" actually means are a fundamental factor that is missing in the industry. Simply using trial and error to work out which is the right kind of sustainability generates significant costs for companies and doesn't make much financial sense. The first step is to define target dimensions (e.g. less microplastics, higher proportion of recycled materials, less CO2 emissions, better working conditions, less water usage) and determine what weighting each dimension should be given. Once defined, the dimensions need to be anchored with relevant legislation and cost internalization to create a solid foundation for successful commercialization and provide clear direction for companies and consumers.
Digital manufacturing, analog sales
According to our survey, digital processes are the second most important trend for paper and packaging manufacturers. Companies in the industry have been automating their manufacturing processes to reduce their expenditure through lower labor costs and more efficient usage of equipment. Especially for companies operating in high-wage countries, this is a prerequisite in order to remain profitable.
In terms of sales via digital channels, the packaging industry is still lagging behind. A recent analysis found that 33 out of 40 leading packaging manufacturers have no online store, and another four have online stores but with restricted access. Compared to other B2B industries, these figures are quite low. If anything, paper and packaging manufacturers only provide an online ordering form. According to experts, the challenge isn't setting up an online store but integrating it with traditional sales channels by developing an omnichannel strategy. In doing so, the entire go-to-market strategy needs to be examined and adapted to requirements.
Digital solutions: Smart packaging is primarily attractive for B2B customers
In addition to its conventional functions (e.g. protection and labeling), smart packaging uses technology to provide further advantages (e.g. information on the shelf life and quality of its contents and precise tracking). Some applications of smart packaging, such as product tracking, are already well established in the logistics and grocery sectors due to the relatively low costs and significant benefits involved. However, more complex solutions, such as protecting against product piracy or enabling innovative ways of interacting with consumers, are still niche applications, as they require high initial costs, and monetization is difficult across the value chain.
How can firms escape the commodity trap?
Fewer opportunities to differentiate products and the increasing professionalization of customers' purchasing departments contribute to paper and packaging products being highly commoditized. In calls for tenders, the comparability of products is expected, making it necessary to debundle additional services from the main product. Clearly defined service products combined with stringent value argumentation can help paper and packaging companies remain competitive with their main product while achieving and monetizing reasonable differentiation on the market.
Commoditization reinforces the fact that fluctuations in raw material costs and currency exchange rates have a significant, negative impact on paper and packaging products. Companies need to react quickly to avoid a drop in margins. Almost all the experts surveyed said they already have mitigation strategies in place. However, active sales management of such fluctuations is the exception rather than the rule.
It's time to proactively steer the industry
The paper and packaging industry isn't asleep; decision makers have fully recognized the importance of the latest trends and developments and are taking steps to address them. However, increased efficiency and cost optimization are still often the primary goals. Active approaches to deal with market potential are rare, as the necessary groundwork hasn't been laid. By taking a market-focused perspective, firms will put themselves in a good position to strategically examine their business models and proactively shape the industry's current trends.