Growth in a Negative Interest Environment: What Swiss Banks Can Learn From German Regional Banks
March 13, 2018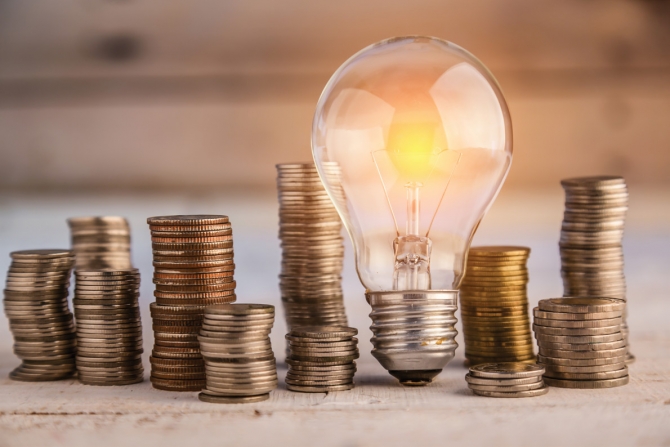 Retail banks are finding it increasingly difficult to run their businesses profitably in the current negative interest environment – not just in Switzerland, but also in Germany. To secure growth despite falling revenue from interests, some German regional banks have already introduced an innovative solution.
Today's interest rates present a significant challenge for Swiss retail banks. In 2016 alone, they paid CHF 1.5 billion in negative interest to the Swiss National Bank (SNB). Intense competition and the slow-down of the lucrative property market added to their woes. In Germany, banks are exposed to restrictive monetary policy as well: the European Central Bank (ECB) currently levies 0.4 percent interest on deposit accounts, while the base rate has remained at zero percent since 2014. This market environment affects regional banks in particular, as Sparkassen (savings banks) and cooperative banks (Volksbanken and Raiffeisenbanken) have traditionally generated about 80 percent of their earnings from interest income.
Free-of-charge account maintenance is disappearing
Regional banks are still reluctant to pass on negative interest rates directly to their clients. More often, they raise prices instead. This trend is most obvious in relation to account maintenance for private clients, as banks are increasingly moving away from free account maintenance policies towards monthly maintenance fees. For example, Sparda Bank Berlin retired its free account maintenance model in October 2017 even though Sparda banks have been typically known for their free account maintenance. Other charges, such as for debit cards and cash withdrawals have also become more common.
However, price increases have limited potential when they are not accompanied by an appropriate increase in performance, particularly given the competition from direct banks, such as ING Diba, DKB, and Comdirect, which still offer their accounts free of charge. This situation raises the crucial question: how can regional banks increase their revenues without losing a substantial part of their client base?
Intelligent price increases with digital loyalty programs
To address this challenge, Simon-Kucher & Partners has helped several Volksbanken and Sparkassen to successfully implement digital loyalty programs. The idea is to link the level of each client's account maintenance fees directly to his product usage – the more products he uses with the bank, the lower the account maintenance fee. Not only does this approach reduce the negative perception of a price increase, it also incentivizes cross-buying of products.
By linking the fee to product usage, price increases are less obvious to customers, since price ranges or minimum price levels are communicated instead of individual, easy-to-compare price points. Furthermore, the price model is generally perceived as fair because clients can influence their price. "Good clients" (clients who use many products) are not affected (or only marginally affected) by a price increase and clients who only use a few products can avoid a price increase by shifting more products to the bank.
Growth beyond private account services
Digital loyalty programs have also proven to be an effective means to increase the number of banking products used – an issue with significant untapped potential: in Germany, regional banks tend to offer around 100 to 150 products; however, average clients only use 2 to 5 products. The reason for this disparity can be found in the ways banks typically advertise: products are mostly presented on the banks' websites or in brochures with a lot of text and detailed information. This approach mostly fails to direct clients' attention to other banking products and has not been particularly effective in increasing cross-selling rates. However, cross-selling is of fundamental importance because it helps diversify revenue streams and therefore reduce dependence on interest income. Moreover, it has been proven that clients who use more products are less likely to churn.
Simple product stories and intuitive designs are key
Many successful projects conducted by Simon-Kucher & Partners over the past few years have shown that simple product stories and intuitive designs are critical success factors when it comes to fostering cross-selling.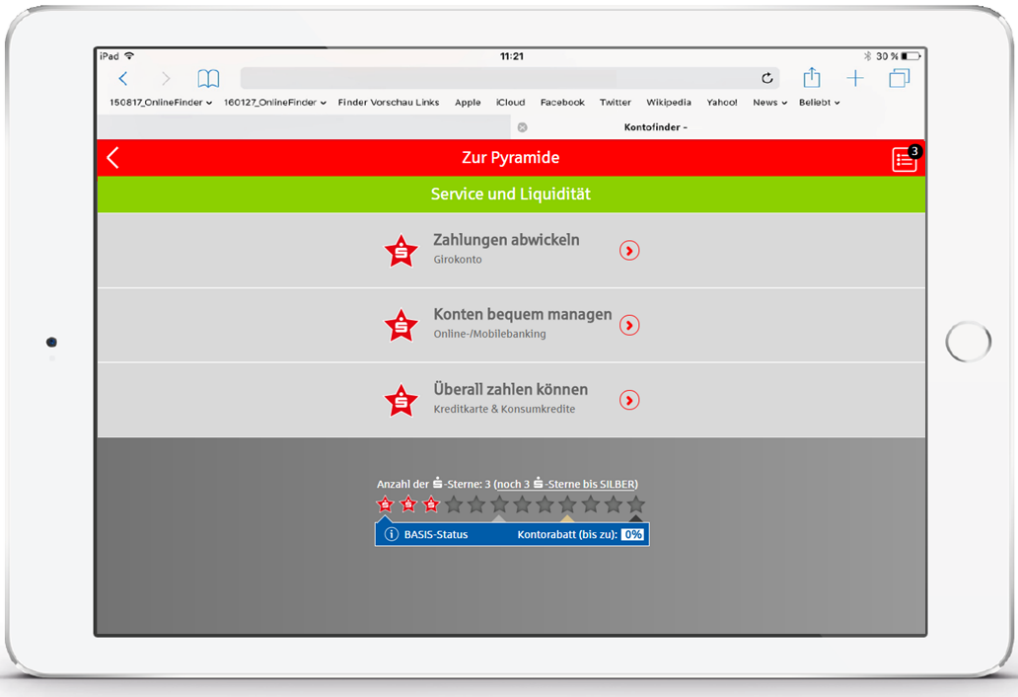 Clients are often unaware which products are necessary to cover all their financial needs, such as payments, investments or insurance policies. Simple product stories help direct clients' attention to the relevance of such products. One Sparkasse for instance uses the category "Service and Liquidity" to address the following needs: processing payments, managing accounts conveniently and effecting transactions anywhere. These needs are covered with a private account, online/mobile banking and a credit card. If a client has these three products, he considered all relevant products within this category and is thus sufficiently covered.

When designing the application, it is crucial to ensure that clients understand intuitively what to do. Displaying products or product categories as puzzle pieces has proven to be a very effective way to achieve this. Clients immediately recognize which financial needs are covered and have a strong desire to complete the remaining gaps (natural impulse to complete missing pieces).
Less discussion on fees, more focus on personal finances
Digital loyalty programs not only reduce the need for the client advisors to justify price increases, they also help to direct clients' attention towards their personal finances. This gives universal banks the opportunity to position themselves as competent financial advisors and thus, to differentiate themselves from lower-priced direct banks. At the same time, clients become more profitable and the bank's revenue base can be diversified. This concept has been successfully implemented with several German banks and – given the current market environment – could also be an attractive solution for Swiss banks.
Summary
Current interest rates present a significant challenge for retail banks – not only in Switzerland, but also in Germany, where the situation is particularly demanding for regional banks. The presence of lower-priced direct banks limits the possibility of compensating for decreasing interest income through price increases. To solve this, numerous Volksbanken and Sparkassen have introduced innovative digital loyalty programs: the more products a client uses, the lower his account maintenance fees. Using this concept, price increases can be better absorbed while cross-selling is increased significantly. The backbone of a successful digital loyalty program is an intuitive online application with simple product stories.