Transition in Time-Lapse: Revamping the Medtech Sales Model in Light of COVID-19
April 14, 2020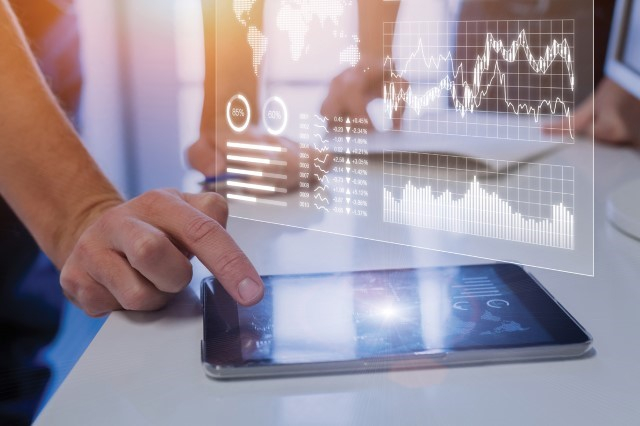 Crisis as a catalyst for rapid change
Times of crisis frequently have one characteristic in common: evolutionary changes, that otherwise happen almost unnoticed over years, accelerate in pace and lead to paradigm-shifting changes.
The reasons are obvious. During normal times of continuing growth, medtech companies typically show organizational inertia, slowing down necessary change. It is possible to "kick the can down the road" instead of tackling inconvenient and lengthy transition processes.
In a crisis, everything suddenly appears to be at stake and nothing is certain anymore. Bold decisions are taken swiftly in an attempt to avert existential threats. COVID-19 will be no exception. While much of the change we are about to see would have happened over time regardless, it will now happen at a much accelerated pace. This should be viewed as an opportunity rather than a threat, as winners during times of crisis will shine in the long run.
A look at the legacy Medtech sales model
For many medtech companies, the traditional customer engagement model has evolved rather slowly over the years. The main anchor, particularly for physician preference products, has been a relationship-driven sales model, relying heavily on clinicians to consciously or subconsciously develop loyalties with the sales rep.
Historically, in fields like interventional cardiology or orthopedic implants, we have seen examples where sales reps who moved to a competitor were able to take as much as 90% of their business with them, despite selling a product they cautioned against before their transition. This is testament that in certain cases, relationships matter more than the message.
While at its peak, the relationship-driven sales approach has proven to be immensely impactful, it also led to ballooning cost for the medtech industry. Companies competed by increasing the number of reps – these reps understood how to translate their level of influence into lofty compensation. In combination with favorable margins, the efficiency and effectiveness of relying primarily on this relationship-driven model has not been sufficiently questioned. The assessment, development, and adoption of alternative engagement models lags behind other sectors.
A call for change
While relationships will always matter and will continue to play a significant role, we have observed limitations of a model focusing almost exclusively on relationship-based selling. Underlying factors eroding the success include:
Administrative decision makers, who are much less susceptible to decision-making influenced by relationships, have gained power (in the US, this compounded by a stark increase of clinicians becoming employees of the health system vs. contractors with the ability to take their business somewhere else)

Structured decision-making processes for product adoption (via "Value Analysis Committees") and usage (via protocols) are centered around a review of evidence

General financial pressures force providers to operate on tight margins and manage the supply chain tightly. There is little room for paying unnecessary premiums (and it can be expected that the COVID-19 situation, with a temporary sharp reduction in typically high-margin elective procedures, will lead to more financial distress)
Conversely, the current model may not sufficiently address areas where providers would benefit from support from the medtech industry:
Providers struggle with in-house expertise around operational excellence

Administrators looking for leaner and simpler interaction, more heavily relying on digital tools as evidenced by the fact that today, many hospitals limit access physical supplier access to their facilities 
While the selling approach has evolved over time, we feel that medtech companies today still are over-indexed on the traditional relationship-focused model that will yield continuously lower return on investment. Conversely, we feel the majority of companies are under-indexed on approaches more tailored to the changing landscape also addressing non-clinical stakeholders, payers, and patients as part of the stakeholder engagement mix.
Revamping the engagement model in light of COVID-19
In the crisis, the traditional relationship-driven sales model has effectively come to a pause. It is time to reflect on how to future-proof the go-to-market approach, consistent with an evolving new way of doing business. It is an opportunity to use the crisis to stay ahead of or leapfrog competition.
Guiding principles at the center of this transition should be the answer to the two simple questions:
Who are the customers?  
What do the customers need?
On the first question: the clinician as the ultimate user is still an influencer in today's environment. However, the "economic buyers", including all levels of administrative stakeholders up to the C-suite, are responsible for issuing the purchase order and should increasingly move in the focus of the sales efforts. 
Having "economic buyers" in mind: what can be done to strengthen the effectiveness and efficiency of our commercial field force, and which needs can be addressed?  In the following, we highlight three measures that, in our view, should be prioritized:
Measure 1: Pursue solution selling opportunities
Short-term, during the COVID-19 crisis, provider organizations are overwhelmed with acute patients. Unconventional operational support inside or outside the facility is much needed. If cleared from a regulatory perspective, this could entail anything from supply chain services or referral management to hands-on operational support inside the facility.
While some of these support activities may be temporary and exceptional, it fits the general trend within medtech to elevate the status from a product supplier to a partnership model. This partnership can already straddle the line between being a supplier or a provider. For the last few years in Europe, medtech companies have selectively taken over management of certain settings of care (e.g. cath lab, diagnostic lab, dialysis centers). On a global basis, patient referral, reimbursement support, and clinical decision-making services are on the rise.
To succeed in this area, establishing relevant capabilities that address customers' development opportunities is key. Members of a clinical field force, key account managers who are able to embrace multiple roles in providing comprehensive support to the institution, or medical science liaisons (MSL) could be instrumental for the implementation.
What support levels, services, or solutions make sense during the crisis is a function of capacity and capabilities. Customers will be more receptive to holistic solutions addressing crisis-related shortcomings and challenges such as remote patient care and home care.
Measure 2: Build a health-economic (HEOR) field force
The COVID-19 situation will put additional strain on the P&L of provider organizations. Evaluating treatment and product options from an economic perspective will become ever more critical for success.
While in the past, provider economics were focused on managing the delta between reimbursement and cost for the episode of care, we are transitioning towards a much more complex environment. Providers are increasingly at risk for the (sometimes long-term) clinical outcomes, be it via:
Reimbursement changes increasingly taking clinical outcomes into consideration (e.g. CMS penalties for unnecessary readmissions)

Structural healthcare reform, such as the introduction of Accountable Care Organizations (ACOs) effectively coordinating and tying cost together across primary and secondary care over a long period of time

Vertical integration: where providers and payers operate under one organizational umbrella
The lines between providers and payers are becoming more blurry. Increasingly, the financial incentives of a provider organization have resemblance of that of a traditional payer organization and become much different to a traditional provider in a "fee for service" environment. As a consequence, the economic value messages towards payers and providers may converge.
Modeling the short and long-term financial impact of the offering today is more nuanced and complex, depending on the degree to which the provider is "at risk". In our view however, in today's environment, compelling HEOR evidence may represent the most powerful lever for medtech to move the needle. To generate buy-in, the underlying modeling needs to be adaptable to the specifics of the provider organization. These required adaptations are no longer limited to demographic factors only, but also require the specifics to which the organization is "at risk". While medtech companies already have the ability to generate the evidence to various degrees, they usually lack a field force capable of communicating it effectively.
Key lessons from our work supporting development and scaling up of an HEOR field force include:
To increase credibility, HEOR messages should be conveyed by a dedicated HEOR field force whose members have a different background to the typical sales rep. Typically, a science or clinical background is preferred in combination with a solid understanding of system economics.

Messages encompassing solutions, such as the broad usage of an entire portfolio of products and/or services as opposed to individual products, tend to be more impactful as they open the doors to senior administrative stakeholders that ultimately have P&L responsibility
 Measure 3: Go digital 
This dimension is addressing "efficiency" among the customer needs. One focus area is the interaction and communication towards clinical stakeholders.
Many facilities restrict access for sales reps and clinicians are less open towards spending face time with the reps on a regular basis. Of course, clinicians still want and need access to the information the sales reps are providing. The solutions include the use of websites with tailored portals to educate clinicians and one-on-one resources on-demand, ideally using videoconferencing capabilities. Content can be more critical than the medium, and having one standardized and optimized (and regulatory-vetted) message on a website may yield higher impact than dispersed communication by individual reps.
That said, in a digital engagement model it is more challenging to focus on the component of the message likely to resonate most with the customer. Therefore, digital should not fully replace an in-person model built on relationships. An effective engagement mix balancing personal and digital interaction will be optimal going forward. Personal interactions will be focused on accounts that value it and are sizable enough to justify the investment of calling on them in person.
In-person interactions during the COVID-19 crisis are increasingly limited and medtech companies are forced to resort to digital and remote engagement models during this crisis. This again is an example where a transition (from face-to face to digital) will be greatly accelerated by the COVID-19 situation and the industry may not fully rebound to the old "mix" when things return to normal.
Digital may also impact operational aspects and a no frills go-to-market approach may become more mainstream. For example, does it really always require a rep driving around with trunk stock when an electronic ordering portal could cut out significant cost?
While providers, as suggested above, may partner with some suppliers as a solution provider, they may at the same time be interested in engaging in an efficient, transactional relationship with limited services to cut out cost.
We've supported medtech companies in the implementation of both tiered service levels with different price points and the launch of low-touch subsidiaries under a new brand name. In both situations, a key to success is the ability and willingness to fence off the two service levels, which proved to be problematic where services had a patient-facing component (e.g implants such as pacemakers).
Bolstering the digital capabilities also plays a significant role in business continuity planning for potential future crises. The pandemic may affect us in waves, and other scenarios could be imagined where a business relying on local physical presence may be at risk.
Conclusion:
We see a compelling business case for transitioning from a mostly relationship-centric sales approach to a balanced partnership approach grounded in economics. The relationship-driven sales component is not redundant, but it has to be appropriately scaled and complemented with other pillars.
The graph below highlights how we see the priorities, both on the provider side and the medtech side, evolve during and in the aftermath of the crisis. The three measures introduced are effective as they are tailored to the evolving needs as well as geared towards efficiency and cost reduction.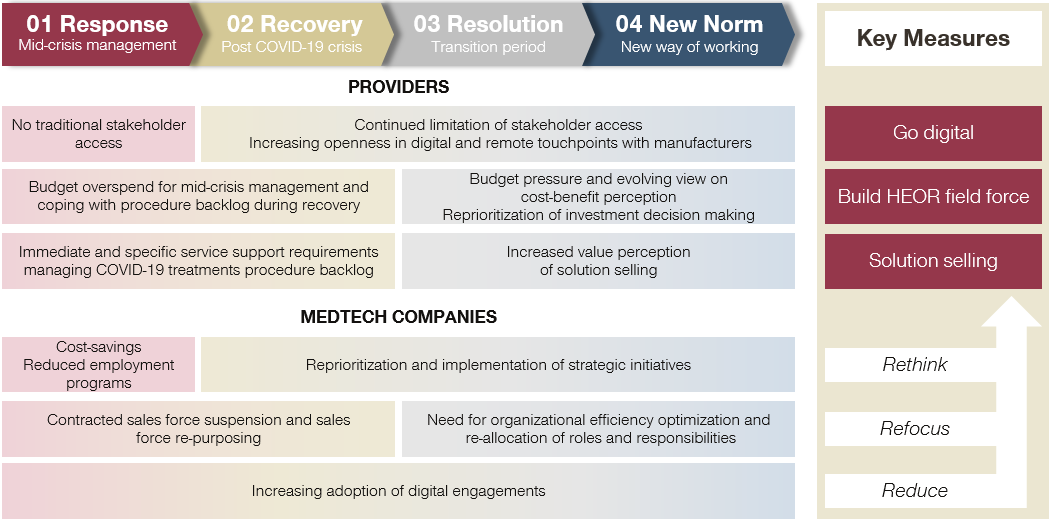 As we suggested earlier: situations of crisis serve as catalysts for rapid change. While COVID-19 is not the trigger of any of these developments outlined, it definitely is a catalyst for rapid change. The disruptive nature of the crisis provides an opportunity to steer in the new direction quickly, easily, and also at a fraction of the cost, as internal talent will be more motivated to redefine their roles in light of the fact that "business as usual" is simply not possible.
It is time to set up the sales organization for the opportunities ahead. There may be a potentially narrow time window to initiate change – winners in the industry will use it.