From Traditional Banks to Digital Platforms: Transformation in B2B Banking
March 25, 2020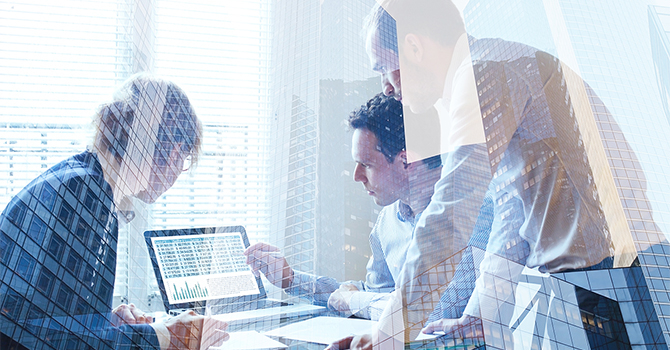 Increasing commoditization is putting pressure on banks' revenues and dwindling customer loyalty. However, they can still use their advantages regarding client relationships and data sovereignty to create new business models and solutions to stand out from the competition and generate real added value for small- and medium-sized corporate clients. The motto here is: "The winner takes it all!"
Accounting, HR, data management, supply chain management, taxes, and banking are all topics banks' small- and medium-sized corporate clients have to deal with. Companies that don't address these aspects properly risk failing to successfully develop and sell their own products, suffering considerable losses as a result. For this reason, they need support from experts or effective software.
Banks can benefit from networks 
Since these topics are closely linked to companies' finances, banks find themselves in a strategic position. However, so far, they have largely focused their attention on the finance and banking part of business needs. Instead of directing data and clients toward external experts and software, banks can get ahead by offering their clients a consistent and comprehensive solution.
Banks don't have to develop all the solutions themselves. They have access to a global pool of thousands of startups and specialist providers to expand their portfolios. Their main task should be to develop an excellent customer experience that combines different solutions. At the same time, they can use their client base to build a network that adds value. This can increase their chances of attracting more clients who want to benefit from the network.
Four steps to become a digital platform
Through conducting projects and surveys of over 1,000 corporate clients, we have identified four key steps to become a digital platform:
1. Define the right target portfolio
An average company has over 100 possible needs, from financing to storage. On closer inspection, these can be divided into six categories, which banks can optimize to improve their offering:
Banking: The basis for building a successful banking platform is an attractive range of services. In addition to straightforward online banking, these could include simple credit approval and instant credit ratings.
Financial services: The first step toward a holistic banking platform is having financial services that use the available information to create value for the client. These include cash flow forecasts with tips for improvement, support with tax returns, and cost position evaluation.
Extended services: With existing data, banks can offer a significantly expanded, comprehensive solution portfolio. Solutions for accounting, human resource management, invoice management, project management, eCommerce steering, sales tracking, etc. generate differentiated added value by providing the client with everything they need from a single source.
Data and security: Clients perceive banks as highly trustworthy and consider them secure managers of sensitive data. Banks can benefit from this by providing services, such as data storage or transfer, which create high value for the client.
Network: If a client has a problem, there is a good chance other clients have encountered the same issue and can help come up with a solution. Similar to the network concept of a platform, banks can establish appropriate connections and even provide services, such as peer-to-peer loans, which make the network even more attractive to clients. 
Non-digital services: A successful offering isn't complete without advantages in the non-digital world. For example, access to co-working spaces or discounts on mobility and events are popular benefits. The following graphic shows what a holistic platform for small- and medium-sized corporate clients could look like: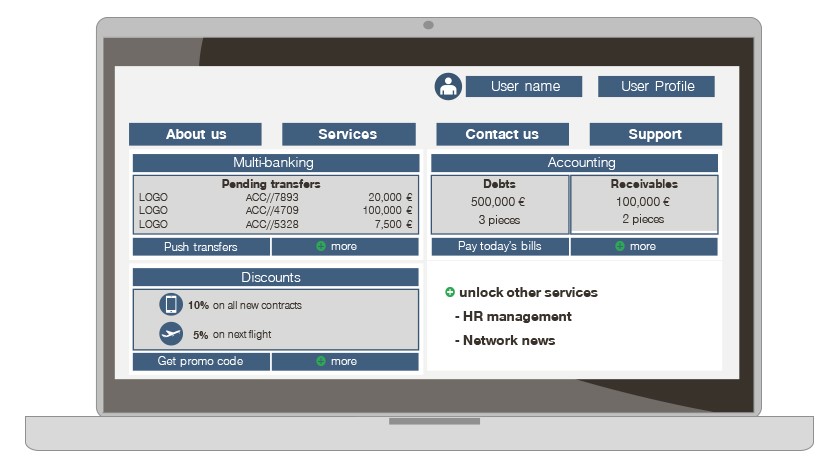 2. Develop the right offer
Instead of offering arbitrary solutions or overwhelming clients with an unmanageable variety of services, banks should carefully calibrate their initial offer following these four principles:
Focus on needs instead of segments: Many basic needs are consistent across different client segments. Therefore, focusing on solutions for segments, such as "manufacturing," is less effective than developing an offering around strong anchor solutions that address the abovementioned needs categories, such as "network."
Go for breadth instead of depth: Clients consider all six core needs categories important. So, banks should develop offers for each needs category rather than having many products for a few categories and disregarding the rest. Addressing all categories creates the highest initial value for the client and is a basic prerequisite for getting the client onboard with the platform.
Focus on specific areas: After developing a broad basic offer, banks can use more tailored offers to address attractive segments. For example, solutions for international business are only relevant for very specific clients, but these clients value them highly. By doing this, banks can sharpen their portfolio and strengthen their network in a targeted manner.
Instead of fixed bundles, let clients self-select: Our analyses show that offering various solutions only provides high value in a few areas (e.g. online marketing and sales tracking). In most cases, clients saw no increased benefit from bundled offers. Bundles that include outsourced services, such as external accounting, may be perceived as less attractive. For this reason, banks shouldn't initially bundle thematically related solutions and instead group them together as much as possible (e.g. "Solutions for financial management"). This allows clients to select the solutions that meet their needs. Banks can introduce fixed bundles for specific attractive client segments at a later stage.
3. Correctly implement the platform
Banks need to design their new platforms to be truly holistic and connected from day one and implement them as quickly as possible. Of course, they can't redevelop all solutions in the blink of an eye, so having partners is key. Banks can choose from thousands of providers of all sizes from around the world, and they must evaluate their value properly. For example, they need to consider success, market maturity, the relevance of the met needs, and price.
Banks need to have client access and data because this is the only way they will be seen as solution providers and not sub-providers. If banks only give discounts on offers from external partners, there is a risk that the solution will be seen as simply a value-added product. With a comprehensive platform, however, banks would have the opportunity to exchange the offered solution and use the resulting knowledge in negotiations with other sub-providers. In addition, this would allow banks to increase their wealth of data and use it to further develop their offering. This would mean, for example, that clients would only need to log in once to benefit from the solutions.
4. Monetize the platform effectively 
Each newly developed offer should have a positive long-term impact on the company's performance. This also applies to the platform concept. The most important thing banks need is a clear strategy. In the digital world, particularly in the platform business, the "winner takes it all" rule prevails. Therefore, short-term monetization is not very effective. Banks should make growth and network their top priorities and then focus on intelligent monetization, in line with the "First get reach, then get rich" approach.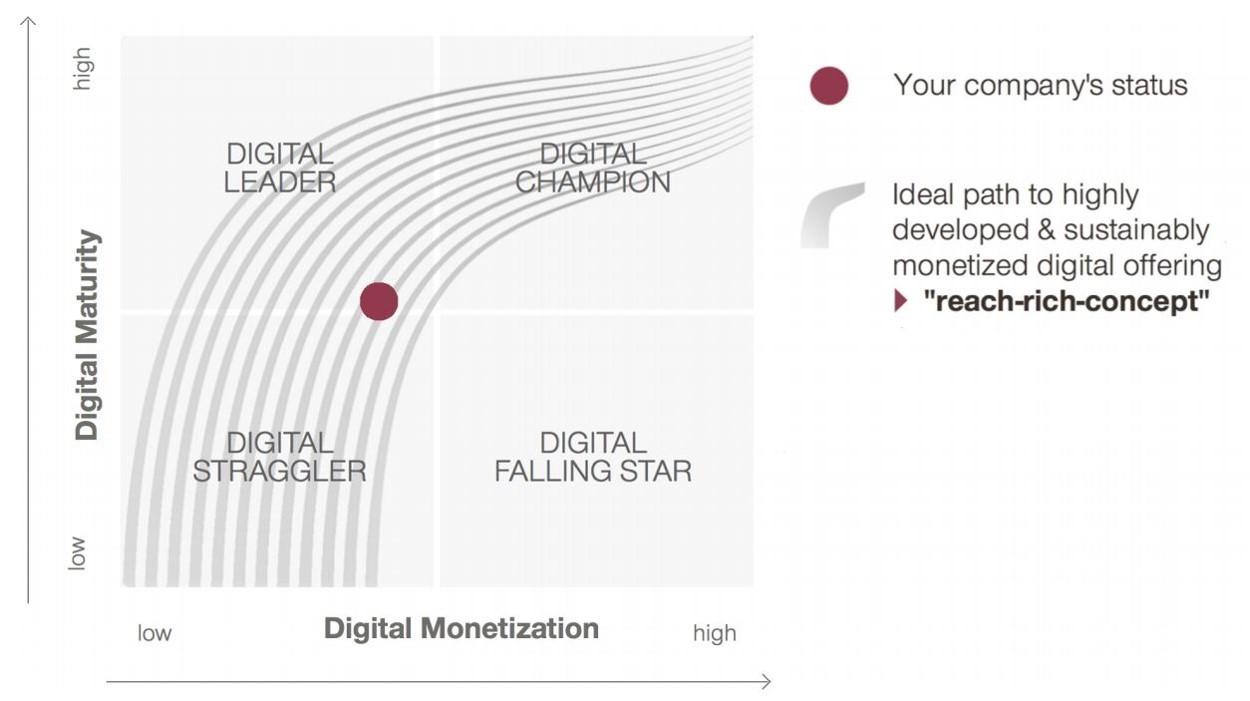 Traditional banks must reinvent themselves
In the future, the frontrunners will be those that manage to evolve from a traditional bank into a platform. By offering tailored solutions in all six needs categories of B2B clients, banks can set themselves apart from the competition and generate sustainable income. With an attractive network instead of pure financial offers, they can generate significant added value for their clients. In the future, success means being much more than just a bank.