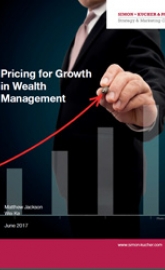 Research Paper
Pricing for Growth in Wealth Management
Submit your details to download research paper
The wealth management industry is on the cusp of a big change. How quickly it happens depends on those prepared to innovate.
This has implications for the proposition and how it is structured, how we charge for value, and how we persuade clients that the value is worth the price. In this document, we cover all three topics using insights we have gained from other industries facing disruption, increased competition and pricing pressure.
Given technology, regulation and changing client behavior, the need for innovation is likely to be ongoing. Those who move first are likely to remain ahead of the curve.