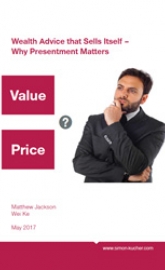 Research Paper
Wealth Advice That Sells Itself – Why Presentation Matters
Submit your details to download research paper
Needs-based proposition: check.
Customer-tested pricing structure: check.
Mission accomplished? Not quite.
In fact, the final mile is typically where it all goes wrong.
The Problem
Introducing differentiated propositions with smart pricing models is the first step to profitable growth. But: introducing differentiation (and choice) means potentially more complexity for customers.
Customers are confused enough already by what we off er, let alone the differences between offers. Isn't more choice going to make things worse?
Confusion leads many customers to default to the lowest price option. Cheap is a concept everyone understands. What is not always understood is that lower price = lower value in the long run.
Knowing this is the starting point for the solution.