Industry
Banking & Financial Institutions
Company Profile
Leading German regional bank
> €10bn total assets
> 50,000 custody accounts
Situation and Objectives
Decrease churn rate, especially for younger customers
Develop competitive online brokerage offering
Reduce special conditions across all customer groups
Approach
Using findings from behavioral economics, we differentiated the offer into a basic, a comfort and a premium package
Clear value communication makes selection of the right package easier
Combining product / portfolio design knowledge and digital possibilities, we designed a convenient and modern sales app for the salesforce
Basic-Comfort-Premium Portfolio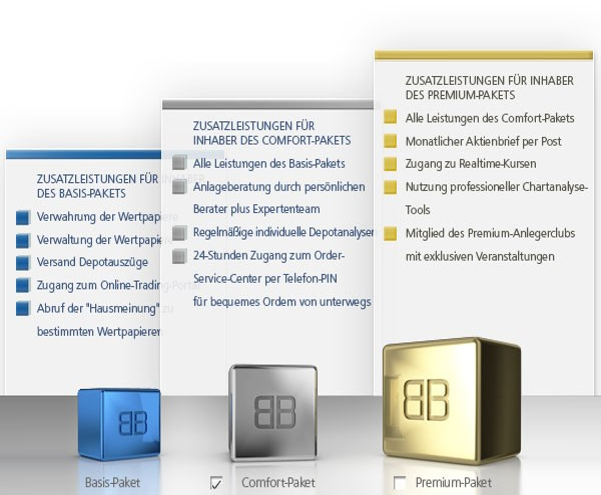 Results
We developed two custody account environments: 1) competitive online brokerage accounts and 2) optimized accounts for advice-seeking customers ("old environment").
We created sophisticated fencing conditions to protect the current revenue while introducing attractive online brokerage conditions.
We designed a digital sales tool which enables the salesforce to easily select the right account. It also pushes value-selling by clearly communicating all services and values included in these accounts.
Impact
Significant reduction of churn rate
50% more online transactions
80% less special conditions