Coronavirus: Nine in Ten Companies Need to Act Now!
June 23, 2020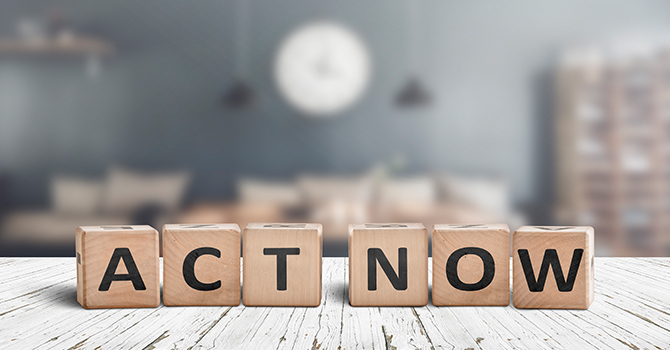 The coronavirus crisis is expected to cause an economic fallout of record dimensions. However, forecasting a figure on the total damage is proving increasingly challenging, and it is hard to envision what an "after corona" world will look like. At Simon-Kucher, we take a different approach: In our expert assessment on how demand shifts and social distancing measures affect industries, we evaluate the present economic situation and advise what is needed for survival "with corona". The results are alarming: 58 percent of the world economy is under threat, and only 11 percent is currently able to thrive. However, there is a way for companies to secure a better position…
While there is widespread agreement that the coronavirus pandemic will severely impact the global economy, forecasting the final figures has become almost impossible. In the next 18 to 24 months, businesses worldwide will be on a wild roller coaster, and an accurate figure on the total economic damage will likely only be available post-crisis. We at Simon-Kucher describe this unpredictable period as the resurgent crisis: Instead of a classic economic crisis – one standard "linear" scenario where demand declines and puts temporary stress on the economic model – a resurgent crisis puts both economic models and go-to-market models under duress. This double-barreled nightmare has no precedent for a playbook.
We don't see the point in crystal balling whether the market will go up or down by one, two, three, four, or five percent. We can't predict the exact scenario for the rest of the year or tell you whether things will brighten up in seven, eight, or 15 months. Instead, what we are most interested in is what needs to change. How are customer needs evolving and how do companies need to respond in terms of their sales, marketing, and pricing approach?  We look at demand, not just in terms of volume swings, but also whether behavioral changes in customers will be permanent, and how to react to them. 
The Simon-Kucher Crisis Map
Our team recently studied how each industry's demand is changing as a result of shifts in customer preferences and attitudes to risk, and mapped this against how sales and delivery are impacted by social distancing and health & safety requirements. Based on these factors, we were able to identify four scenarios where companies may find themselves during the course of the resurgent crisis: thriving, overwhelmed, overweight, and threatened. 
If your industry belongs to the nine in ten outside of the thriving category, then you need to take action now!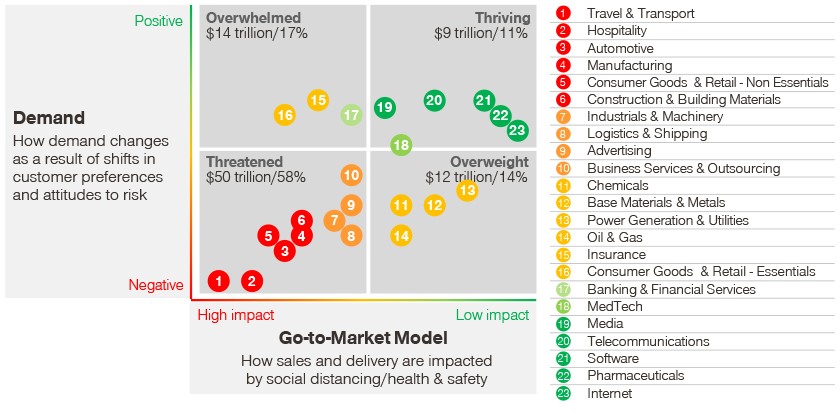 Threatened companies: How to tackle major weaknesses in the go-to-market model 
It's no surprise that Travel & Transport is so close to the point of origin. Due to lockdown measures and travel bans, these companies are suffering an extremely negative demand impact as well as a high impact on their go-to-market model. However, they are not alone in their turmoil. Industries identified as threatened include automotive, manufacturing, non-essential consumer goods, industrials & machinery, logistics & shipping, construction & building materials, and advertising. We estimate that currently 58 percent of the world economy — an alarming share worth 50 trillion US dollars — is under threat. 
Companies requiring human-to-human contact with no obvious digital mirror face complete collapse unless they invent additional ways to deliver their products or services. They need to organize teams to redesign the customer journey, and find new revenue models and value propositions that will work in a "with corona" world. At the same time, they need to shut down business models that have no obvious future for the next two years, and determine what assets have potential value in another space. Failing that, the final option is to shutter the business completely, wait, and try to reduce costs massively. Some companies might be able to survive a few months in that suspended state, but it is doubtful whether they could last a year or two.
However, even if your industry appears in the threatened quadrant, it doesn't mean your company is doomed. Companies have different starting points and within each industry there are best practices, which is where commercial agility comes in. For example, within construction and building materials, new residential construction is suffering, but renovation is doing relatively well thanks to a rise in DIY enthusiasts under lockdown. Shifting building product portfolios to lower value products and "do it yourself" assortments could be a way to improve the position on the crisis map.
Overwhelmed companies: How to respond to favorable demand shifts
Although here the demand profile is favorable, overwhelmed industries still experience a high impact on the go-to-market model. Our assessment indicates that 17% of industries, worth a total of 14 trillion US dollars, currently find themselves in this space, including banking and financial services, insurance, and essential consumer goods. These industries must absorb the favorable demand while maintaining quality and service standards. Prolonged negative customer experiences – such as longer queues, extended waiting periods, lower levels of support, and stockouts – degrade the normal customer experience and can compel customers to renew their search for adequate alternatives or simply revert to their old habits. If there were ever a time to make mass improvements to revenue and operating models and invest in digital capabilities, this is it. 
Here we can see how COVID-19 is not necessarily a change agent, but rather a catalyst agent. Before corona, we were already advising companies in these industries on how to adjust their go-to-market models. The pandemic has simply accelerated this need for change. For example, in retail, essentials are doing much better than non-essentials. In recent years, essentials is also the sector that has invested most heavily in innovation and added more value in how to deliver products.
These trends are also reflected in our recent survey among banking customers. Typically, when considering where to open a bank account, people prefer to have a branch close by. Our previous surveys identified the typical metric to be about a 15 minutes' drive from home, or in an urban setting, up to 20 minutes of walking. However, with people now forced to do most of their banking digitally in lockdown, we wanted to understand if customers were still as dependent on their local branch. So we launched the survey again, asking participants how much more travel distance they would tolerate after COVID-19, and whether their new digital behavior would be permanent. We identified around a 10 minute incremental walking distance and a 10 minute incremental driving distance. For banks, this acceleration in digital behavior could dramatically reduce the amount of branches needed to build a footprint, and as a result, the go-to-market model for the banking industry needs to be adjusted. 
Overweight companies: How to learn from previous crises
The overweight phenomenon is similar to what most companies experience in a conventional downturn or recession. These industries, estimated at 14% and worth12 trillion US dollars, experience limited stress on the go-to-market model, but must respond to outright declines or changes in the nature of demand. Overweight industries include chemicals, base materials & metals, power generation & utilities, and oil & gas. This is intertwined with how the pandemic impacts industries in the other quadrants. When mobility changes, when people build less, and when consumers buy less non-essential consumer goods, raw materials feel the impact. 
If there is anything we can learn from previous crises, it is that cost-cutting alone won't save you. Let's cast back to the financial crisis of 2007-2008. The immediate response was to cut costs, followed by further strategic cost-cutting, large-scale reorganization activities, and a rethink on FTEs. However, companies didn't necessarily think about the top line. It was only by the third wave of the crisis that they realized they couldn't cut themselves back to growth. 
Proven crisis responses that help companies maintain customers and volume without sacrificing margins include reducing capacity and providing discounts in kind rather than lowering their prices, as well as investing in reducing barriers to purchase. Building new competitive advantages is key to emerge stronger from the crisis and shouldn't be an afterthought. Winning means setting a strategy that drives growth, e.g. through consolidation, digitalization e.g. a shift to online, development and monetization of services, and continuous innovation.
Thriving companies: How to preserve and increase advantages
There is a glimmer of hope. Worth an estimated worth of nine trillion US dollars, 11 percent of the world's economy is thriving. Demand shifts are working in favor of industries such as pharmaceuticals, telecommunications, software, internet, and media, with measures not inhibiting them from absorbing greater demand, addressing new segments, or responding with different price-product combinations. This is the most desirable spot of the Crisis Map, but many companies find themselves in this quadrant by luck or chance.
Still, even these companies should not rest on their laurels. Profitability and cash flow are essential in this crisis, and this space creates the most lucrative opportunities. That is why competitors will strive to reach this space as well, if they aren't already there. Competition will intensify, and success through multiple crisis episodes will come down to commercial agility. The biggest challenge of this space is staying there: how do you protect share, and how do you retain (new) customers throughout the crisis and beyond it? How do you rethink your offers and enhance your sales processes to preserve or increase your advantages? Companies here need to divert resources to capitalize on surging demand and adopt pricing models (e.g., free-to-paid or subscriptions) that will help them monetize and hold the demand. They will also need to review and perhaps expand their range of channels.
Takeaway: Commercial agility is key
We expect most companies to experience the demand extremes and the stresses of at least two of these scenarios in the next 18-24 months, perhaps even simultaneously depending on how the pandemic progresses in different markets around the world.  Whether a company or industry can move to a better position, or defend a desirable one, will come down to their commercial agility. This is the ability to make resilient offer design, sales, cost management and pricing decisions with unprecedented speed and flexibility – over and over again – until some form of equilibrium returns to their market.
In this crisis, you have to be faster. You have to reduce your capacity faster, but you also have to bring it up faster. You need to defend the top line and find growth earlier than later.
---
Read more from our series:
Part 1: Coronavirus: Nine in Ten Companies Need to Act Now!
Part 2: How to Get Back to Growth and Restart Your Commercial Strategy
Part 3: How to Build a Resilient Business through Customer Loyalty and Profits
Part 4: Agile Design: How to Respond to Changes in Customer Needs
Part 5: Agile Pricing: How to Deliver Effective Pricing Outcomes
Part 6: Agile Cost Management: How to Remain Profitable as Costs Increase
Part 7: Agile Sales: Remain Close to Remote Customers during the Second Wave of this Resurgent Crisis and Beyond