Simonkucher : Simon-Kucher Global Pricing Study
Simon-Kucher Global Pricing Study
In our Global Pricing Study, we regularly ask executives and managers across all major industries worldwide for their views on hot pricing topics, the competitive environment, profit outlooks and recent trends. The unique study is the largest survey of its kind and each edition reveals new and surprising insights.
Global Pricing Study 2019
The Global Pricing Study 2019 surveyed around 1,650 companies across major industries in over 30 countries on their strategies for growth, pricing, and digitalization. The results reveal firms still widely underestimate pricing's potential to be the main driver of profits. The good news is they now know how to approach digitalization topics and which measures lead to success. Find more survey results here.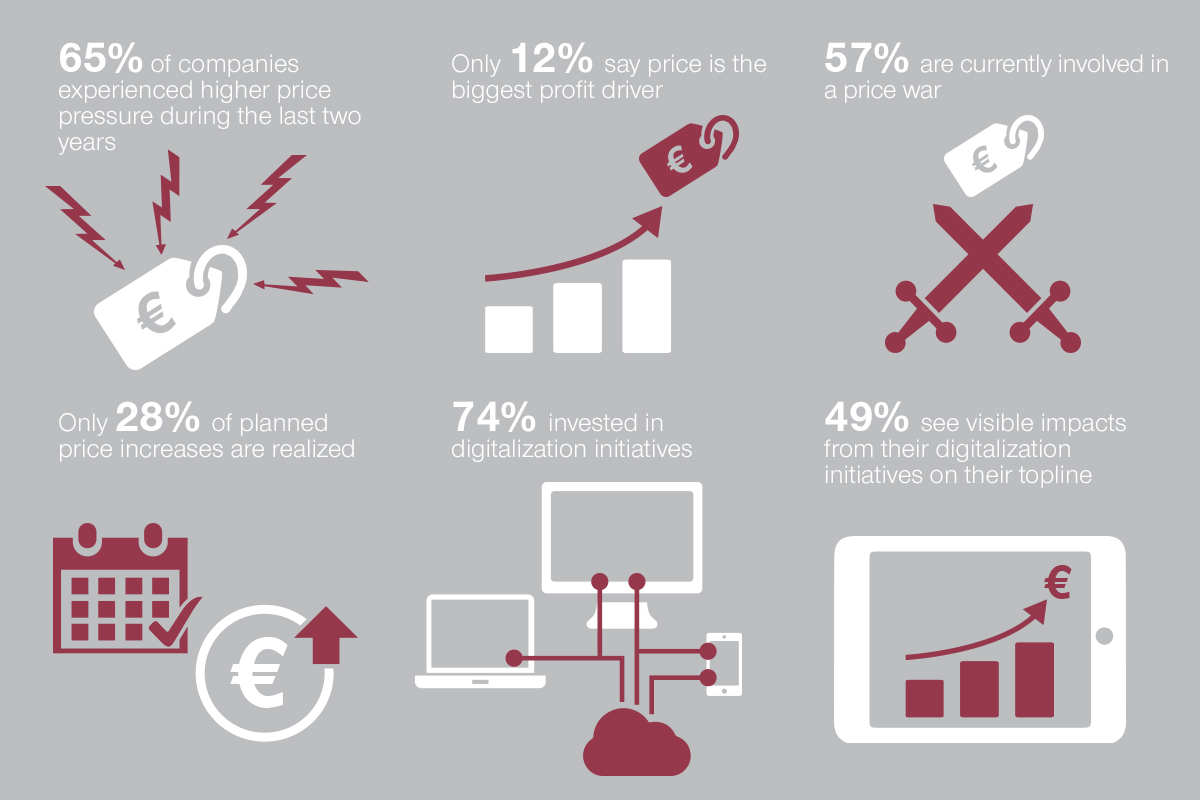 Previous versions of the Global Pricing Study
The Global Pricing & Sales Study 2017 surveyed 1,925 companies across major industries in over 40 countries. The study focuses on digitalization and reveals that 77 Percent of companies fail to impact their Top Line with their digital initiatives. Another insight: The true "digitalization heroes" only make up 18 percent of companies. Read more about the study's key findings here.
The 2016 edition of the Global Pricing Study focused on Digitalization, which for the respondents represents both an opportunity and a threat. About 2,200 executives and managers of companies from 25 industries and over 40 countries participated in the survey. While sales are believed to grow thanks to digital technologies, many companies see big risks for prices and margins, if not managed well. Read more about the study's key findings here.
The Global Pricing Study 2014 reveals that 72 percent of all new products flop, mostly because high price pressure, price wars, or low-cost competition make it impossible for companies to achieve the prices they want for their innovations. Still, there is broad agreement that launching new products is the principal way to overcome profit and price pressure. Top insight: Companies whose innovations succeed in difficult environments integrate marketing and pricing into their processes from the product inception onwards. Read all about it in our free eBook, Profitable Innovation, or request the full study.
The Global Pricing Study 2012 focuses on the relevance of organizational aspects of pricing in order to increase profits. The clear result: companies' profits jump when CEOs take an active role in pricing. Strong C-level commitment to pricing – combined with a dedicated pricing organization – is essential for profitable growth. Have a look at our free eBook: The Key to Higher Profits: Pricing Power.
The Global Pricing Study 2011 shows that 68 percent of managers use the inflation rate as a benchmark for their price increase targets. Consequently, they only increase prices below or in line with inflation rates. This is a high risk for their profits, because the majority of companies do not achieve their price increase targets. So they not only set the bar low, they also fail to jump over it. The result: Profit erosion.