Professional Negotiation Management: 4 Steps to Improve Your Sales Potential
February 03, 2020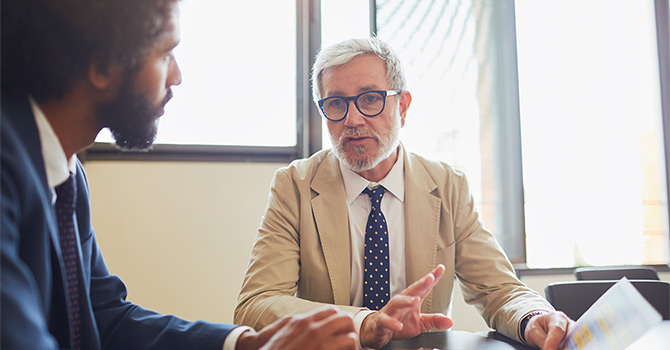 Negotiating trade terms or prices successfully -- for sales organizations, no other capability is more important. Still, many companies, especially in B2B industries, fail to recognize the potential of professional negotiation management: drastic improvements of the bottom-line are possible. Find out how to improve your negotiation management in four easy steps.
Big Data, Artificial Intelligence, social selling -- the ongoing digitalization is turning sales upside down. However, the most important success factor, particularly in B2B sales, is still the tried and tested: excellent negotiating skills. A recent international Simon-Kucher survey conducted across 1,200 managers and salespeople in the B2B environment shows the positive effect of professional management on negotiation success. For example, a price increase that is prepared in collaboration with the sales team as part of a consulting project achieved 75 percent of its goal, compared to only reaching around one third of the planned increase without structured negotiation management. Asked about the main benefits of negotiation management, better financial KPIs were the core improvement, most companies reported.
3 negotiation mistakes many companies make
Having said that, during our projects we realize again and again that structured negotiation management is only used by a handful of companies. Many don't even recognize their true improvement potential because they label negotiations as unmanageable. Others don't exploit their true potential, resorting to generic negotiation seminars that barely address the specifics of everyday sales reality as only activity.
But what can companies do to improve their negotiation management? First of all, you need to know what not to do. We show you the three most common mistakes:
Underestimating your negotiation position: Companies perceive the risk of customers migrating to competitors often as an ever-present danger. This is because they don't objectively analyze the value of their services vs. reasonable alternatives and don't consider the switching costs involved for customers. As a result, they systematically underestimate their own negotiating power, which leads the customer's buying tactics to succeed.
Inadequately preparing the negotiation strategy: Before entering a negotiation, companies do not put enough thought into their key criteria, like starting price (the maximum realistic price), target price (the desired negotiation outcome), and walk-away price (the lowest price a seller will accept before breaking off the deal). In addition, they don't really align internally within their organization. The planning of other negotiation elements, such as nonmonetary concessions, is equally inadequate.
Not offering alternatives: Companies often mistake the performance requirements demanded as written in stone, leaving price as the only variable component. By offering different alternatives, it becomes possible to transition price negotiations to price-value-negotiations -- a substantial difference!
Negotiation mistakes like these have dire consequences. However, companies can correct them relatively quickly by preparing thoroughly, employing proven tools and methodologies, and ensuring sufficient lead-time. We recommend to use a proactive management approach with a process structured in four steps.
4 steps of successful negotiation preparation
Preparing structured negotiations is a four-step process supported by various methods and tools: 
Step 1: Conduct an analysis 
To ensure future negotiation success, you need to systematically analyze past negotiations to identify your company's strengths and weaknesses. Incorporate a standardized documentation system and respective priorities in your sales team's daily work to do this. Even more important is to assess your negotiation power to realize the likelihood of churn and find out which alternatives are available to your customers. Additionally, you should establish a thorough understanding of your customer's buying center, including its organizational structure and the responsibilities of everyone involved.
Step 2: Define the offering
Now, you need to decide which offer to begin the negotiation with. You should present your customer different options regarding price and value. Evaluate different scenarios to build a comprehensive understanding of different alternatives of your offer and its value to the customer. The better you understand customers' needs and the different options available to them, the more precisely you can tailor your offer to them.
Step 3: Plan prices and concessions
In the third step, you have to determine the price you start the negotiation with. This so-called price anchor is crucial: If it is too high, you could be catapulted out of the negotiation and lose credibility. If it is too low, you could miss out on contribution margin. Beside the price anchor, you also need to define target and walk-away prices. These enable you to anticipate which concessions (e.g. discounts or extra services) you can grant your customer. To do so, we recommend using a concession matrix based on the value to both parties to help plan your approach.
Step 4: Prepare
As a last step you need to prepare your team thoroughly for the negotiation by developing consistent, value-based argumentation tailored to each customer. To prevent doubling the work, keep track of your argumentation in the form of a negotiation guideline with arguments and offer components quantified from the customer's perspective. Ideally, teams should practice this, particularly before big negotiations.
During the negotiation itself, continue to steer the process. Ensure that your sales team doesn't make any high-risk decisions in the heat of the moment. While negotiators need a certain amount of freedom, they should be required to bring in a neutral arbiter if they reach predefined authority thresholds.
Next challenge: Adaption and implementation
Even though these four steps apply to most negotiations, before you implement them, you have to tailor this approach to your organization and market. Negotiations in various industries can differ significantly in terms of workflow, duration, and scope. On the other hand, corporate strategy and culture also play a key role when selecting the right professional negotiation management approach. To really reap the benefits of introducing a structured negotiation management approach you need to keep these differences in mind and adapt to them. As a result, you will be able to significantly improve the implementation rate of price increases and with that your company's profits.