Mobility as a Service: Germany's First Mobility Flat Rate
February 14, 2020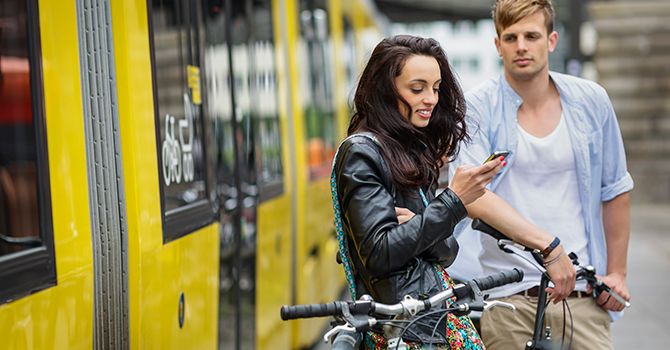 Rethinking mobility – Stadtwerke Augsburg recently introduced a mobility flat rate, which allows customers to use public transport, carsharing services, and rental bikes at a fixed price. How can mobility-as-a-service models benefit both providers and customers? Here are four success factors that providers should consider.
The mobility industry is undergoing fundamental change, not only in technological terms. Overcrowded city centers with poor air quality and high noise pollution are in need of new mobility models other than the car. While the number of options for carsharing (e.g. BMW and Daimler with ShareNow, VW with WeShare), bike sharing, and e-scooter sharing have increased in recent years, a growing number of companies have attempted to develop more holistic approaches that combine private and public transportation.

These offers, often referred to as mobility as a service (MaaS), enable customers to purchase various mobility services from a single provider by paying a monthly or annual fee (like in the software and media sector) or on a pay-per-use basis. One of the companies using the pay-per-use approach is Berlin-based Jebi.
Pilot project in Augsburg: Fixed-rate mobility
In November 2019, Stadtwerke Augsburg (swa) introduced "Mobil-Flat," Germany's first mobility flat rate, which enables customers to use a combination of transportation options. Its holistic approach to mobility in metropolitan areas means that, in addition to local public transport in the city center, customers can also take advantage of the 175 bicycles and 200 cars in the swa fleet. "Mobil-Flat" promotes intermodal mobility behavior by allowing customers to combine different means of transport at a fixed price to get to their destination. Mobility-as-a-service offers, therefore, not only facilitate individual travel but also significantly contribute to protecting the environment and improving quality of life in cities.

Stadtwerke Augsburg offers two monthly flat-rate packages, "Mobil-Flat S" and "Mobil-Flat M." At 79 euros and 109 euros, respectively, both include unlimited use of buses and trams in the city center and free rides with swa bikes up to 30 minutes. The less expensive package includes 15 hours or 150 kilometers per month of carsharing, while the more expensive one includes 30 hours with an unlimited number of kilometers. Customers who signed up for "Mobil-Flat M" by January 31, 2020, only had to pay the price of the "Mobil-Flat S" tariff for the first six months.
Before "Mobil-Flat" was introduced, swa's offering was limited to one means of transport. While their carsharing scheme, which used an hourly price, was profitable, the city's public transport system was injected with approximately 40 million euros each year because it wasn't cost-efficient.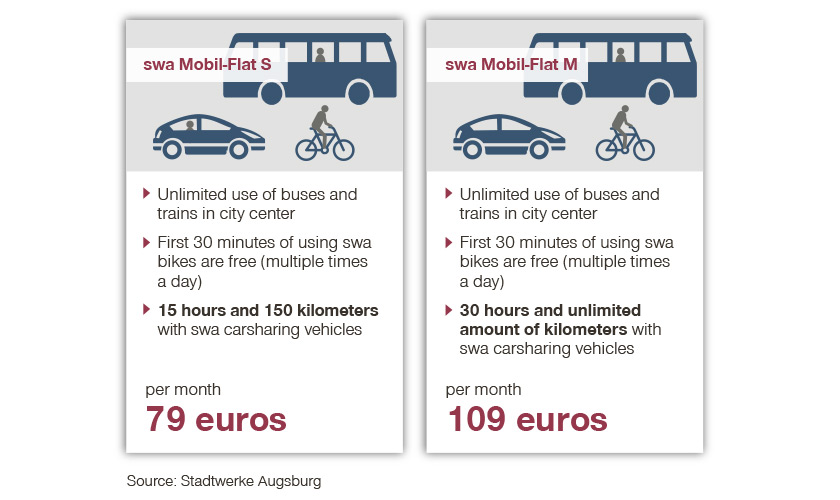 Four success factors for mobility-as-a-service models
With their innovative flat rate, swa has taken a decisive step toward the mobility of the future. However, in order for mobility models to also be worthwhile for providers, there are a few points they need to consider. Is Stadtwerke Augsburg fully tapping the potential of its mobility flat rate? We see if their offer takes into account the following four success factors:
1. Segment your customer base
Successful mobility-as-a-service models start with effective customer segmentation. To do this, providers must first identify the segments in the catchment area (e.g. commuters, demand users, corporate customers) and determine their usage preferences. As soon as providers know which means of transport customers use, how regularly they use them, and for how long, they can decide whether they want to offer cross-segment or segment-specific packages. The more usage preferences differ, the more providers should think about separate packages.
2. Structure your offer and differentiate your packages
The packages offered should meet the needs of each target group. Providers typically use three types: "one-size-fits-all," which give customers access to all services; "onion" packages, which offer differently sized predefined service combinations; and "pick'n'choose," which allow customers to customize the services they receive. The first option, for example, is easy to understand but offers no flexibility to customers whatsoever. The last option, on the other hand, is complex but offers maximum flexibility. In order to differentiate the packages effectively, they should vary in terms of their "lead items," the features that give certain customer segments a particularly high benefit (e.g. daily/weekly usage, preferred offer before 9 a.m.). With the help of fencing criteria, providers can promote upselling (e.g. access to the best package with exclusive benefits) or actively control customers' selection behavior and prevent them from migrating to more affordable offers.
3. Differentiate your offering
Providers should choose the pricing model that best reflects their customers' preferences. Due to their widespread use, subscription models often seem like the most logical choice for companies today. They also offer many advantages, such as constant revenue streams and effective customer retention. However, this is precisely what makes customers skeptical about flat rates. Pay-per-use or more flexible payment models are sometimes more popular. Usage behavior of the defined segments is also decisive when choosing a pricing model. Are customers more attracted to paying a flat rate and taking advantage of the benefits (e.g. BahnCard 100) or simply paying according to actual usage (e.g. ShareNow)? The pricing model can also be a strategic differentiating factor. For example, carsharing provider Miles actively advertises the fact that it charges customers per kilometer instead of per minute to avoid unexpected high costs for users.
4. Retain your customer base in the long term
Due to the wide range of mobility services available in metropolitan areas, customers can choose a means of transport according to their specific situation. For this reason, switching costs and emotional attachment are generally negligible. Therefore, for providers, loyalty programs represent an important means of retaining customers and increasing their share of wallet (i.e. their share of the customer's total expenditure on mobility services) through targeted incentives. For example, with Uber Rewards, customers collect points with every trip. Depending on the number of points they have collected, they are allocated a specific membership status, each with its own benefits. This makes retaining even occasional users possible in the long term. Programs that combine business trips with private benefits have proven particularly successful with business customers since they generally aren't very price sensitive and highly value premiums they can claim personally. 
Mobility-as-a-service models are still new
With urban mobility solutions being a current topic around the world, Stadtwerke Augsburg's initiative proves it has its finger on the pulse. By combining different mobility offers, swa is meeting the demand for flexible, situation-dependent mobility. Over the next few years, demand for innovative mobility models will increase and so will customer demand for suitable solutions. In order for mobility-as-a-service models like "Mobil-Flat" to benefit all parties involved, providers need to segment their customer base effectively, structure their offer accordingly, differentiate their individual packages and pricing model, and use targeted incentives to retain their customers in the long term.
---
AUTOMOTIVE INSIGHTS
Boosting revenue and profits in the automotive industry. Learn about our experts' comprehensive solutions for the complex marketing, sales, and pricing problems automotive players are confronted with and subscribe to our quarterly newsletter.
---