How to grow better in times of changing customer expectations, tightening regulations, digital disruptions, and a volatile global economy.
No matter their size, companies must move beyond legacy systems and put customers at the heart of their solutions.
Simon-Kucher understands this challenge. Decades of experience in the Financial Services sector and a deep-rooted understanding of customer decision making and behavioral economics make us the ideal partner to support you on your journey to sustained profitable growth. 
Whether designing digital transformation strategies, optimizing business and price models for growth or rebuilding sales organizations for today's business realities, we bring a wealth of knowledge, experience, and pragmatism to every business challenge.
Services & Capabilities
01
Growth and innovation strategies
02
Customer segmentation and value management 
04
Digital transformation
Our approach
We pride ourselves on being hands-on and results driven.
We take a 360-degree approach to understand the behavior and needs of the market, combining our expertise and agile mindset with our client's knowledge to unlock your sustainable, profitable growth potential and do so at pace. 
Our team combines specialist financial services and functional and digital expertise. We know how to monetize innovations and transform businesses to keep ahead in the digital world. From strategies to tangible outcomes, our solutions are made to last. 
And last but not least, we make sure our solutions are correctly implemented.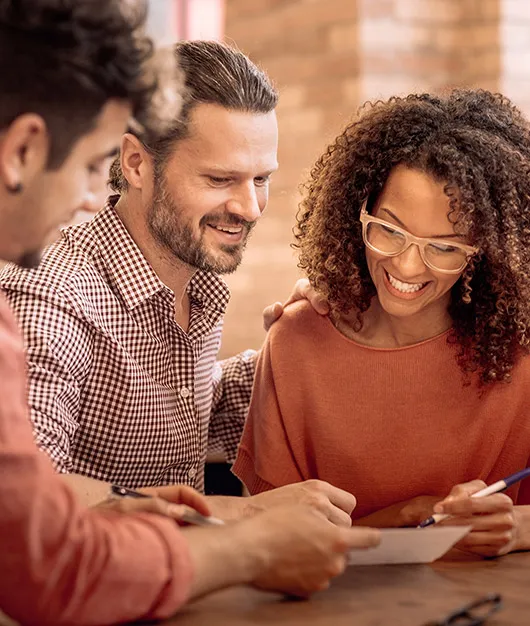 How we've helped
A new value proposition for financial management software
The team of a financial management software company approached us to review and update their value proposition and website structure. 
/
Empowering a commercial team through customer-level action plans and value arguments
One of the largest bill payment companies in the US was facing rising costs of payments and wanted to improve its net margins. They had already realized the cost reduction opportunities with their vendors but knew there was room for improvement with their pricing structure.
/
Engaging customers through a gamified approach to financial health
A German bank was struggling to get closer to its customers, seeing declining engagement and cross-selling. Advisors didn't understand their customers' needs and were spending time making cold calls with little success.
/
Building a value proposition fit for a new market launch
A large Swiss retail bank was looking to grow its market position and launch a wealth management business for its high-net-worth clients. But, without a clear value proposition or established business unit, they needed some help to navigate the steps to a successful launch.
/
Tackling volatile revenue streams through a transformative pricing and packaging re-structure
Our client, an investment research firm catering to individual investors, financial advisors and institutional clients, was experiencing slowing net growth, resulting in less predictable demand and a volatile revenue stream.
/
Leveraging data-driven buying personas and behavioral economics to increase digital acquisition
A Fintech banking app approached us to improve its pricing and marketing strategies. The client already had a tiered pricing structure and wanted to determine what growth levers they could flex to create new value.
/
How re-designing and digitalizing a discounting process led to a 65% increase in efficiency
A Swiss private bank approached us to help identify and optimize the inefficiencies in their discounting process – specifically their approval and reporting processes.
/
Using effective benchmarking to gain a better understanding of market competition
A large European bank lacked transparency on their competitors' service and price models. They asked our team to benchmark price levels and calculate the total costs of representative sample clients at the bank and their peers, allowing them to focus on the areas of opportunity for long-term growth and those where development was needed.
/
Latest insights
Discover our latest collection of blogs, videos, brochures, and more. Use the designated filters and sort for insights within your sector. Or simply browse through the latest trending topics in business today. Either way, there's plenty for you to find and uncover.
Our experts are always happy to discuss your issue. Reach out, and we'll connect you with a member of our team.