In episode one of our Global Streaming Study, we highlighted three key points – the slowdown of growth in streaming hours, increasing subscription fatigue, and widespread price sensitivity. In this next installment, our experts focus on the battle for streaming market share. How are providers perceived by customers? Can they differentiate themselves from the competition?
The consensus from our 2023 Global Streaming Study is simple: providers need to focus on their USPs. In doing this, they enhance a customer's perceived value of their product and reduce churn likelihood, which can then help in finding room for price increases.
Our study underscores the need for streaming providers to stand out in this highly competitive market It's essential to consider the global overview and the regional differences to achieve this.
If we look at how consumers value their subscriptions, the satisfaction is determined by factors such as subscription price, breadth of content, frequency of new content, and cancelation flexibility.
Netflix is seen as the market leader worldwide for its ability to continuously add a wide variety of new content to the platform. Meanwhile, consumers view Disney+ to have the most unique content, potentially because of its exclusive film rights (e.g., Marvel, Star Wars). In terms of a user-friendly platform, Netflix is the most intuitive, whereas Apple TV+ has the lowest ease of use.
However, differences in perceived performance among major providers are not too big. If players want to stand out, they must provide a distinctive service or product that boosts their value. Large players (i.e., Netflix, Amazon Prime Video, Apple TV+, and Disney+) are all seen to have a price that is consistent with product value. This limits the potential for price increases that are not accompanied by similar shifts in perceived value.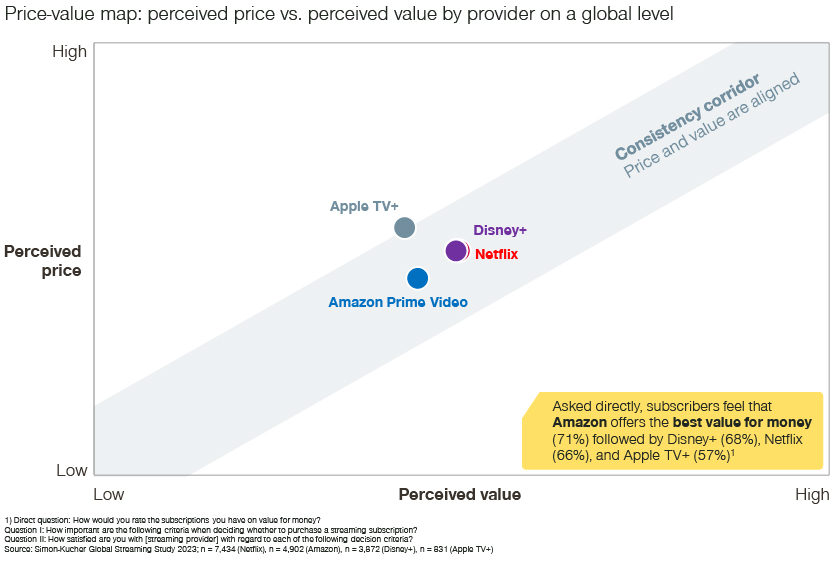 Exploring the price potential of streaming services
There are two key findings from our recent research on pricing for streaming providers who are ready to scale up their business even in a challenging economic environment:
1. There is still potential to put through price increases
2. However, these need to be accompanied by value-added features
The current macroeconomic conditions mean that balancing these two sides of the equation requires a well-thought-out strategy. 
Streaming service providers should expect churn even without raising prices: around 20 to 40 percent of subscribers are already considering canceling their subscription within the next year. This is likely to be linked to increasing market saturation and customers' reaction of reducing their number of streaming subscriptions, as mentioned in episode one of our Global Streaming Study. Consumers have more opportunities and incentives now to move from one subscription to another – canceling existing ones – as the fragmentation of content and number of streaming platforms increases.
Apple TV+ has the highest share of existing subscribers planning on canceling (around 40 percent) – likely linked to being perceived as the most expensive provider for what it offers. Market leaders Netflix and Amazon, with approximately 20 percent cancelation intent, are doing comparatively well.
As noted above, subscribers perceive all large players to have a price that is consistent with perceived product value, leaving little to no room for straightforward price increases. The potential for price increases is limited in the face of the substantial churn risk if customers deem the price surge is too high. Research results show price sensitivity to be relatively high, with 20 percent more subscribers saying they would cancel in response to a 10 percent price increase.
In order to differentiate themself from the competition, players must have standout features that will also bring financial value to the business.
Potential of value-add features to sharpen USPs and reduce churn
The right add-ons have the potential to generate additional interest and bring value to a product or service. Our research shows that the following two currently demonstrate the most promise: gaming integration and social features.
However, the interest and willingness to pay for these add-ons varies by age group and region. Younger respondents (under 40) in India, China, and Brazil demonstrate the most openness toward these features, making these ideal test markets. But players, before rushing to accept these value-adds as the ideal fix, should factor in country-specific competition and perceived value by subscribers in their decision-making.
1. Gaming integration
Younger streamers in India (75 percent), China (65 percent), and Brazil (60 percent) are the most positive about the prospect of combining streaming and gaming. They are also the most likely to be swayed in their purchase decision by the presence of a gaming integration. Globally, 50 to 58 percent of younger streamers indicated their willingness to pay the equivalent of an additional one to three euros per month for gaming.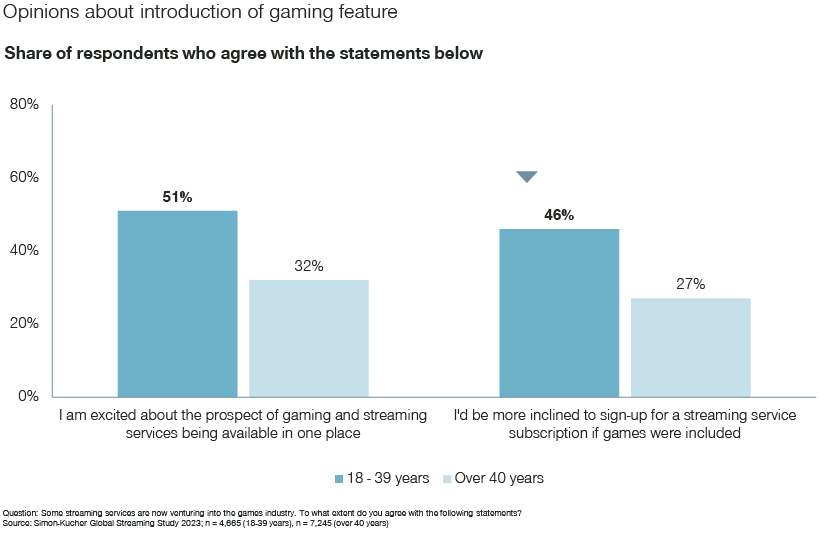 However, providers must allay subscribers' concerns while exploring gaming's potential to be monetized. The extent to which consumers are interested in combining gaming and streaming depends on which platforms they can access games on. There is also a large portion of streamers who worry that introducing gaming will negatively impact the quality of the TV and movie content they signed up to watch in the first place (35 to 42 percent).
Several players are in a position to move further into integrating gaming with streaming.  Netflix has already introduced games into its video streaming service and recently started trialling availability of games playable via Netflix on Smart TVs. Meanwhile, Amazon offers 'Prime Gaming' to Prime subscribers and also owns Twitch, the popular video game live streaming service.
But, to prevent churn and avoid cancellations, offering a free integration into the streaming package may be a good idea for now. Markets such as Germany, Australia, the UK, the Netherlands, and Sweden are less excited combining gaming and streaming. Starting with a free integration can help determine genuine interest and the additional willingness to pay for games.
2. Social features
Providers can also add more of a social experience to online video streaming in a bid to distinguish themselves in the market. 'Watch Together' and 'Social Streaming' are promising value-adds to the streaming experience that could help attract new customers and retain old ones.
Watch Together
'Watch Together' is a feature that allows multiple accounts in different locations to synchronize and play content at the same time.
Our research finds that more than 40 percent of respondents globally would be interested in having 'Watch Together' built into their streaming platforms. It got the most positive response in India, Brazil, and China, identifying these as the best test markets. The UK, Australia, and France showed the least enthusiasm for this feature.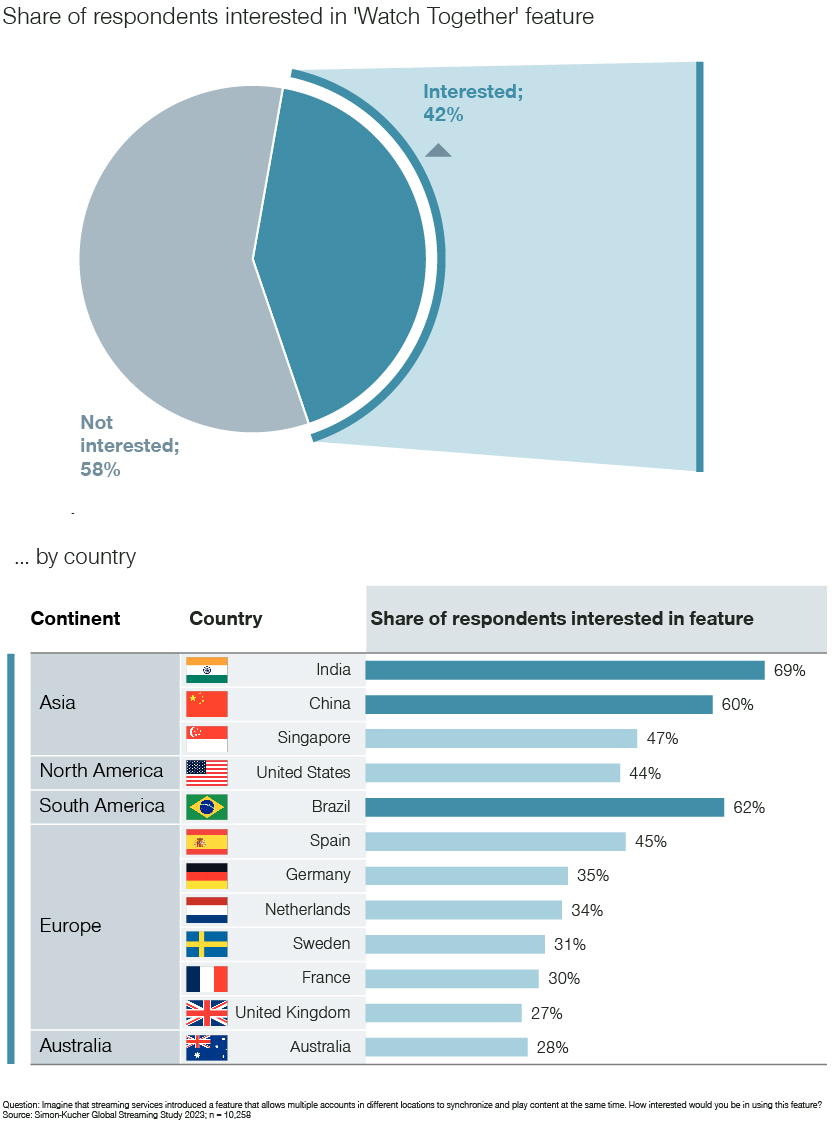 Some key players have already integrated this trend into their packages. For instance, Amazon has 'Watch Party' that enables users to watch content with friends and family virtually. Subscribers watching on desktop or laptop can also utilize browser extensions like 'Teleparty' (previously known as 'Netflix Party') to watch content on Netflix, Disney+, HBO, and Hulu with friends, chatting online while simultaneously watching content.
Social streaming
A 'Social Streaming' feature would allow users and their friends and family to see what each other is watching. While appetite for this feature is not quite as high as the 'Watch Together' feature, it does have the potential to provide added value.
On average, globally 34 percent of respondents expressed interest in being able to keep up with what their friends are watching and sharing their own updates with them. And as with the other features, countries demonstrating the highest interest in 'Social Streaming' are India, China, and Brazil. On the other hand, respondents from the UK and Australia showed the least interest in this feature.
The bottom line
Churn is a persistent and growing concern in the streaming industry marked by intense competition and evolving consumer demands. Providers can alleviate this challenge by implementing strategies and features that add value to the product. The key to long-term success lies in understanding and meeting customers' real needs and preferences, ultimately fostering customer loyalty and continued growth. By delivering exceptional value and a tailored user experience, streaming providers can justify their subscription prices, even during periods of high churn likelihood.
Get in touch today to find out more detail on the outputs of the Simon-Kucher Global Streaming Study 2023 and look out for more insights in the next edition. The third episode of our Study focuses on the use of ad-supported packages and the enforcement of password-sharing restrictions to drive growth among players.