Sales Series Part 1: Reengineering Your Sales DNA
April 26, 2018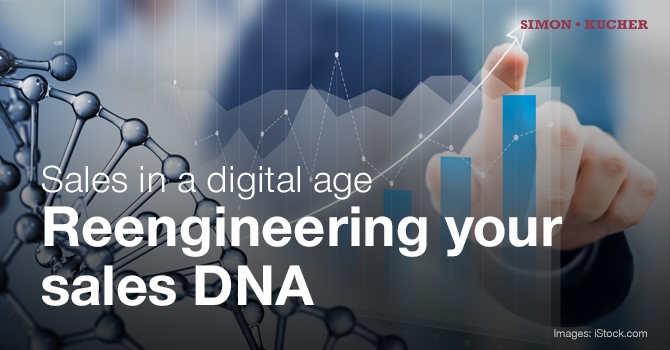 How do you build a company completely geared toward the customer? You need a high-functioning sales organization responsive to the market and able to anticipate future customer needs. This often requires approaching the sales process from a new angle. From sales forecasting to sales compensation, our experts share their insights in our blog series: Sales in a Digital Age.
What does your sales organization say about you?
Indeed, sales should be embedded into a company's very genetic code — dictating your value proposition to the customer at every level. However, achieving this ultimate organizational state predicates on some fundamental changes. No stone should be left unturned, from the overarching management structure down to the tools that are used to track and report on sales activities.
"Sales should be embedded into a company's very genetic code — dictating your value proposition to the customer at every level."
Of course, transformations of this magnitude are no easy feat, and results should not be expected overnight. However, through a structured and concerted approach that burrows deep into the sales organization, companies can achieve unprecedented sales goals. They can increase their existing market share as well as facilitate new entries into previously untapped market segments.
Going under the microscope
Taking an inventory of sales from sales strategy and market development all the way to management systems and pricing policies is just the start. From here, measures for structural and sustainable optimization of the sales organization and its processes can be developed. These new concepts become the sales DNA of an organization, facilitating major organizational change that ultimately enhances the bottom line. Here are some of the main highlights of this process to help you on your way to reengineering your sales organization as a fully efficient, customer-centric sales operation.
1. Sales reps must be industry experts
This is key in ensuring customer needs are met. Sales reps must not only know their products and services. They must also be in tune with the latest developments and changes taking place within their customer's industry. We see many companies thinking inside out. From their products through to their channels, they see the customer as the end point, rather than thinking of their specific requirements.
2. Create a sales management structure that follows industry focus
While the sales structure within an organization may look clear on paper, a variety of pain points can quickly be identified in terms of information and work flows. To ensure customer industry needs and trends are fully anticipated, information flow must be streamlined. This means both centrally and locally — with clear allocation of industry and regional responsibilities and fewer points of contact.
3. Report not only on the results
Plenty of company reports may exist on achieved results and qualitative market insights. However, only focusing on the sales that have been won may create blind spots to opportunities that were missed. Increase transparency across the whole sales funnel in all sales activities to monitor and control activities down to the local sales reps. Ensure the sales reporting process not only details results at the product and country levels, but also takes a market segment view. So, instead of output-only reporting, track every aspect of your sales activities, including your inputs.
4. Build sales incentive programs with impact and influence
Ensure the share of variable incentive compensation available to sales reps and sales leaders is sufficiently high to motivate a push in sales activities. Increase the possibility to influence payouts through excellent sales performance. Moreover, create a reliable sales incentive system where company results and personal performance are commensurate. Some of the typical pitfalls we see are:
Too little share of the variable compared to fixed salary
Variable compensation split across too many different KPIs
Too little influence by the individual on these KPIs, i.e. too many company performance-based KPIs
5. Provide the right tools and training
Once the required functionalities for sales and market development activities have been defined, provide the right customer management tools to plan and steer sales activity. The main purpose of the tools must be to make the life of the sales rep easier – not harder. So, they have to be set up with the salesperson's requirements in mind. At the same time, it must be assured that the tools will support company targets. Once the proper tools are defined, it is about relentless rollout. This will lead to outstanding consistency across the sales force in which everybody in the field acts according to the company's God Standard in Sales.
6. Set market and customer development plans
On the market side, establish a tool such as the classic AIDA approach (Attention – Interest – Desire – Action of a customer) to set market development targets for each sales region. Meanwhile, on the customer side, formulate customer development plans based on written-down customer targets and translate them into sales activities that can be tracked. These tools will be key to ensuring sales reporting incorporates bottom-up activities and encourages the exchange of important market and industry information across the organization.
7. Take ownership
Full transformation of your sales organization can only be achieved if responsibility sits in-house. While supervision and support is necessary, major change must come from within. Create an internal implementation taskforce and assign responsibilities for defined work packages. Do not underestimate the importance of regular team updates. Set in place solid internal communication processes to keep the focus and enable the exchange of important insights. Change management can be supported externally but it requires senior management commitment to see it through and make the tough decisions.
---
Read more from our expert blog series #SalesinaDigitalAge:
Part 2: Hybrid sales structures: State-of-the-art tools for a people business
Part 3: Translating customer-centric strategies into success
Part 4: Taking the driver´s seat in OEM sales negotiations
Part 5: Selling business services
Part 6: From digital flop to success - Insurance sales of the future