In this series, Gawel Adamek and Lluis Bardet-Alvarez share seven drivers to be considered in every promotion strategy, supported by best practices in the UAE.
In my last article on calculating promotion ROI, I mentioned how companies are starting to experience more and more negative effects when running campaigns. Overuse of promotions is changing consumer behavior, which is not always to the benefit of producers and retailers. That said, when planned correctly, promotions can be the most cost-efficient way to achieve your targets – whether your aim is to maximize profit, boost volumes, gain market share, or generate awareness of a newly launched product or service. The secret to success? Winning promotions are carefully designed around seven key elements: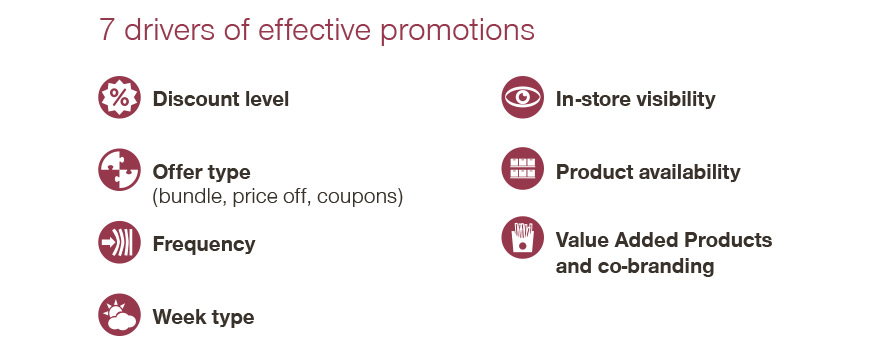 1. Discount level
The discount level is the most basic parameter for promotions and identifying the depth required to trigger a purchase is critical. This will vary by the specific category, competitive landscape, and even time of the year. Think carefully about how much you want to give away before you start cutting prices. Go too low on price, and you risk giving away too much free. Your volume targets will look great, but will it get you the positive ROI? On the other hand, if your discount is not substantial enough, then you might not achieve the desired volume effect.
2. Offer type (bundle, price off, coupons)
Once you have established the discount level, the next step is to decide how the discount should be communicated to the consumer. Will the form of the promotion be "2 for 1" or just a straightforward minus 50 percent? The behavioral psychology behind this framing is usually country- and market-specific. Responses to different types of promotions will vary depending on the target market's behavior and at certain times of the year. During a celebration like Ramadan, consumers are open to buying more in terms of volume, in which case they look for bundled promotions like "two for one". Whereas for budget-focused consumers, e.g. during a recession, "half price" mechanics will likely work better.
3. Frequency
I've already mentioned the risk of overusing campaigns, but it's a message producers and retailers cannot hear enough: keep a healthy gap between promotions. There has to be a minimum of four weeks between reductions on the same product. Any less than that, consumers get used to the "promo" price, and they will sit and wait for the next offer to appear. Of course, with products that perform strongly on promotion, there's always a temptation to repeat them as much as possible because they always bring you more money. But stay strong. Otherwise you will destroy your baseline (non-promoted sales volume) and your success with the promotion will be short lived.
4. Week type and seasonality
Most companies know they should run promotions for special occasions like Black Friday or Back to School month. But also in some countries, pay week is a very important time. If your target customers are cash-constrained, then receiving a pay check means it is "shopping week". That's when promotions tend to make a big impact. In addition, there might be times when shoppers expect something more than "just" a discount. During the Dubai Shopping Festival, price reductions can be less important to customers compared to the other small "special touches" that accompany promotions. Nissan, for instance, holds a mega raffle that gives customers the opportunity to win a new car – simple but effective.
5. In-store visibility
Think about where you want consumers to see your promotions, and then clearly mark them in the store. Leaflets, flyers, and radio or digital campaigns are a useful tool to generate awareness of your offers among potential customers, bringing new traffic into the store. Put deals in the spotlight by putting signs in shopping mall windows and hanging banners inside the stores. Ensure clear visibility on the shelves, and even offer free samples to shoppers as they go by. It would be a shame to invest so much money and effort into a promotion, only for it to go unnoticed by your target customers.
6. Product availability
Get the promotion right and it might be even more popular than you planned. You will only be able to enjoy the benefits of your success if there is enough stock in the stores. An interesting case is the sales of frozen pastry during Ramadan. Traditionally people use large quantities of frozen pastry sheets to prepare snacks for the family and visitors. However, the limited storage capacity in the supermarkets means supply often cannot keep up with demand. Even after all of the ice cream and non-seasonal products have been removed to make space, some producers must go to the extent of renting refrigerated trucks to park at the back of the supermarket as extra storage capacity. Seasonal promotions can be extremely lucrative, but you need to be able to follow through on your offer.
7. Value-added products and co-branding
Promotions are a great opportunity to explore cross-selling and bundling opportunities. If you have a strong brand with multiple products, you can boost sales cross-category. Take two complementary products often used together, like yogurt and honey, and promote them simultaneously. These products are not typically found together in the store, so it might make sense to make space for a special display. Another tactic is to include value-added products e.g. a branded glass free with a big bottle of juice, e.g. when launching a new flavor. These finishing touches are often the incentive for consumers to try and buy your product.
What does this mean for consumer goods producers and retailers?
Succeeding with promotions requires a detailed and clearly defined strategy, covering all seven drivers. The right combination of product, discount level, offer type, and visibility is key. Often, just focusing on one of the drivers can significantly improve financial return or volume uplift. That's why analyzing historical promotions is critical to get the most out of your promotion investment.
Successful promotion management starts with data collection.
Top-performing companies have an organizational unit in place, supported by the right budget and processes to collect data in a master database. Depending on the maturity of your business, this can be a costly and time-consuming process. Support from C-level management is critical in the initial phase, before becoming an established standard procedure.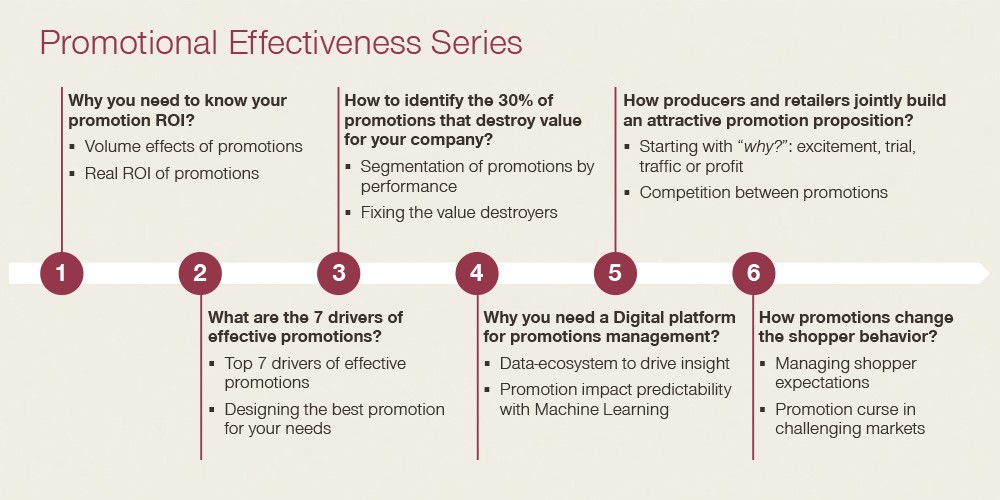 Reach out to Gawel Adamek to learn more about how these seven drivers can help you to improve your bottom line and increase market share for your business! 
---
Read more from our promotional effectiveness series:
Part 1: How to Best Measure Promotional Effectiveness: Everything You Need to Know for Calculating Promotion ROI
Part 2: The 7 Drivers of Effective Sales Promotions
Part 3: Promotion Effectiveness: How to Fix the 30 Percent of Value-Destroying Promotions
Part 4: Digital Promotions: Advantages of Promotion Database Management
Part 5: 5 Rules for Producers and Retailers to Jointly Build Customer-centric Promotions
Part 6: Promotion Effectiveness: How Do Promotions Change Shopper Behavior in the Long Term?