Many international OEMs targeting Europe have bold sales ambitions. They misunderstand the B2B as the market with the greatest potential, while underestimating the importance of B2C as part of their go-to-market strategy. In part six of this series, we close in on how new entrants should sell their cars to B2C customers, after briefly debunking the myth about the automotive enterprise market.
Automotive sales: Targeting B2B or B2C?
A key strategic question for any international OEM targeting Europe is which target market(s) it should serve – B2B or B2C, and in what order? In our experience, many OEMs from emerging markets believe that B2B represents the biggest piece of the pie. However, although the B2B market may appear attractive, it is not easily accessible, especially for Asian brands that lack the required heritage, network, and infrastructure. B2B customers require a successful track record, functional sales, and a strong service network in order to trust a new brand.
Moreover, we looked at new car registrations in Germany in 2019. As most "OEM registration" cars are resold to private customers as "newly new", we categorized these to the B2C market, showing how the share of B2C customers is in fact higher than B2B, not to mention that private customers constitute the lion's share of the market anyways.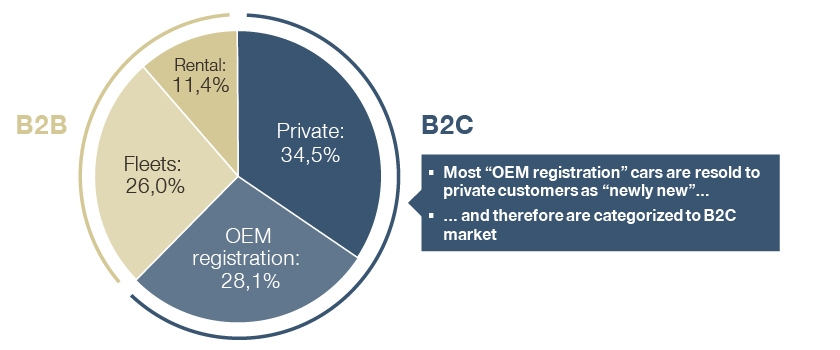 For newcomers entering Europe, we recommend prioritizing the B2C business upon market entry. This will help international OEMs secure a position where they are able to tackle B2B market with well-defined strategy at a later stage. In addition, B2B customers often demand high discounts, which eventually filter down into the B2C market, too. For those seeking to build a premium brand, targeting B2B first would be detrimental to their long-term strategy.
This article focuses on how to successfully sell EVs in the world of B2C. Stay tuned for our next article where we address B2B as the next stop on the sales roadmap.
Why might new entrants struggle to sell to the European B2C market?
Sticking with our example of Chinese EV manufacturers, we often observe OEMs fall into the following common pitfalls when addressing the B2C market:
Failure to understand target customers' purchase behavior: Without a thorough analysis of the customer journey, OEMs don't understand what drives customers, how they tick, or how to adapt the sales model to better reach and serve customers.
Reliance on local dealerships for car and aftersales: New market entrants are likely to find themselves in a weak position when negotiating partnerships with dealers, who are also facing shrinking margins and a consolidating landscape.
Inconsistent brand representation between customer touchpoints: Customers have full price transparency and are increasingly able to compare different offers and brands. Disparities between channels damage brand image.
Lack of a clear roadmap: OEMs fail to plan for how the sales model will evolve with increasing market penetration and are not fully prepared for growth opportunities, including expansion to the B2B market.
Failure to incorporate a holistic view of a seamless O2O customer journey: When setting up sales model, OEMs neglect the importance of analyzing customers' preferences for touchpoints and therefore fail to provide a seamless experience at every step of the decision-making process.
How should the B2C sales model look?
Drawing from observations in other industries like fashion and FMCG, the importance of control over sales channels and transaction prices has grown tremendously for automakers operating in Europe. The winners will be those who actively pursue their own transformation, mostly in two dimensions: digitalization and direct sales.
Why digital sales?
The automotive sales landscape is changing, with ecommerce redefining customers' purchase behavior and expectations. Used to customer-centric etailers like Amazon, customers expect convenient end-to-end online journeys in the automotive industry as well. They are used to absorbing information about products through both online and offline channels and already have most of the information they need before actually deciding to make a purchase. Customers also have full price transparency and are increasingly able to compare different offers and brands.
However, many automotive manufacturers and dealerships have been slow in adapting to customer demands. Despite numerous effort in digitalization, they still struggle to offer a seamless O2O customer journey: In Germany, for example, our assessments indicate that less than 20 percent of automotive sales happen fully or partially online, of which the majority are through online platforms such as Sixt, Autoscout24, and Autotrader. The majority of OEM online sales channels are not yet fully scaled.
Why direct-to-consumer for newcomer OEMs?
When it comes to the consumer market, it does not take an industry expert to recognize that the current classic dealership is not a future-proof sales model. OEMs in Europe are actively trying to shift away from the classic dealership model in order to gain more control and get closer to their customers. As ecommerce and emobility disrupt the sales models of many established players, an omnichannel presence is now vital. In addition, electric vehicle manufacturers must also consider smart sales that go beyond the vehicle itself: battery as a service, home-charging, and over-the-air updates are just a few examples that require OEMs to rethink their sales approach as well as customer relationship management.
In the D2C model, OEMs own and manage distribution channels and sell their cars directly to customers. Alongside the manufacturers' own websites, ecommerce platforms, and flagship stores, dealerships are now becoming agents who receive a commission per sale. OEMs have full pricing governance, from the list to transaction price, with full control over discounts and price communication. D2C also has several strategic benefits for OEMs. These include direct contact with end-customers and an ability to build long-standing relationships, as well as access to valuable data that was previously in the hands of the dealership. This data can be used to further improve the customer experience, or even for data-driven offering optimization. Meanwhile, with more EVs on the market than ever before, established segments are changing, creating new challenges and opportunities in sales that require a deeper understanding of the customer.
Case study: Tesla's sales footprint in Germany
A pioneer in the digital and direct sales model, even Tesla still needs physical showrooms and service centers. Today in Germany, Tesla operates 60 percent of its stores out of the country's five biggest cities of Berlin, Hamburg, Munich, Cologne, and Frankfurt.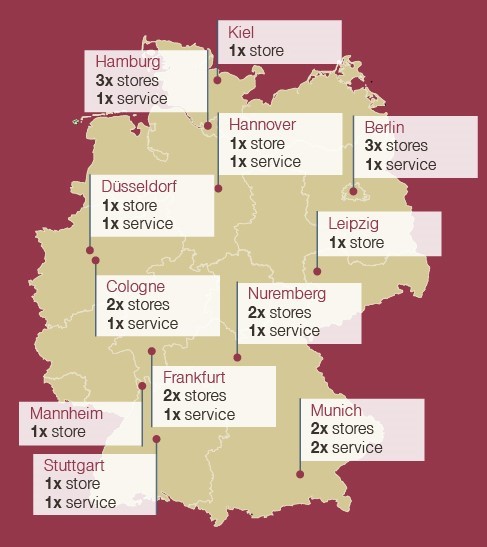 What Tesla did:
Three years after launching its Model S in Germany, Tesla sold 3,332 units in 2017, with 18 stores
Tesla had sold 11,469 units in Germany by October 2020, as its number of stores climbed to 20. On average this shows sales of close to 700 units per store per year.
The sales gravity was situated in metropolitan areas – strategic locations with the greatest chance of being discovered by early adopters and fans.
In the early years, Tesla was successful with the solo model. However, as Tesla increasingly served the mass market, complaints about service speed increased
Takeaways for emerging auto companies:
Big 5 cities are a logical choice for market activation in light of brand image and sales capacity.
The format of stores needs to be in line with the online sales strategy.
Mobile direct sales may do a poor job at serving the mass market. After initial success with low-hanging fruit (e.g. early adopters), continuing on the growth course requires expansion of the sales network.
How newcomer OEMs can succeed in B2C sales: Partnerships will be crucial
D2C does not necessarily mean going it alone through a wider coverage of flagship stores or a stronger focus on ecommerce. Offline channels still play an essential role in customers' purchase decisions and certain offline activities such as in-person consultations and test drives are highly valued by customers. Not forgetting that certainly not all repair and maintenance work can take place over the air, yet.
As these can neither be avoided nor digitalized, the key challenge is rather how to ensure a seamless customer journey between digital and physical world. OEMs can build strategic partnerships with dealerships and third-party platforms in order to have all touchpoints connected and covered. Whatever the partnership model, the manufacturer should own the customer relationship
---
Read more from this series:
Part 1: Six Pillars for Carmakers from Emerging Markets to Succeed in Europe
Part 2: Automotive Newcomers: Sales Model for the B2C Market
Part 3: Automotive Newcomers: Sales Model for the B2B Market