The shift toward digital channels continues: Customers are increasingly comfortable using online tools to find information, configure products, and even buy new vehicles. However, physical channels will also remain a central part of the customer journey. Based on this insight, automotive manufacturers and distributors may be able to seize important growth opportunities by enhancing their omni-channel approaches and designing effective digital sales dialogues.

The customer journey is becoming even more digitalized
Through project work and a recently conducted survey on the French automotive market, Simon-Kucher & Partners found that 73 percent of new car buyers turn to digital channels to research their next vehicle purchases, with this figure expected to rise over the coming years. The trend toward digital channels is demonstrated by the growing number of manufacturers that have opened their own online stores as well as the entry of online vehicle marketplaces into the new car segment. Even Amazon has announced plans to start selling new vehicles. Nevertheless, 57 percent of the new car buyers surveyed also stated that they intended to seek advice in person. Although online channels are becoming increasingly important, the continuing relevance of physical channels is clear, as being able to visit dealerships allows customers to speak to sales staff, test drive different models, and complete the vehicle handover on site.
While most automotive manufacturers and distributors already use a combination of digital and physical channels for their sales and communication activities, they often lack an overarching structure to properly integrate their channels with one another and define touchpoints according to the specific requirements of each target customer segment. As the omni-channel trend continues to grow in importance, manufacturers and distributors will need to answer a number of key questions, including:
Which customer groups should each channel target and how can the customer experience be optimized in each case?

Which channels should be used for actual sales and which should focus more on communication?
How should the product and service offerings of different business units, such as sales, after-sales, financial services, and digital and mobility solutions, be integrated to increase up- and cross-selling?

Lay a solid foundation with customer segmentation and customer journey mapping
Clear customer segmentation is fundamental for any omni-channel approach. By understanding customers' interests, willingness to pay, purchase behavior, and preferences regarding how they access information, it becomes possible to center marketing and sales strategy squarely on the customer. To get the most out of this approach, the customer journeys of key customer segments need to be identified and analyzed in detail, taking into account existing and future requirements for channels and touchpoints. The next step is to define the most effective paths along the customer journeys and fine-tune the customer experience. This involves selecting and designing the right channels and touchpoints and deciding on the other elements of the marketing mix, such as the products and services specific to each channel.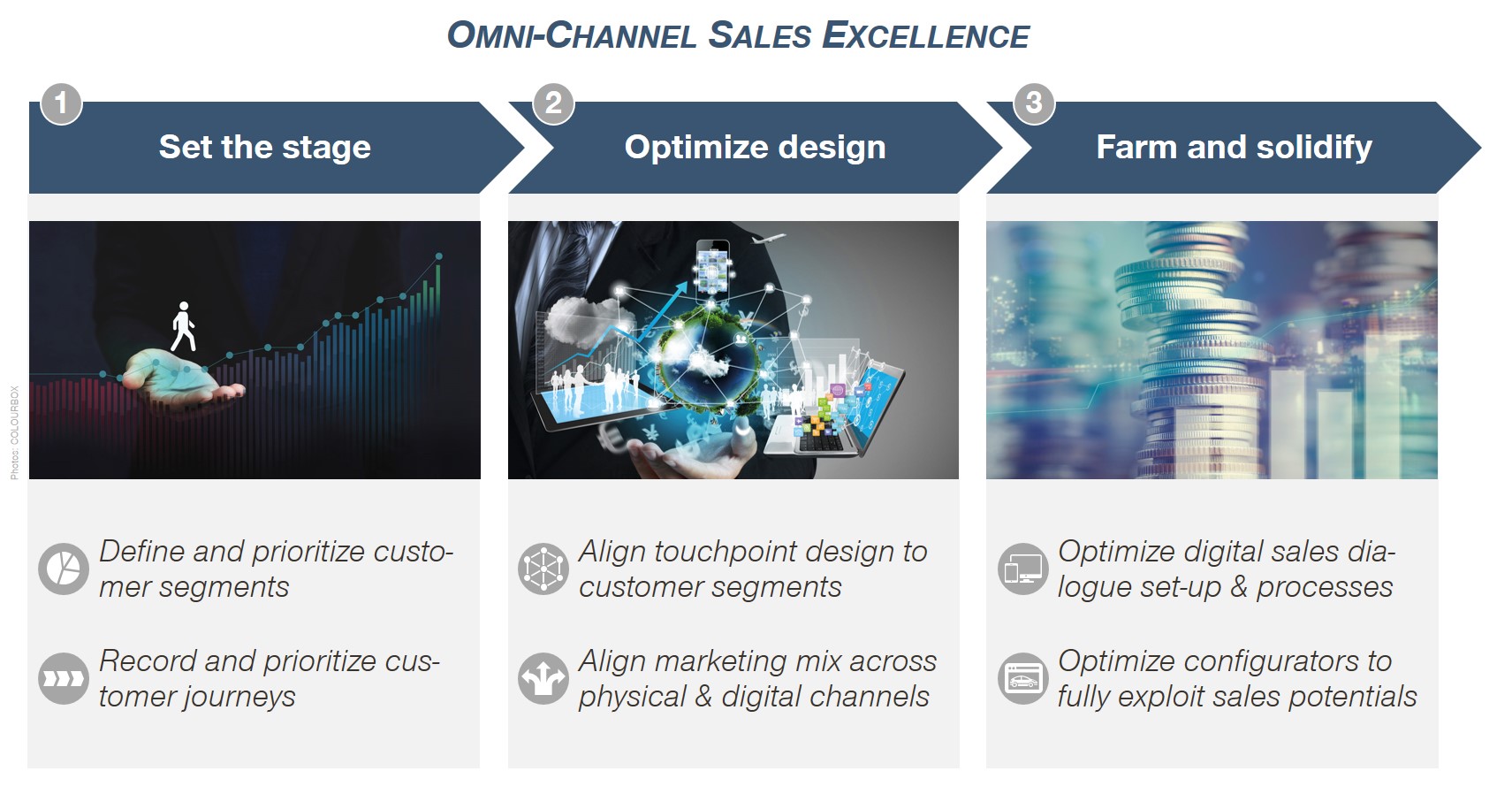 Design effective channels and touchpoints and optimize your marketing mix
The quality of the customer experience throughout the research, consultation and buying phases has a direct impact on how well sales potential can be tapped. To provide the best possible customer experience, it is essential the customer can be recognized easily at the individual touchpoints, so that their needs in terms of information, offering, and customer care can be properly met. Crucially, the customer experience has to be consistent throughout the entire customer journey.
By analyzing customer requirements for each channel and touchpoint, manufacturers and distributors are able to offer the most suitable additional products or services at exactly the right time, such as financing options, service contracts, or vehicle accessories, boosting revenue through up- and cross-selling.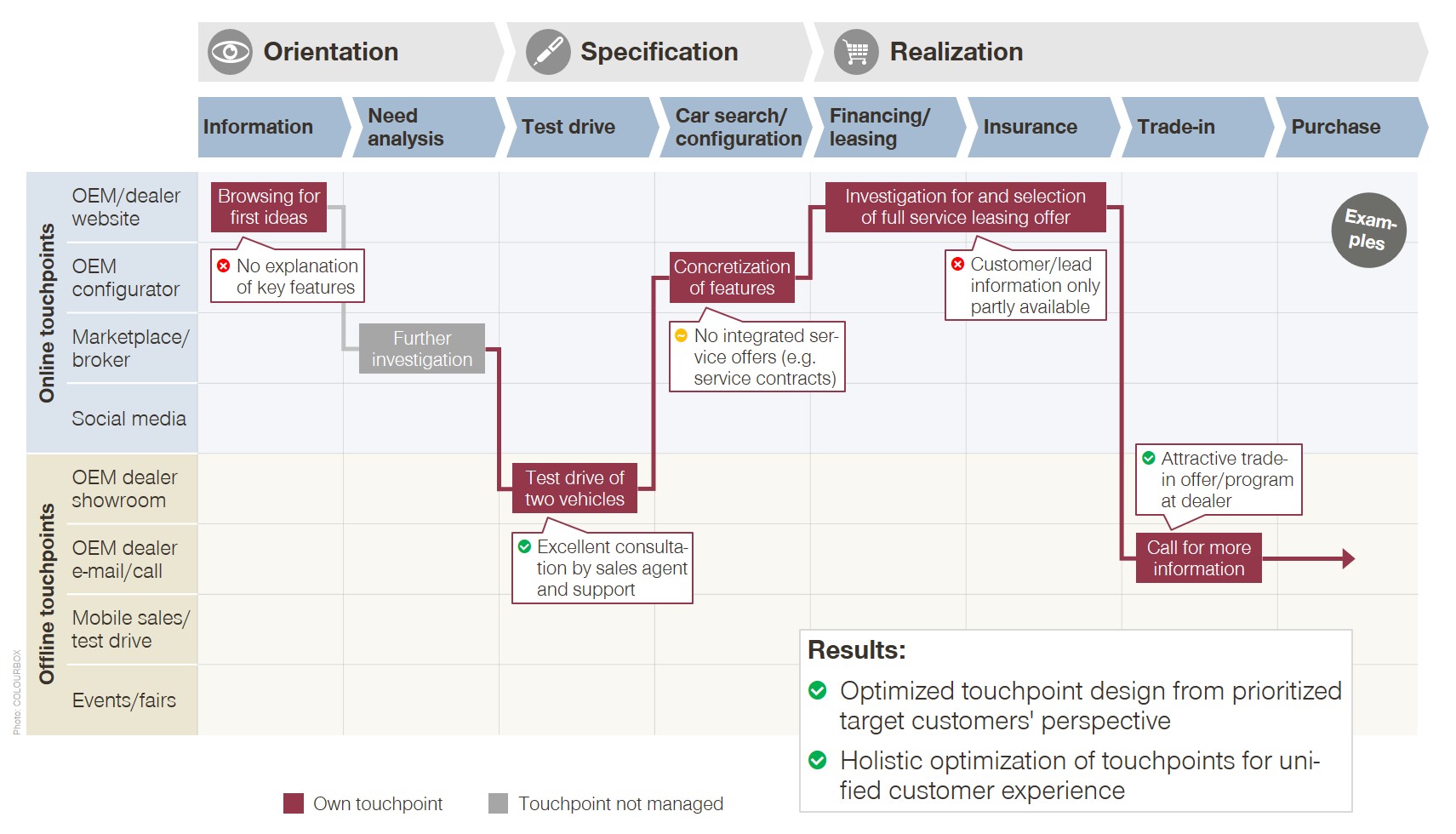 In-depth evaluation of customers' needs also provides insight into many other important aspects. For example, this makes it possible to determine which product features generate the most value for each customer segment, which can then be highlighted in communications. Having access to this information also assists in structuring the sales organization and setting specific processes and roles for the individual channels.

Fine-tune the digital sales dialogue and tap up- and cross-selling potential
Digital channels can generate significant value, not least because they are able to present the entire offering in one place, e.g. on a website. By displaying all relevant products and services holistically, such as in the form of a jigsaw puzzle, the "incompleteness" of the customer's current purchases are displayed to them clearly, drawing the customer's attention to additional products and services and encouraging them to "complete the puzzle," i.e. by making additional purchases. This approach has been proven to significantly increase the rate of cross-selling.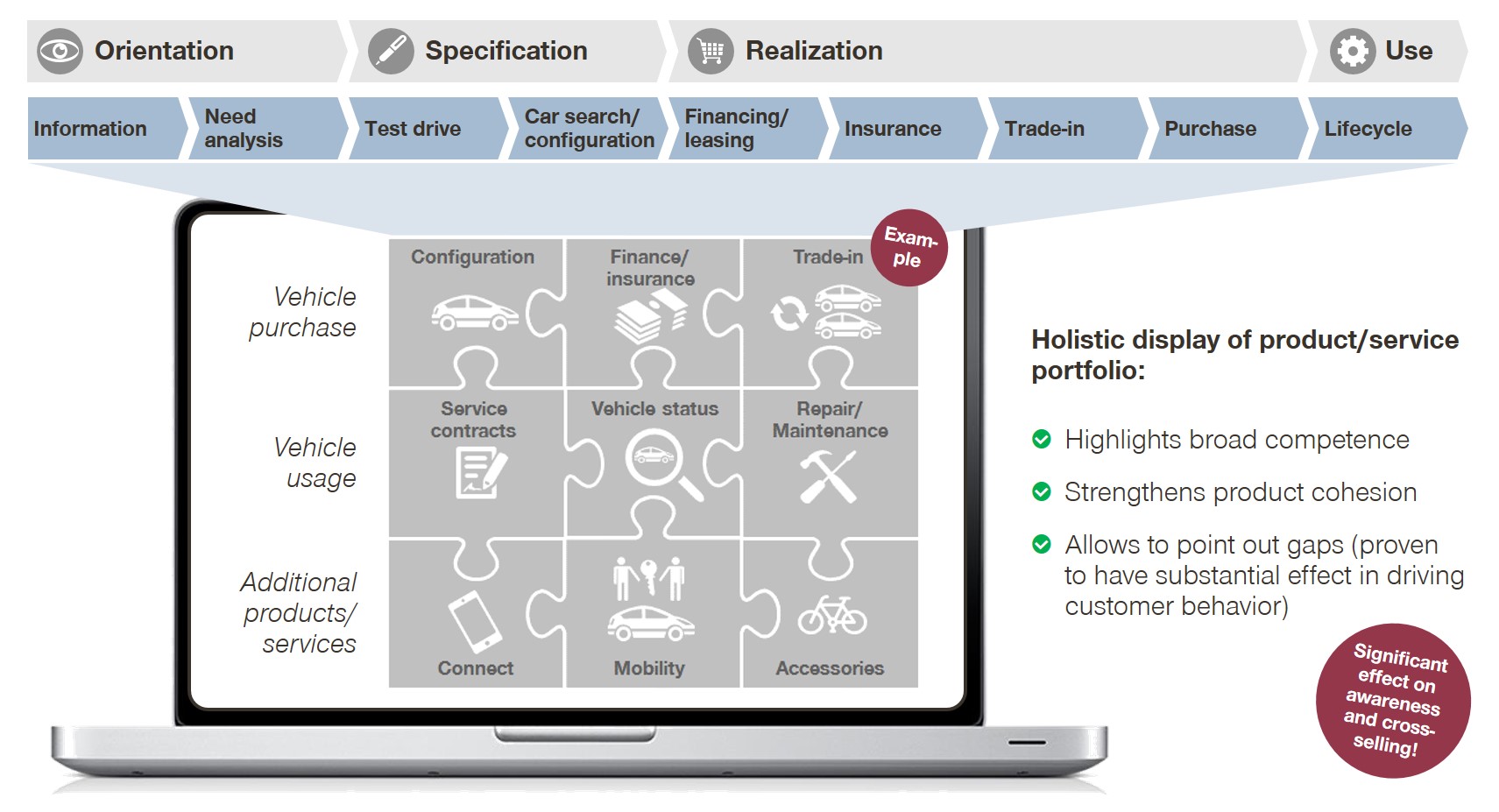 Finally, presenting products and services in an integrated way also makes the individual tools within the digital sales dialogue, such as vehicle configurators, more effective. Up- and cross-selling can be improved with existing and potential customers alike by offering smart bundles of special features or incorporating financial and service solutions into the product configuration process.

Generate profit from digitalized customer journeys
As confirmed by the Simon-Kucher & Partners survey on the French automotive market and the results of project work, the customer journey is becoming even more digitalized, offering automotive manufacturers and distributors considerable opportunities. The approaches outlined here will enable many companies to realign their sales and communication channels, successfully integrate digital channels with physical touchpoints, and enhance the customer experience along the entire customer journey. Manufacturers and distributors that take the time to address this increasingly important topic will be better positioned to tap additional market potential and unlock important growth opportunities.
*The survey "French Automotive Market: Factors Influencing New Vehicle Purchases and Perception of Manufacturers" was conducted in Q4 2017 by Simon-Kucher & Partners. More than 1,000 end consumers in France participated in the survey.