Intelligently managing price structures and levels is the most important topic to secure business success. Get it right and you will thrive. Get it wrong and risk permanent damage to your business. Think of an investment in pricing as an investment in the future. This is part 1 of our new Pricing Basics series. 
Excellence in pricing goes far beyond the price of an individual product. It involves strategy, goals, positioning, but also governance, tools (software) and finally all of a company's processes and culture that ultimately result in the price tag. It requires experts with an in-depth understanding of customer segments, the products' value-to-customer, and experience in handling the relevant business data to come to the right conclusions.
Pricing for profit: A simple formula
Optimal pricing plays a pivotal role in achieving profitable growth. A 5% improvement in pricing without volume loss and average margins can boost profits easily by 30% to 50%. You may already have a cost-cutting strategy in place in order to boost profits. But no matter how heavily you invest in increasing volumes and cutting costs, this can only take you so far, and intensive efforts have often already exhausted all potential. So where should you go next? Let's start by breaking down profit into a simple formula with three drivers: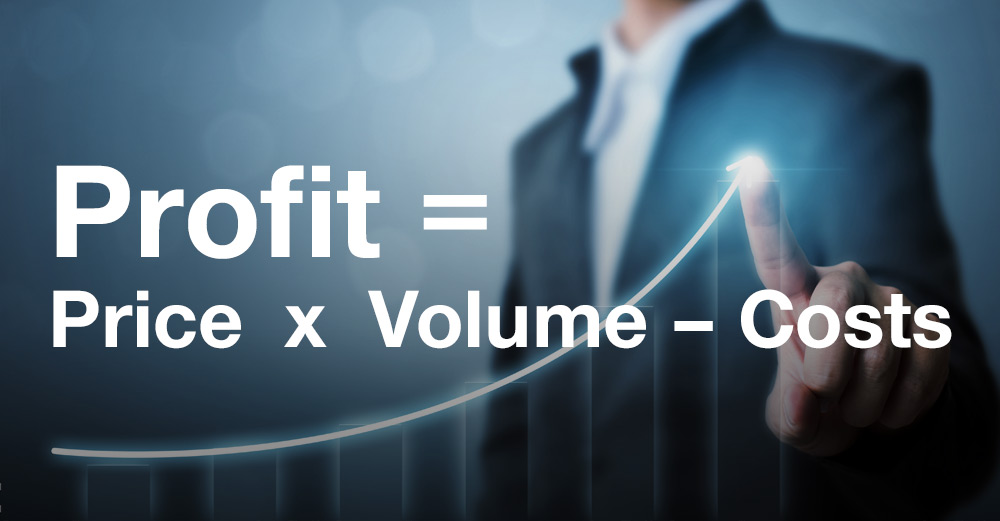 Even though price is a multiplicative factor in this formula, our experience is that it often receives the least attention. However, pricing is often the only untapped lever left to achieve higher profits. How can you shift from a predominantly internal and cost-cutting focus to an outside-in focus? There is always a profit-optimal price point and the way to find it is through a systematic and quantified approach. It's all about closing the gap between what a customer is willing to pay and what you actually get. Pricing is a game of intelligence. Start playing it!
What are the top pricing challenges?
Price can be the biggest profit lever, but also the most dangerous profit destroyer. Where does pricing go wrong in daily practice and what can you do turn this around? Here are our five top solutions to overcome the most common pricing pitfalls:
Know your value
Rather than factoring in value-to-customer, unsuccessful companies often follow a historically grown or cost-plus pricing model, communicating and selling too heavily on price. Unaware of the premium they deserve for their products and services, these companies leave substantial amounts of money on the table. The solution? Follow a value pricing approach! Understand and quantify the value you deliver, and whenever possible charge for the "extras" you provide or unbundle them from the product.
Differentiate your prices and offering
One-size-fits-all pricing is another major pitfall. Offering one product at one price does not tap into willingness to pay and leaves many customers out of reach. Instead, companies should segment customers based on their behavior and needs and then provide a differentiated offering and prices. Which customer should pay which price? Who should pay more? For what? And why? Clean out unimportant elements to create a lean-price product, and then enrich it with valuable elements for demanding customers. Use psychological aspects of pricing to design your well differentiated offering and set the right price levels in your offered product portfolio.
Avoid and diffuse price wars
Increasing price transparency is making the market more attractive for price-aggressive sellers, and everyone blames the "others" for attacking them and starting a price war. Price wars are highly effective profit killers, where nobody ever truly wins. They may bring you some market share in the short term, but will destroy huge amounts of profits in the process. Often what's actually needed is a more peaceful approach toward your competitors and a harder approach toward your customers! Get control over your rebates and discounts out there in the market. Guide your sales team towards healthy price levels rather than making the deal at any cost. Avoid price cuts where possible and know your positioning. Every market has a top end and a bottom end, and there is always someone who does it cheaper.
Check your digital readiness
Your digital transformation programs should ultimately lead to higher revenues and profits for your company. Here it is key to check the digital readiness of your service offering and pricing. In most industries you will face radical disruptions: Offerings with lower development times, lower marginal costs, more segment/customer-specific solutions, and higher economies of scale. On the pricing side you will be confronted with higher transparency, dynamic pricing, low price competition totally new pricing metrics etc. Check if and how your digital transformation efforts lead to better offering or pricing and don't make it an infrastructure or IT exercise. Be ready to monetize your digital solutions differently than you have done in the analog world!
Make pricing a leadership task!
Pricing is a continuous process, and not a one-time project. It starts with determining the right pricing strategy, then setting the right price and, finally, implementing it. But even the best pricing strategies will fail without strong leadership and enforcement: Make pricing a regular boardroom topic! Yes, you can identify your product's value, but even harder is ensuring your sales people defend that value, especially if for decades they have always set prices based on gut-feeling. Internal incentives need to be adapted, target achievement monitored and controlled, roles and responsibilities redefined. Pricing can become a very emotive topic, and it requires clear initiation and communication from the top.
Why is pricing important?
In markets with increasing volume and price pressure, the right pricing approach is essential to remain competitive. It brings you the value you deserve for your products and services offered and secures the profits you need to invest in change and growth. Let's be clear, it is still important to run cost-cutting initiatives on a regular basis and to increase the efficiency of your sales organization. But be consistent and honest with yourself: Invest at least the same amount of energy, time, and money in improving the biggest profit driver "PRICE".
---
Enjoyed reading our article? Good news: This popular series is available as A Practical Guide to Pricing! Download our free eBook now and learn how to achieve a sustainable, competitive advantage through pricing!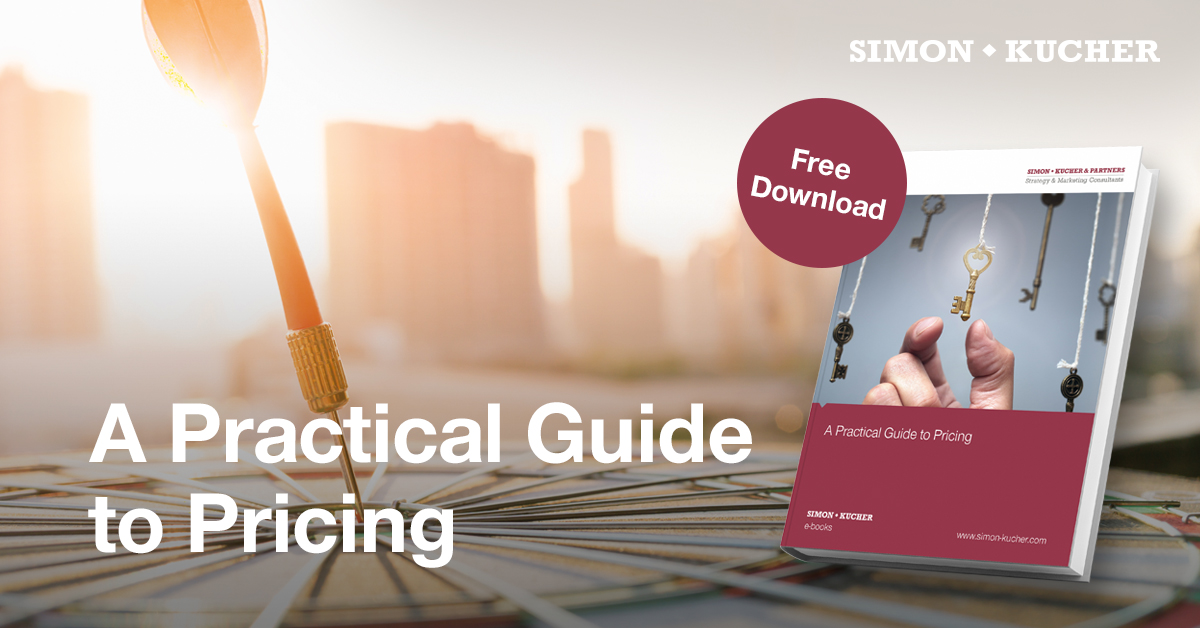 ---
Read more from our expert blog series Pricing Basics:
Part 2: Pricing Power, and How You Can Profit From It
Part 3: Why Prices End in 99… and Other Psychological Pricing Tactics
Part 4: Value Pricing Changes the Rules of the Game
Part 5: Digital Transformation – A New Way of Working
Part 6: Price increase? No problem. Preparation beats price pressure!
Part 7: Stay Strong – How to Fight a Price War
Part 8: Skimming or penetration pricing?