The market environment for the pharmaceutical industry is in a state of constant change, making it more challenging than ever to foster long-term relationships with important customers. What's required is a more systematic approach to KAM. Raf Onclin and Jens-Christian Oelker explain how companies can often unlock significant revenue potential and address the challenges of a dynamic and increasingly competitive marketplace.
Increasing pressure on healthcare systems is leading to the professionalization of purchasing approaches on the customer side. With specialty business growing in importance for manufacturers and spill-over effects from secondary care impacting primary care, effective key account management (KAM) is essential, particularly as a means of addressing marketplace challenges and maximizing business opportunities. By running a key account excellence program, assessing their current KAM approaches, identifying potential improvement areas, and implementing changes, they will be able to drive impact and sustain growth.
Current market dynamics call for effective key account management
The market environment for pharmaceutical companies is in constant flux. Increasing cost pressure and consolidation are now a common occurrence in many countries. Smaller customer accounts are strengthening their buying power by joining group purchasing organizations and healthcare providers and payers are investing in professionalizing their purchasing processes. In response to EU procurement guidelines, tendering and contracting are becoming widespread practices.
This dynamic market environment presents three challenges for the pharmaceutical companies in managing their key accounts:
No clear direction on where to go: Without structured guidance and proper intelligence, key account managers may miss information on important customers or lose sight of business opportunities. Not prioritizing most attractive key accounts or overlooking important stakeholders can hinder business growth
No clear ownership: Key account excellence is not always on top of the management agenda. Allocating responsibility and assigning ownership and decision making is not always clearly defined, particularly when sales teams deal with products across several business units. As such, it may not be clear what authority individual key account managers have, requiring them to seek approval or consensus and slowing down decision-making
No clear guidance on what to do: Not all pharmaceutical companies have well-defined account development strategies - many lack account development planning and appropriate KAM toolboxes to support execution. Objectives are rarely set on a per-account or per-segment basis. As a result, monitoring and incentivization efforts are often ineffective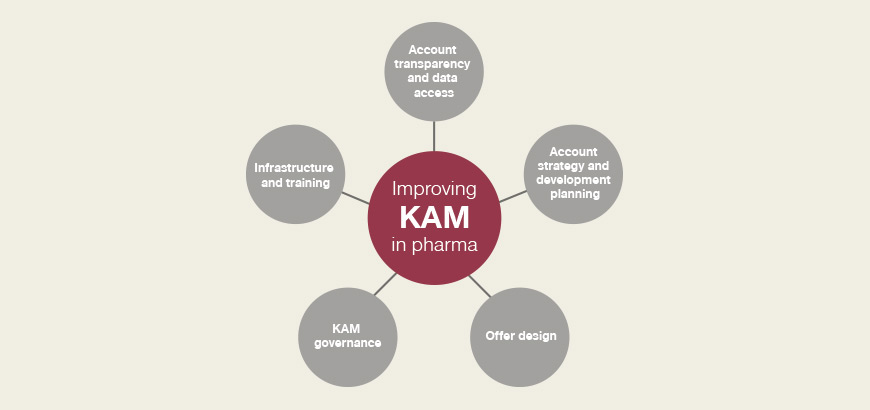 Five measures to improve key account management
Before launching any improvement initiative, companies should assess the strengths and weaknesses of their current approach as well as the specifics of the market segments in scope. Initiatives that incorporate one or more of the following five measures can often lead to considerable improvements with a significant revenue impact.
Achieve transparency over your key accounts and provide efficient data access 
First, collect data on all relevant key accounts in order to identify their stakeholders, understand their current business situation and challenges, and determine their decision-making processes. Then, use this data to segment the key accounts and prioritize them. KAMs need to have easy access to account data to be able to properly design offers and manage interactions with customers. Due to market dynamics, data needs to be continually collected and updated, while segmentation should be reviewed on a regular basis.
Define an account strategy and perform account development planning 
Setting strategic objectives for key account business will support alignment and coordination between all relevant stakeholder groups and serves as the basis for determining resource requirements. Account development planning should aim to improve the performance of individual accounts and that of your company as a whole. To improve quality and impact, define key performance indicators (KPIs) to help monitor progress and achievements.
Optimize your offer design to address key accounts' needs
Every key account is different and has specific requirements. Significant revenue potential can be unlocked by following a tailored rather than a one-size-fits-all approach. Use account profiles and development plans to create individualized offers for each key account.
Ensure appropriate KAM governance
Key account management requires senior management support. Within individual KAM teams, roles and responsibilities must be clearly defined to ensure smooth workflows. Key account managers should have a specific level of authority to be able to make decisions about the offering. Alternatively, an approval framework can be developed to handle offers efficiently.
Develop KAM infrastructure and provide comprehensive training
The role of a key account manager is shifting from a purely sales-oriented position to that of a business partner for key accounts. Key account managers increasingly develop business models with the customer, sell products by demonstrating their value, and ensure products and services are optimally used within the customers' organizations. Successfully carrying out these tasks involves hiring the right people and training them accordingly. Continuous competency development is needed in order to tackle the complexities and demands of this role. In addition to properly training the workforce, using the appropriate support tools can be valuable in KAM. For example, a CRM system can support teams by improving coordination if more than one person is in contact with a key account.
Similar to links in a chain, a company's key account management is only as strong as its weakest part. A compromise on any of the five elements can result in a loss of effectiveness of your key account management and a loss of business opportunities.
---
HEALTHCARE NEWSLETTER
Boosting revenue and profits in Life Sciences. Our experts share comprehensive solutions for the complex marketing, sales, and pricing challenges faced by healthcare players.
---