Unique ways that healthcare manufacturers are monetizing digital therapeutics
Digital therapeutics have arrived on the healthcare scene, and are being integrated into clinical practice across a wide range of diseases, from substance use disorder to chronic disease management. Companies in the digital therapeutics space have confronted a key commercial question: What is the best way to monetize digital therapeutics?
What are digital therapeutics?
Digital therapeutics are a new class of healthcare products that use digital technology to treat medical conditions. They are often confused with "digital health solutions," but not all digital health solutions are digital therapeutics (Figure 1). We view digital therapeutics as a subset of digital health solutions, distinguished by their focus on driving clinical outcomes for patients. This focus on clinical outcomes also distinguishes digital therapeutics from popular consumer health-oriented technologies such as step-counters and calorie-counters (e.g., FitBit and MyFitnessPal, respectively).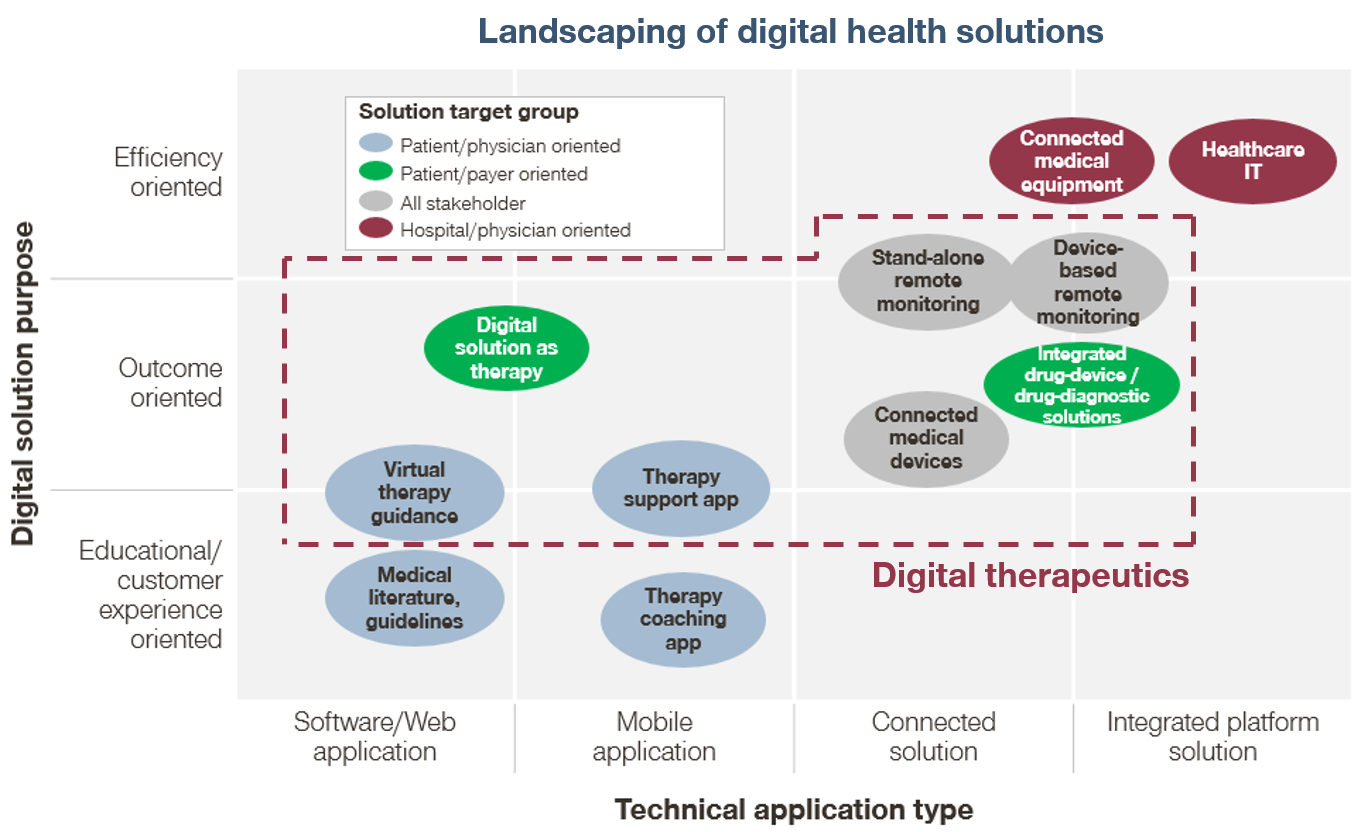 Digital therapeutics encompass a wide range of product types, including mobile apps, wearable devices, and telemedicine platforms. All of these types of therapeutics can help drive clinical outcomes, but they differ in the strength of their claims (Figure 2).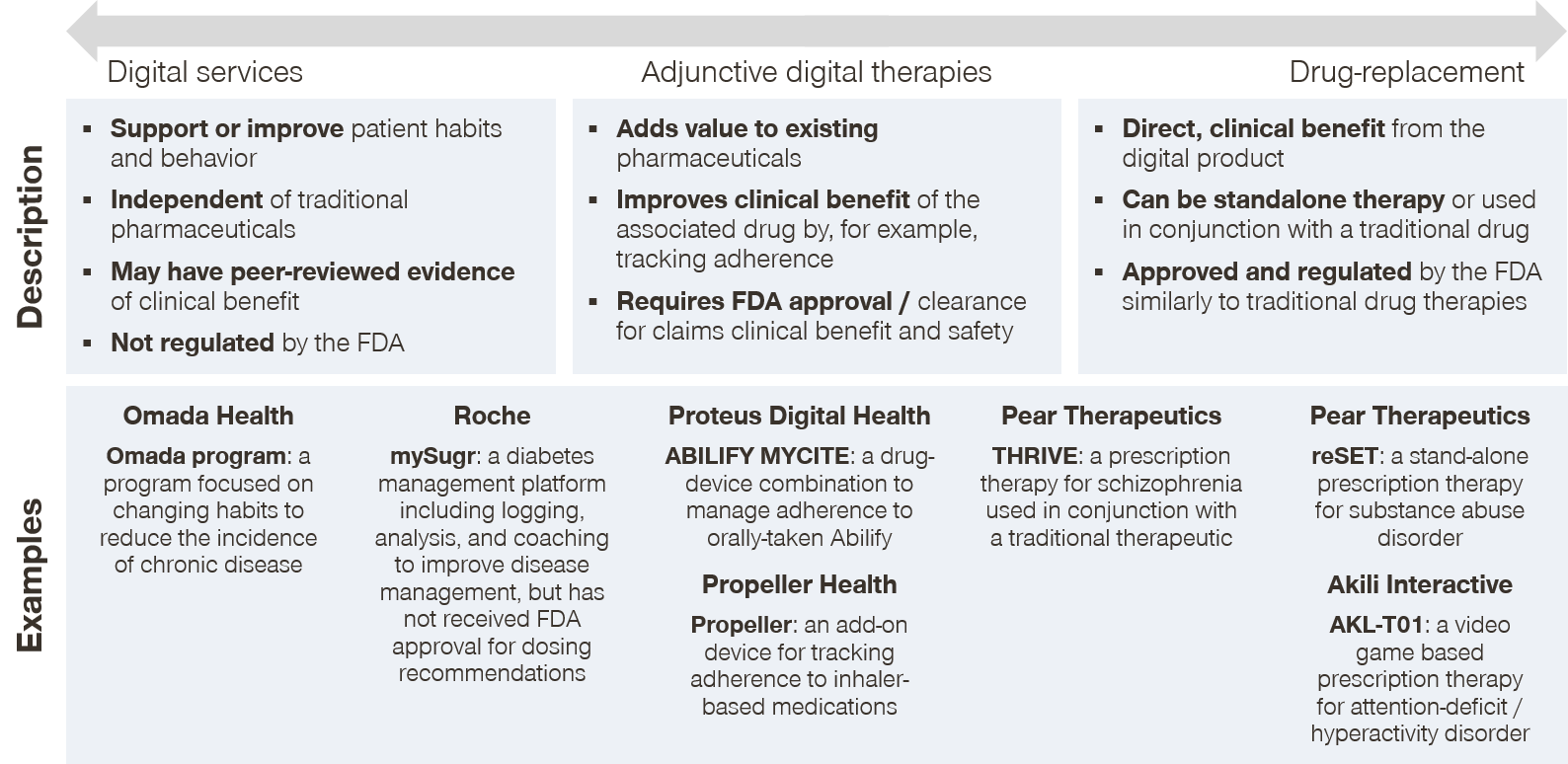 We observe three tiers of digital therapeutics, in order of increasing strength of clinical claims:
Digital services.

Digital services typically aim to modify patient behavior in some way. These digital therapeutics will often publish studies that show that their therapeutic can help drive a clinical outcome but will not claim a specific therapeutic benefit. A well-known digital therapeutic that falls under this tier is Omada Health's digital behavior coaching platform that aims to help patients reduce their risk of diabetes and other chronic diseases.  The digital therapeutic is a 16-week online program that seeks to promote weight loss by guiding participants through nutrition and daily activity changes. While Omada reports that their average participant loses weight during the course of the program, the company stops short from making the claim that the platform reduces the participant's 5-year risk for Type 2 diabetes, stroke, and heart disease.

Adjunctive digital therapeutics.

The next tier of digital therapeutics support the use of traditional therapeutics. These therapeutics can assist in improving clinical outcomes, but they do so indirectly by enhancing the effectiveness of the traditional therapeutic and typically stop short of claiming a therapeutic benefit. An example of this tier is Proteus Digital Health's Discover medication adherence platform. The system consists of a tiny ingestible sensor that is incorporated into a traditional pharmaceutical, a small wearable sensor patch that the patient places on their body, a mobile patient application, and a provider online portal. Proteus has recently partnered with Otsuka to manufacture Abilify MyCite, which uses the Discover technology. While Proteus is very likely to contribute to improved adherence and thus improved efficacy of Abilify (aripiprazole, an atypical antipsychotic), they do not claim therapeutic benefit from using their platform itself and instead make their claim through the Abilify MyCite FDA label.

Digital drug replacements.

These therapeutics seek to provide a clinical benefit through the digital technology itself, and not through any other source. Because of this, digital drug replacements require significant scrutiny by way of clinical trial results and FDA-review. The first-to-market (and only) digital therapeutic that falls in the digital drug replacement category is Pear Therapeutics' reSET application for treating substance use disorder (SUD). The company calls reSET a prescription digital therapeutic because the app was proven to promote a higher rate of abstinence in a clinical trial than the standard of care in SUD (outpatient face-to-face counseling) and the results were submitted and approved by the FDA. Prescription digital therapeutics operate very similarly to traditional therapeutics, as they are prescribed by physicians and follow many of the same distribution and payer coverage pathways.
What value do healthcare leaders see in digital therapeutics?
While digital therapeutics is a relatively new field that is largely dominated by small players, large healthcare, pharmaceutical, and insurance companies have begun to take interest in this space. Recently, Cigna began offering Omada Health's product to their plan subscribers to control costs through chronic disease prevention, and cemented this relationship by leading a Series C round of investment worth $50 million. This and similar investments signal that there is significant interest in a wide spectrum of digital therapeutic products and the associated positive patient and financial outcomes.
A growing number of major pharmaceutical and healthcare companies including Roche, GSK, and Novartis / Sandoz have recently invested in or partnered with digital therapeutic companies.
mySugr offers Roche new monetization options for their diabetes management portfolio.

The mySugr platform offers automated logging, analysis, and reporting for diabetes management complementing Roche's line of Accu-Check monitors. This move brings Roche into the growing mobile diabetes management market by acquiring one of the current market leaders. While Roche currently plans to keep the platform open to competitor's blood glucose monitors, they gain several options to monetize their unique position of owning both the digital and physical product. First, they have begun to offer packages of their monitors, test strips, and virtual coaching through the app and are able to do this more economically by vertically integrating. Second, the platform offers access to a large, targeted population to whom Roche can sell monitors. Third, Roche can engage mySugr users with new services, such as insulin dosing recommendations, as they rollout via the app. While there is the risk of new diabetes management platforms being created, mySugr's significant market share and perceived best-in-class offering mitigate this downside for Roche.

Propeller Health improves outcomes in asthma and COPD, offering novel contracting opportunities to GSK.

The Propeller platform (which is compatible with inhalers other than those produced by GSK) tracks medication use to monitor adherence, provides insight into symptom causing factors, and connects patients and physicians by sharing relevant data. Use of the platform increases adherence and improves patient outcomes. GSK will utilize this partnership to increase sales and revenue through innovative adherence-based contracting with payers and evidence generation to drive prescribing by physicians across their inhaler-based portfolio. The primary risk is that payers and physicians may not engage with adherence management solutions, but Abilify and Proteus suggest strong interest for these systems in the market. Additionally, GSK can license this technology to other inhaler-based medication manufacturers, balancing platform growth with competitive concerns. GSK and Propeller health have been partnered since 2015 for the development of a clip-on sensor to track adherence for the ELLIPTA Inhaler and extended this collaboration in August 2017. Further, GSK and Propeller are continuing research and development on the platform to show how improved adherence can improve patient outcomes.

Pear Therapeutics' reSET and THRIVE makes Novartis the leader in prescription digital therapeutics.

Earlier this year, Novartis, and subsidiary Sandoz, partnered with Pear Therapeutics to develop and commercialize digital therapeutics for the treatment of psychiatric disorders. With this partnership, Novartis / Sandoz adds value, credibility, and market access to reSET when it enters the market as the first drug-replacement digital therapeutic, while adding significant value to Novartis' brand by demonstrating their leadership in this new market. These digital prescription products may have additional upside compared to traditional pharmaceutical acquisitions through data generation, innovative contracting, and some of the other monetization schemes described below. The products associated with this partnership, including reSET, reSET-O, THRIVE, and a therapy for multiple sclerosis, offer multiple potential future platforms with significant upside for Novartis, and lower downside risk compared to traditional pharmaceuticals as the investment required to reach the market is likely lower. Sandoz specifically will work with Pear for the commercialization of their reSET app for the treatment of SUD, while Novartis will help Pear develop THRIVE for the treatment of schizophrenia. Novartis has long been involved with Pear including involvement in Series A and B funding in February 2016 and January 2018, respectively. Their investment in Pear is part of Novartis's larger mission of developing technologies to monitor patients in real time, increase adherence, and improve outcomes.
As digital therapeutics demonstrate their upside as supportive services, adjunctive therapies, or drug-replacements, the influx of money and partnerships from major players in the healthcare industry are likely to continue.
How can companies monetize digital therapeutics?
But how should companies select from the broad range of monetization opportunities that are available to digital therapeutics?
We see two core types of monetization that any product can leverage: explicit monetization and implicit monetization. Explicit monetization of a product is characterized by the direct increase in revenue from the product itself. Implicit monetization of a product is often characterized by non-revenue benefits including higher adoption rates, greater customer engagement, or more robust data capture.
Explicit monetization: Monetizing the digital therapeutic itself
Here are a few of the top explicit monetization opportunities:
Traditional pharmaceutical or medical technology reimbursement.

Some digital therapeutics will have the opportunity to be reimbursed through insurance plans in the same way as drugs or medical technologies. While reimbursement as a prescription drug will not be available to all digital therapeutics, it will be open to drug-replacement therapies like Pear Therapeutics' reSET. Additionally, traditional reimbursement may be possible for some adjunctive therapies where the therapy is not linked to a specific drug. WellDoc's BlueStar, which provides real-time coaching to individuals living with type 2 diabetes, is reimbursed by several insurance companies as a medical benefit. Additionally, this monetization pathway is compatible with several of the other explicit and implicit schemes described below.

Offer multiple versions or a customized offering of the digital therapeutic.

While it is often a goal of digital therapeutics to seek and obtain payer coverage as seen above, digital therapeutics bring the unique opportunity to develop and bring to market varying tiers of their therapeutic. For example, companies that develop prescription digital therapeutics can create "lite" versions of their therapeutic that are available for cash pay, in order to capture patients who do not have insurance coverage. While companies will need to ensure they are not eroding the value of the prescription version of the therapeutic, there is the opportunity to monetize their therapeutic differently for consumer vs. prescription patient segments.

License the digital platform to other manufacturers.

Digital therapeutic manufacturers with a proven platform may be years ahead of manufacturers who have not begun developing their own platforms. The original therapeutic could monetize their digital platform by collecting licensing fees from the interested manufacturer. While the digital platform owner would not want to license the technology to a company producing a therapy in the same therapeutic area, strategic out-licensing would enable monetization in a new market.

Sell data to other manufacturers.

Because digital therapeutics provide a stream of patient engagement and clinical data, there may be an opportunity to sell access to anonymized and aggregated results to other manufacturers. Apps like Roche's mySugr app collect large quantities of patient efficacy and utilization data regarding patients' diabetes care management. This data would be incredibly valuable to any manufacturer in the diabetes field, as they can learn from the data and incorporate the insights into their own therapeutics. Digital therapeutic manufacturers in this case hold the "key" to this data, and there may be a business case for selling this data as an additional stream of revenue from the digital therapeutic.
Implicit monetization: Indirectly monetizing the digital therapeutic
Here are a few of the top implicit monetization opportunities:
Creating a strategic competitive advantage from artificial intelligence (AI).

AI is rapidly being integrated into businesses' strategies and everyday operations. One of the major requirements for having a competitive advantage with AI is to have a proprietary data source that cannot be easily replicated. Digital therapeutics create the opportunity to collect this proprietary data through the therapeutic and use it as training, input, and feedback to data to deploy AI effectively. For example, WellDoc's BlueStar diabetes management platform can collect massive amounts of data on glucose levels and insulin dosing, and then use this proprietary data to improve insulin dosing through artificial intelligence as more and more data becomes available.

Innovative contracting.

One of the key barriers for traditional therapeutics in executing innovative contracts is capturing the data that will be used to track performance. For example, contracts based on medication adherence can be very hard to create and enforce because adherence data is often difficult or impossible to collect. The data from digital therapeutics significantly improves the ability to execute innovative contracts because the data is captured just through use of the digital therapeutic itself. This data can then more easily be relayed to payers to support the metrics chosen for an innovative contract.

Improved value story and P&MA negotiation.

Improved data availability also creates interesting opportunities to present clinical efficacy data to payers to help prove the value of the product to payers. Demonstrating real-world efficacy of therapeutics once the treatment is used outside of a hyper-controlled clinical trial setting along with long term product use is key to supporting the core value story. The data capture from digital therapeutics allow payers to run efficient and valuable pilot-runs of digital therapeutics before fully covering it on their plan. Manufacturers can take advantage of this by participating in the pilot and proving the value of their therapeutics to payers in a real-world setting.

Increased product engagement through updates and upgrades.

Digital therapeutics allow manufacturers to rapidly update their products over the lifecycle of the product, unlike traditional pharmaceuticals which must undergo long periods of product development to make product changes. Digital products require a simple software or application update that can be included in the next "version" update of the app, which can happen as often as the manufacturer would like. The ability to update digital therapeutics over the course of the product lifecycle gives the sales teams improved sales pitches to bring to providers on sales calls. With updated products, they have new features and capabilities that they can bring to providers in order to convince them of the value of the therapeutic. Digital therapeutics have the ability to improve over time as the manufacturer learns what patients and providers desire, and sales teams can leverage this improvement during their sales pitches.
Summary
The adoption of digital therapeutics continues to grow, and we believe that pharmaceutical companies, medical technology companies, and payers will continue to invest in this new class of treatments. The unique features of digital therapeutics offer manufacturers a diverse array of both explicit and implicit monetization opportunities, providing novel revenue streams. Carefully selecting the right monetization pathway is critical to unlocking the full potential of digital therapeutics.