Digitalization in the Chemical Industry
September 05, 2017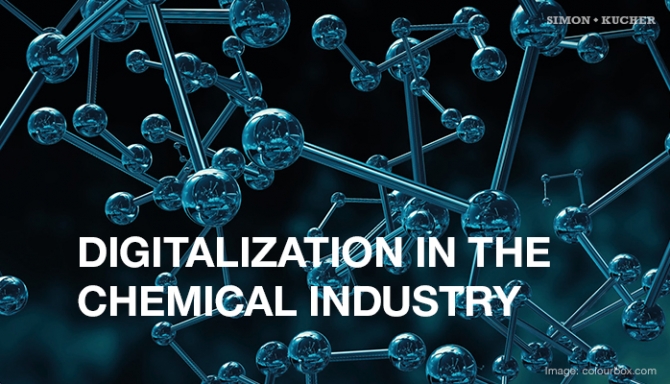 Chemicals: Missing ingredients in the digital success formula
All major chemical companies have their digital initiatives under way. Does this mean they are taking full advantage of digitalization opportunities? Read on to find out why the answer is no – and learn three things every chemicals company should be doing in an evolving digital world.
Insights
Chemical companies are known for their systematic approach to business. Mostly led by scientists and analytically skilled top managers, they are now embracing the challenges of digitalization in the same thorough and systematic way. Not only have they launched initiatives to define how they should deal with this new trend, they have also established digital business units with purposes ranging from smarter operations, business model redesign, capitalizing on big data, and employing scouts who look for new digital technologies and operate similarly to M&A departments.
In short, while other industries have been making hectic knee-jerk reactions to digital trends, the chemical sector has stood out for its composure and efficiency. This attitude stems in part from the recognition that chemical companies have much more to win than lose from digital technologies. Entry barriers to this asset-heavy industry are high and there is no risk of start-ups pushing established companies out of the market overnight. In addition, they are able to make use of myriad data on product characteristics they generate in their labs, especially for their formulation businesses. They have in-depth knowledge and a large database on the performance of their process chemicals, enabling them to apply new digital technologies and fully manage their clients' processes. A good example of this approach is Ecolab. Instead of selling water chemicals, Ecolab has partnered with Microsoft's cloud platform Azure and an IoT services company to provide real-time data-based process water management, helping customers advance toward net-zero water usage while reducing operating costs. Another example is Clariant's digital color matching service, partnered with matchmycolor and Konica Minolta. They bring direct sustainability advantages to the plastics industry by streamlining the expensive and time-consuming process of creating color calibration data sets.
Fast and thorough: Chemical companies need to be both 
In a digital world, speed becomes a competitive differentiator that even chemical companies cannot escape. Their digital success might be limited due to their traditional commercial approach, even if digital project teams rarely lack ideas for new solutions or business models.
First, the chemical industry has struggled for years to understand its customers' true willingness to pay and capture the full value of its products and services. Companies have thought about new monetization models, but seldom implemented them successfully. Second, they tend to be slow to go to market because they are not used to making quick decisions based on a rough understanding of business figures rather than bulletproof business cases. Most traditional business decisions in this asset-heavy industry more than justify these thorough decision-making processes. But as demonstrated by the creative ideas of Ecolab and Clariant, it can be advantageous to launch and then optimize rather than err on the side of caution from the outset. Business seems to be more strongly driven by engineers than marketers, when in fact both need powerful seats at the table. Third, many chemicals companies fear losing control of their data once it is used on digital platforms. This reluctance might prevent them from partnering with specialized digital players, who may be faster and more cost-efficient. Creating in-house solutions often takes too much time, and acquiring digital players with the right technology requires speed and money.
While we observe that many chemicals companies focus on the "big tickets", they tend to forget that digitalization can also improve other commercial aspects, especially those where speed is decisive. And here we mean sales. Yes, online sales platforms can optimize the customer journey, with basic elements such as confirmation emails sent as soon as online orders come in, rather than after production has already started. But beyond that, sales steering can be more efficient and CRM more advanced. Equipping sales teams with real-time information on lead times or capacity utilization allows them to focus on selected products and supports dynamic pricing. CRM information on every customer's product mix and margins improves the chances of up- and cross-selling. Of course, every chemical company has its CRM system, but most are yet to fully tap into the potential these systems have to offer.
At the forefront of digitalization
When it comes to digitalization, B2B industries can learn a lot from B2C, where solutions are easy to use, continually evolving, and part of everyone's life. For example, the eCommerce site myCelanese.com looks a little bit like Amazon. It focuses on usability (the site can be accessed easily from both smartphones and tablets) and convenience (around-the-clock access to past and present order information for all business segments). It also puts all sales and shipping documents right at their customers' fingertips. By leveraging digital technologies, it creates a positive customer purchasing experience, from order placement to invoicing.
Advice from our experts
Digital transformation is obviously a journey and many aspects need to be considered to fully benefit from the additional revenue and profit potential. Here are three steps to help chemical companies succeed:
Connect the dots you already have! Your biggest revenue and profit potential may be in improving existing business. Equipping sales teams with customer-specific information, real-time data about your capacity and supply chain, and sound value argumentation will improve the profitability of your current set-up.
Think about monetization models early on! Redesigning business models and creating completely new, innovative digital business models is a huge opportunity, but there is only one chance when monetizing your idea to get it right. Revenue models are often considered far too late on in the process, when instead you need to incorporate market and customer perspectives from day one. This is perhaps the clearest opportunity for chemical companies to match the digital world's need for speed.
The right time is now! Don't wait for the silver bullet before you go to market. In an evolving digital world, agility and time to market is key. Your goal is not 110% perfection and a crystal clear business case – piloting with 80% solutions is the new paradigm.