The three notable themes with this year's national reimbursement drug (NRDL) list in China. 
Biopharma stocks in China have reacted to the latest national reimbursement drug list (NRDL) developments with strong gains, signaling a rare vote of confidence in the changes unfolding at this high-stake annual event. 
Three notable themes bode well for new innovative therapies, established NRDL incumbents, rare disease drugs, and pediatric drugs. 
1. Record number of innovative therapies going for this year's NRDL new inclusion. 
A total of 226 drugs made it to the NRDL long list for new inclusion. Of these 226 drugs, 108 were newly approved in China over the past 12 months—73 of which received approval this year. This underscores the pace of new drug approvals in China and the increasingly important link between regulatory developments and reimbursement.
The most notable candidates for the 2023 NRDL include a number of new drugs like Spevigo, which secured China approval within a mere three months of its US approval, as well as another six drugs that received China approvals on June 30, just in time for NRDL submission. The latter include another highflier Vyvgart for generalized myasthenia gravis, as well as others across oncology, nephrology, and hematology.
Time is of the essence. Even for last-minute approvals, many started preparing for the NRDL in parallel to the regulatory approval process, as an NRDL listing can go a long way toward overcoming many typical access hurdles in one fell swoop. 
At the same time, the listing benefits always need to be weighed painstakingly against the magnitude of price concession needed. In this context, the recent announcement from the National Health Security Administration (NHSA) that "a price cut shouldn't be mistaken for the name of the game" is widely seen as a goodwill gesture for the pharma industry.  
2. Established NRDL incumbents are unlikely to face heavy cuts.
The goodwill was further manifested in the latest NRDL renewal rules, which have been applauded by many NRDL incumbents. Specifically, the NHSA introduced a few adjustments to the price cut matrix from last year so that those who have been on the NRDL formulary longer than four years will enjoy half of the cut compared to before. Those who experienced a cut for indication expansion last year may see less of a cut this year, and there are possibilities for negotiation should one find the matrix too mechanical and unreasonable. 
These latest adjustments translate into lower price pressure for many of the 164 candidates this year while providing bigger incentives for the 226 new inclusion candidates to get listed in the first place.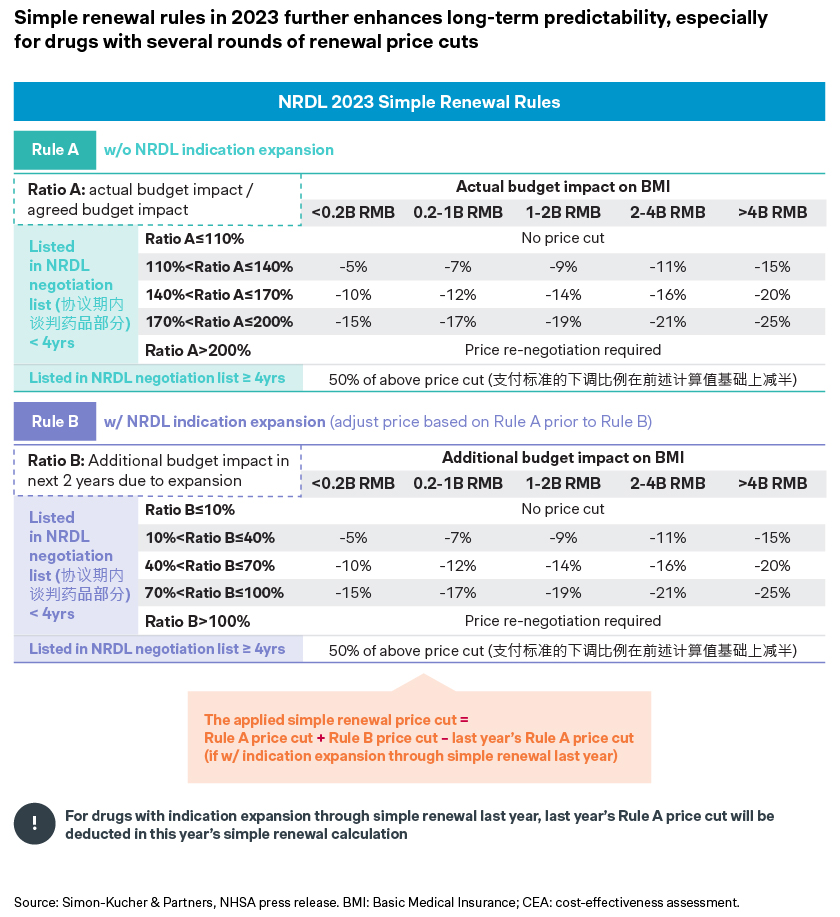 3. Rare diseases and pediatric drugs will continue to be key areas of interest for the NHSA as well as patient communities and the industry as a whole. 
Many are expecting new breakthroughs in myasthenia gravis, tyrosinemia, and tuberous sclerosis. 
Besides Vyvgart, Soliris could also be a contender for generalized myasthenia gravis. As a first-in-class C5 complement inhibitor, Soliris features a different mechanism of action and has previously gained approvals for atypical hemolytic uremic syndrome and paroxysmal nocturnal hemoglobinuria in China. 
For tyrosinemia HT-1, there could be a duel between two nitisione candidates. One just received approval in 2023, while the other was approved two years ago but its earlier NRDL attempts were unsuccessful. The outcome could be different this time around, and may bring hopes to the patients fighting against the vicious metabolic disorder.  
Remarkably, a new therapy for tuberous sclerosis complex was also approved in China, less than one year after its US approval. Its NRDL inclusion would further help improve disease awareness, treatment, and outcomes for the tens of thousands of pediatric patients across China.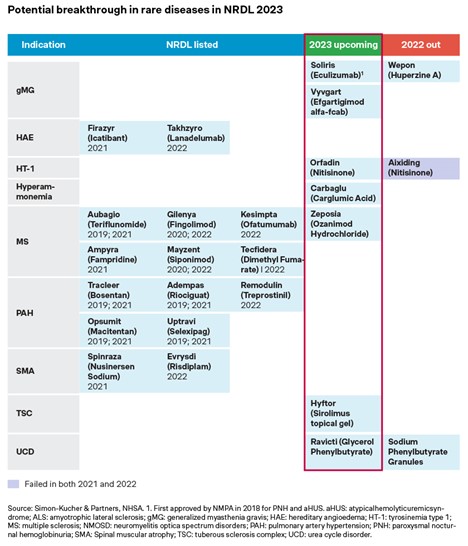 With 390 candidates in the 2023 NRDL long list, a record number over the past three years, competitions and tensions will not let up despite the positive signals. Players will need to navigate with all the acumen and agility going into the next stages.    

Thanks to contributions by Wolfgang Liang, Selene Peng, Shiying He, Duo Xu!