Consumers' purchase behavior of telco services has undergone a massive transformation due to the current economic climate. Our latest Global Telecommunications Study dives into the three main changes emerging from the prevailing market environment.
The telecommunication industry gained momentum during the pandemic when there was an immediate need for stable, powerful connectivity amidst the lockdowns.
In the current post-pandemic scenario, however, the business landscape is undergoing a significant transformation featuring soaring prices and a global economic downturn. Within this context, telco companies encounter new obstacles but also find unique opportunities to capitalize on rising trends.
The findings from our recent Global Telecommunications Study indicate that taking decisive action is imperative to maximize benefits within the current market dynamics. The blended average revenue per user (ARPU) for broadband and mobile is expected to decline, reaching 27 euros in 2026. It will be further accelerated by high inflation rates, while extensive 5G infrastructure investments will be required over the next years.
Since telcos have not had significant price increases compared to other industries to deal with margin erosion, price hikes will become unavoidable in the foreseeable future. However, results from our Global Pricing Study over the years have shown that companies, on average, only achieve a third of the price increases they were aiming for.
The telco industry must overcome this challenge and maintain ARPU growth by making strategic business adjustments when developing suitable value propositions. To achieve this, it is necessary to understand the current market environment and recognize potential amidst the challenges.
We expand on three key insights about the market environment below.
Key insights on the current telco market environment
1. Inflation and recession have impacted consumer purchase behavior
With the end of lockdowns and regular work and outdoor activities back to normal, consumers' perceived importance of telco services has returned to pre-pandemic levels. Notably, mobile services have now taken the lead over broadband in terms of perceived importance, marking a significant shift in consumer sentiment.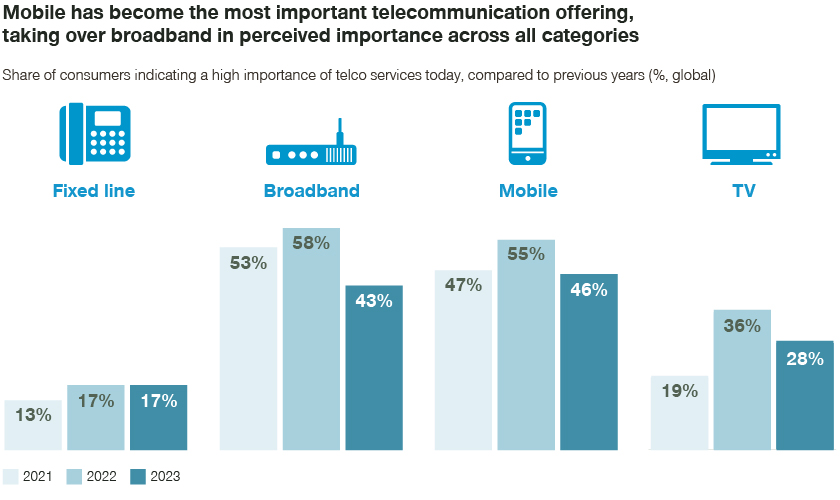 Interestingly, broadband and TV have been moving in opposite directions. More people returning to work indicates less time in the home office. This has led to one out of 10 people deeming broadband less important in 2023 compared to 2021. On the other hand, the value of TV services has increased by nine percent due to OTT services and their growing popularity.
Despite the value associated with telcos, the current economic environment has impacted consumers' sensitivity towards prices. Customers have been dealing with increases by taking various actions. 46 percent updated their services in response to the market dynamics, either by switching to a cheaper provider (27 percent) or downgrading services (24 percent). Therefore, it becomes increasingly crucial for telcos to revamp the approach for future price increments, tailoring it to customers' evolving needs and expectations.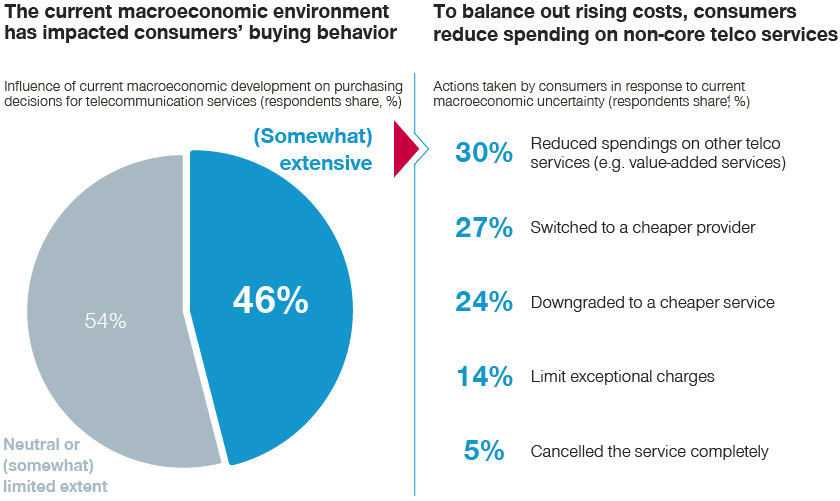 2. Customers' perception of telco price and value has improved
More than half of customers perceive telco services' price and value to be fair and reasonable today – a drastic improvement compared to the previous years. This presents the potential for telcos to adjust value propositions alongside price changes.
The telecommunications industry's comparatively lower price increases and consumers' self-optimized tariffs are the main reasons for this positive outlook.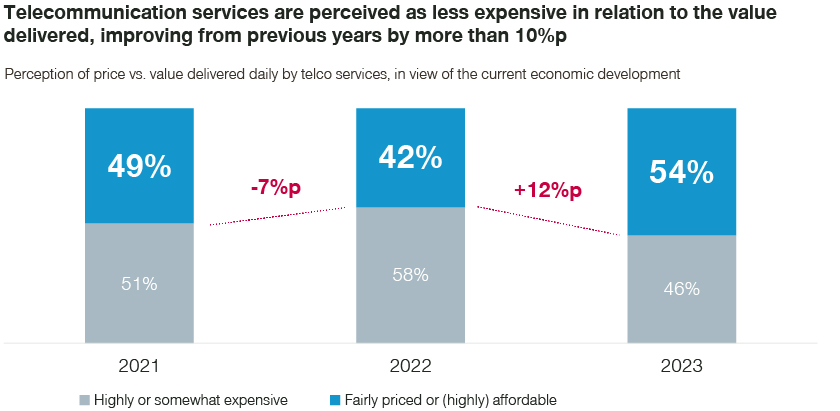 On the product level, there are only limited differences in price and value perception. In comparison to other services that 54 percent of respondents rate as affordable, only broadband stands out with 49 percent considering it the most expensive. This suggests that caution should be applied when approaching broadband with price increases and upselling activities.
3. Price still most relevant, but other significant purchase drivers have emerged
The key values consumers consider when choosing telecommunications services have also evolved, reflecting the changing industry landscape.
In the context of broadband and mobile services, pricing continues to exercise great influence on purchasing decisions. Yet, the study results show a perceptible shift in consumer priorities, with a decreased emphasis on broadband speed and network stability toward qualitative aspects.
Consumers are increasingly directing their attention toward customer service, product fit, and – as usual in uncertain times – the brand. Environmental friendliness is not yet a key decision criterion but very relevant for certain segments. This shift highlights the growing importance placed on holistic factors beyond mere product features and price considerations.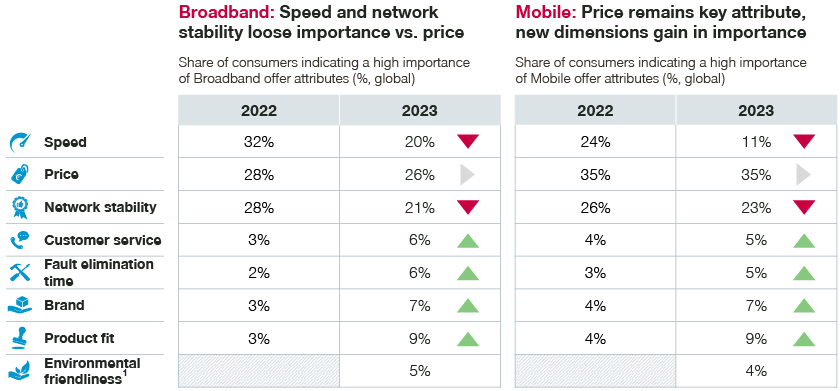 1) Newly introduced feature
Telco businesses should thoroughly explore this emerging trend to fine-tune their value proposition, as it holds the potential to provide them with a competitive edge. By aligning their offerings with the shifting consumer preferences, they can position themselves advantageously in the market.
Nine-step framework to support better growth
At Simon-Kucher, we have developed a tailored growth acceleration framework designed to cater to the unique dynamics of the present landscape. This framework empowers telcos to capitalize on the opportunities presented by the macroeconomic conditions, allowing them to maximize their gains effectively.
Our model has been developed by experts with over three decades of experience in the telecom industry.
Embrace your existing customer base
Are you struggling with negative net retention? Are you using your up and cross selling opportunities systematically? It's time to embrace the potential of your customer base with MyBase, a data-based solution with a focus on customer engagement.