China is at the forefront of global cell and gene therapy (CGT) development
According to Nature research in 2021, China accounts for over 50 percent of cell therapy trials worldwide. Today, there are around 400 ongoing CAR-T trials in China across a broad range of targets and diverse indications, from hematology/oncology to solid tumors.
Among the frontrunners, Fosun Kite's Yescarta and JW Therapeutics' Relma-cel received approval from the National Medical Products Administration (NMPA) in 2021, marking a new era for cell therapy in China. More recently, new drug approvals (NDAs) of B-cell-maturation-antigen-targeted (BCMA-targeted) CAR-T therapies from CARsgen and IASO Biotherapeutics/Innovent were accepted by the NMPA in October 2022. Formal approval and commercialization of these therapies are expected in the coming months.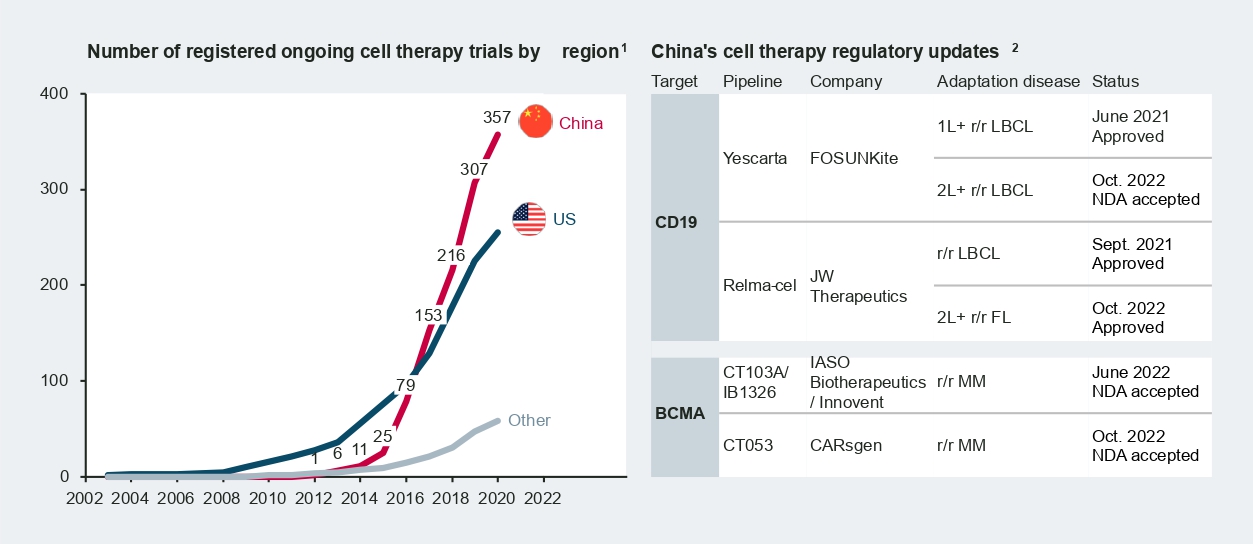 Compared to cell therapy, China's gene therapy industry is at a relatively early stage but demonstrates great potential. Gene therapies for rare diseases are of particular interest, as the large population base and large patient pools these therapies would benefit could be inherent advantages for China.
In 2022, a number of adeno-associated viral (AAV) based therapies from both multinational and local manufacturers entered new development stages in China. Novartis's Zolgensma for spinal muscular atrophy (SMA) treatment achieved a major breakthrough by receiving clearance from the Center for Drug Evaluation (CDE) for Phase 3 clinical trials in January 2022. Following Zolgensma's recent advancement, Neurophth began enrolling patients in September 2022 for the first Phase 3 trial of its leading asset, NR082 in Leber hereditary optic neuropathy (LHON).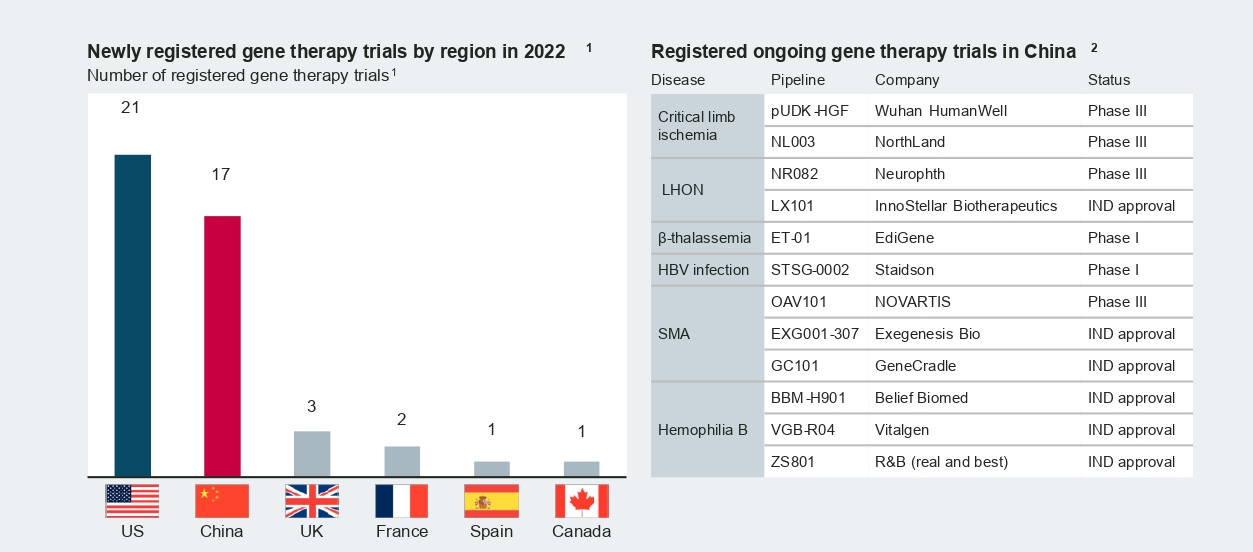 Policy drivers
CGT has been singled out as one of China's strategic priorities and research and development focus areas in recent years, and the regulatory environment has been supportive in general. In particular, the CDE has issued a series of technical guidelines, providing detailed guidance to support CGT development from pre-clinical research and evaluation to long-term follow-up studies.
At the same time, there are restrictions on direct foreign investments in human stem cell therapy, genetic testing, and gene therapies and concerns about genetic resources and information that industry players need to take heed of. Despite concerns, leading players like Novartis and Janssen have been making remarkable progress with their CGT development in China, demonstrating that it is feasible to navigate the policy complexities and operational challenges either alone or in collaboration with partners.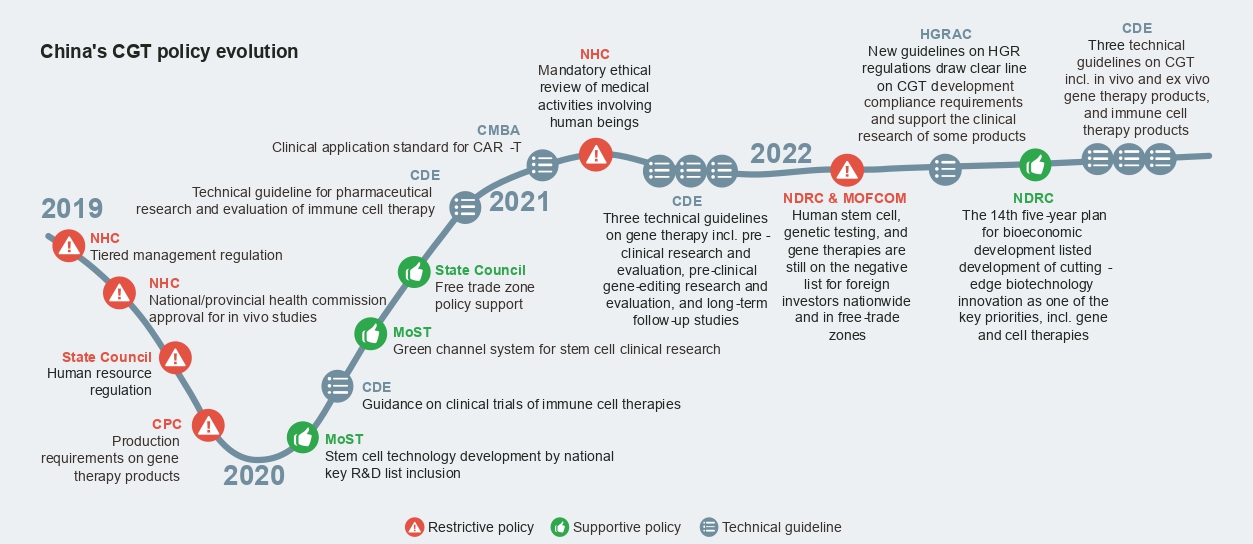 Early access opportunities
Developers of innovative therapies have been increasingly looking into early access opportunities in China, and many CGT players are proactively exploring these opportunities prior to their formal approval. Early access policies may even serve as a bridge to formal approval by real-world Chinese patients' utilization to build up drug branding as well as collect China-specific RWE.
Besides the Hainan Boao Lecheng International Medical Tourism Pilot Zone (Hope City) and the Medicine Connect program in the Greater Bay Area, a number of free-trade zones (FTZ) like Shanghai, Pudong, and Shenzhen are prioritizing CGT for future development by introducing supportive policies and incentives. Shanghai, in particular, promises to streamline human resources administration at the local level and introduce green channels to accelerate customs clearance of CGT early access and real-world evidence studies.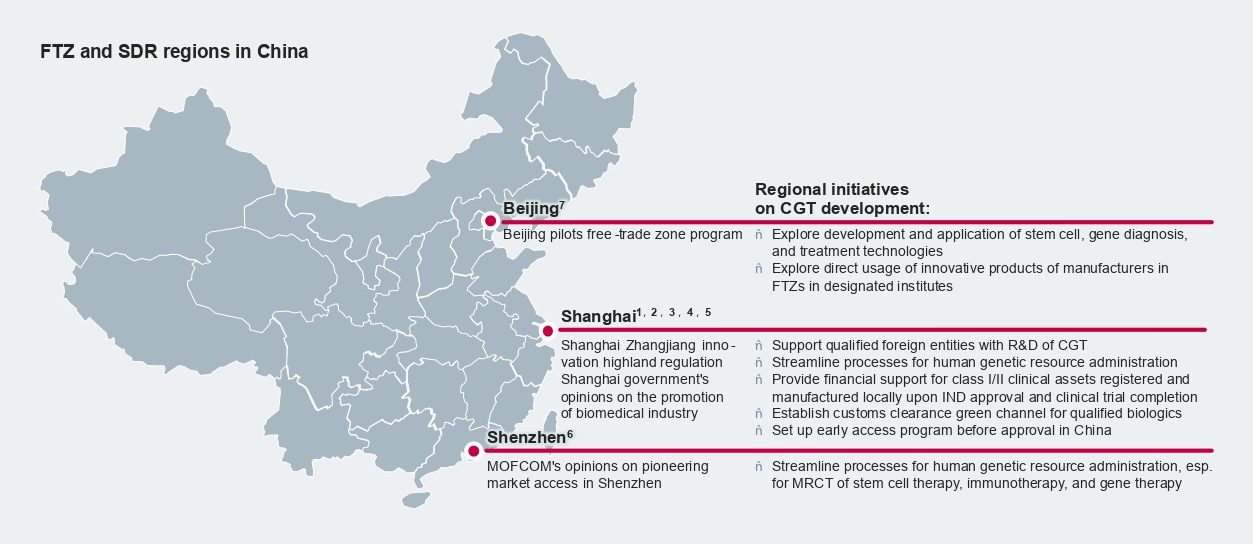 Innovative funding pathways
CGTs tend to be costly and require innovative approaches in market access and reimbursement. Fosun Kite and JW Therapeutics, for example, have been exploring innovative funding pathways like commercial health insurance (CHI) policies, innovative financing solutions, and outcome-based insurance policies in combination to help improve patient access and affordability.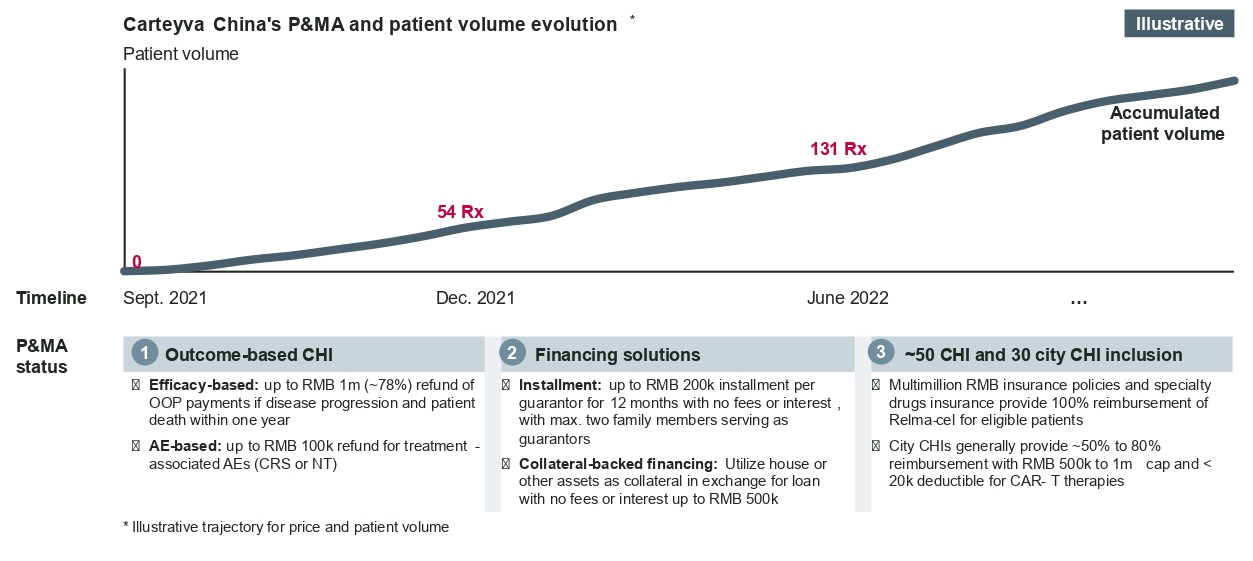 Outlook
China has been at the forefront of the CGT industry and will see more exciting developments underpinned by a number of drivers going forward. CGT players will need to acquire an in-depth understanding of the policy environment and industry landscape while being proactive and innovative to capture the opportunities promised by CGT in China.
---
Thanks to co-authors Miranda Wang, Nicole Cheng and Wolfgang Liang.
For correspondence related to this article, please contact Bruce Liu or Miranda Wang.