Consumer brands are facing more market pressure than ever before – rising costs, everchanging consumer behavior, intensifying competition, ongoing inflation, and to top it all off, a potential looming recession. So how can your business not only navigate this market environment, but leverage these challenges as an opportunity to unlock growth?
In our Growth During Volatility three-part series, we put a lens on Consumer business decision-makers' strategies, to better understand what actions were being taken within their organizations to defend against macroeconomic headwinds and a continued downturn.
In the first installment, we took a deep dive into how B2C executives should manage their growth plans at a time when the macroeconomic environment is evolving.
In the second installment of our series, we explored consumers' spending behavior and reactions to the current economic environment; and the appropriate pricing, sales, and marketing tactics businesses need to take to meet their needs.
This third installment delivers a framework of three proven strategies, with immediate to long-term actions, that are imperative for Consumer businesses to thrive through intensifying market factors. Your organization can weather the storm and come out on top by establishing fundamental strategy pillars.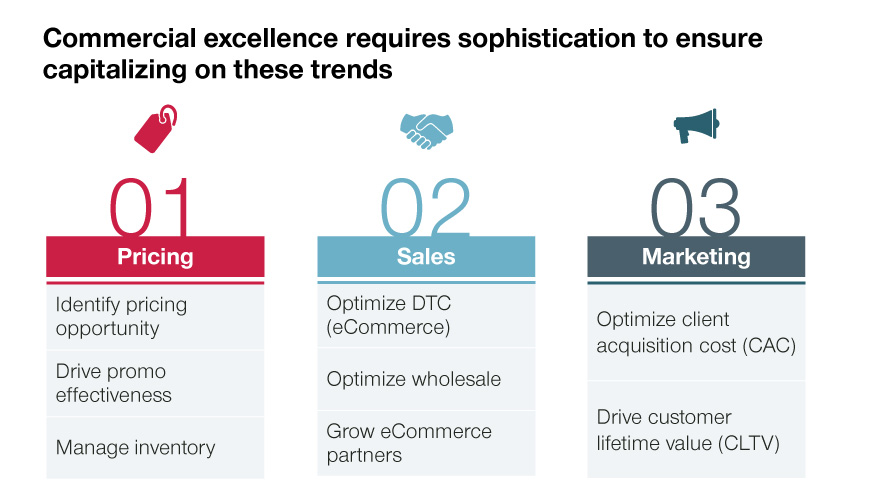 Your company can take immediate actions in pricing, sales, and marketing to garner quick wins and establish a benchmark for success.
Pricing:
Identify pricing opportunities to preserve and even maximize margins despite recessionary fears.
65% of top performing Consumer firms deem price increases as a top business priority in 2023 – in fact, 71% of Consumer businesses plan to increase prices in 2023. When done strategically and surgically, price increases can lead to improved margins without significant volume declines, even during a recession.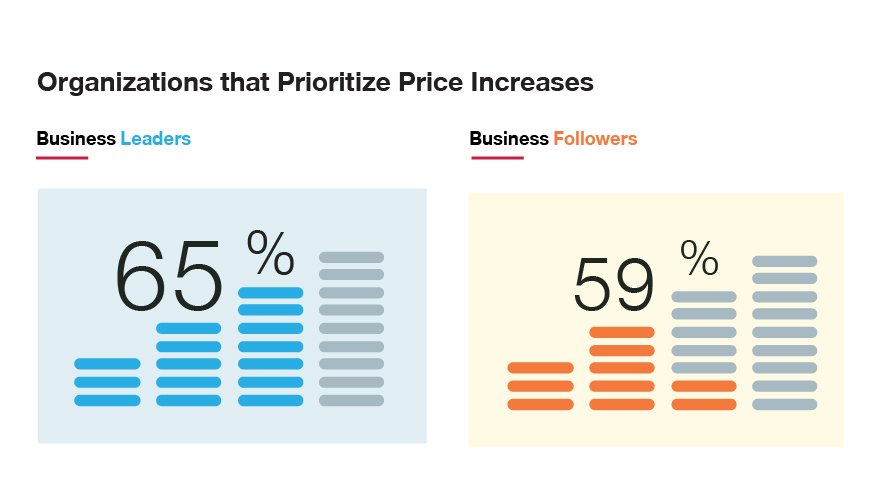 Immediate Actions

Identify product/category roles to help identify prioritization, off-limits, and opportunity areas for higher price hikes within assortment.
Surgical pricing by rounding to thresholds: Take a more surgical approach to price increases by aligning price levels to psychological thresholds (e.g., 99 cent endings, unit pricing at $49 instead of $50) to maximize capture of customer willingness-to-pay.
Review price point distribution: Optimize pricing and drive sustainable growth through the development of a value-based and consumer-validated price architecture. Ensure SKU coverage of key major price points calibrated to consumer willingness-to-pay and competitor price architectures.
Drive promotional effectiveness by identifying and optimizing which promotions generate high margins and traffic.
Promotions and discounting are top of mind for Consumer executives; 57% of best performing Consumer companies note offering promotions and discounts as a top business priority for 2023, compared to only 36% of other consumer companies. A targeted promotional strategy is imperative to driving volume without sacrificing margins.
Immediate Actions

Stop negative incremental promos by eliminating double-dipping promos and re-evaluate promotional formats to remove any discounts detrimental to the bottom line.
Manage inventory by optimizing discount and clearance strategy to minimize inventory glut without sacrificing margins.
Per the Federal Reserve, from April 2020 to April 2023, retailer inventories have risen by 22%. Consumer companies are taking swift action to minimize inventory glut brought on by the supply chain crisis and less-than-expected demand. 39% of Consumer executives have taken action to reduce inventory glut in the past six months – even more so in CPG (52%) and Retail (43%) specifically.
As retailers and consumer goods companies alike grapple with the reality of excess inventory, companies must identify quick wins to alleviate inventory glut to make room for margin wins and long-term growth.
Immediate Actions

Optimize in-season discounts/promos: Optimize promotional cadence, discount differentiation by product / category / division, and assortment for key commercial moments to stimulate targeted demand.
Optimize markdowns / clearance: Improve discounting depth and length along the product lifecycle, as well as assortment selection for clearance, to ensure optimal markdown depth and timing without leaving money on the table.
Sales: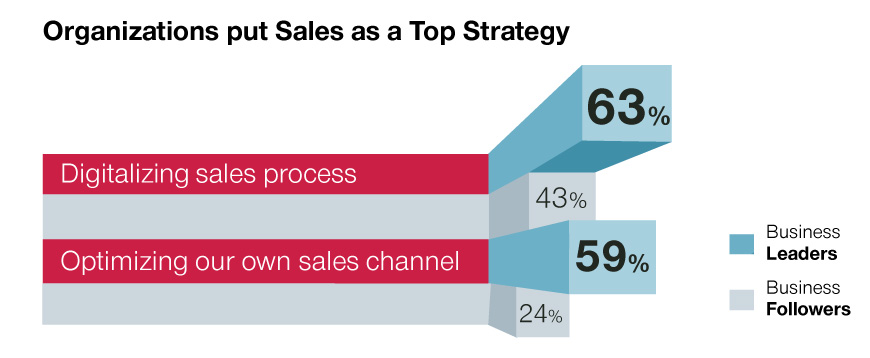 Optimize DTC (e-commerce) channel to encourage acquisition and up/cross-sell, and refresh your value proposition for your target customer segments.
Immediate Actions

Incorporate behavioral nudging in customer experience/journey: Drive average dollar per transaction by optimizing the customer purchasing experience through behavioral science tactics, including:

Displaying products with a clear upsell path
Highlighting product-search options based on customer persona ("shop your job," "shop your lifestyle," with targeted options)
Using social validation by suggesting products along the customer journey (e.g., Customers also bought…)
Highlighting curated categories to steer customers down controlled paths for best-tailored product options
Simplifying product categories to provide clarity in purchasing process

Refresh value drivers for customers: Re-evaluate the perceived importance and comparative advantage of your value drivers and adjust the prioritization of and value messaging of value drivers accordingly on a customer-segmented level.
Optimize wholesale by re-evaluating and re-solidifying key account relationships and identify potential areas of opportunity for margin growth.
51% of Consumer growth leaders are looking to improve sales force negotiations as a way to combat price pressure, compared to only 31% of other Consumer companies.
Immediate Actions

(Re-)create gross-to-net key account transparency: Develop and reconfigure gross-to-net transparency with key account partners to identify and address margin leakage (e.g., in/deflated trade terms, coupons, vendor violations, bloated or insufficient shopper marketing) across the gross-to-net waterfall.
(Re-)develop key account plans, negotiation strategy, KPI tracking, and decision-making: Re-evaluate your relationships with key vendors and develop plans to optimize your strategy within those accounts, maximize your negotiation position, and develop more insight into product performance and initiatives.
Grow your presence in and relationship with e-commerce partners (Amazon and others) to grow market share and beat out competitors in staple and growing digital marketplace channels.
Immediate Actions

Codify parent/child product hierarchy: Solidifying your product hierarchy within e-commerce retailers can help simplify your portfolio lineup, aiding in your customer's purchase experience, as well as organize and strengthen communication of key value drivers to appropriate consumer segments.
Enhance site SEO: Enhance your Amazon/online retailer storefront and searchability by clearly communicating your value proposition to appropriate consumer segments and managing your online presence more closely.
Marketing:
71% of best-performing Consumer companies prioritized investment in sales and marketing campaigns, compared to 35% of other Consumer companies. The median top performing Consumer company plans to increase marketing budgets by 9% in 2023 – proper investment, targeting, and implementation of marketing campaigns is essential to driving awareness and conversion, as well as growing long-term customer lifetime value.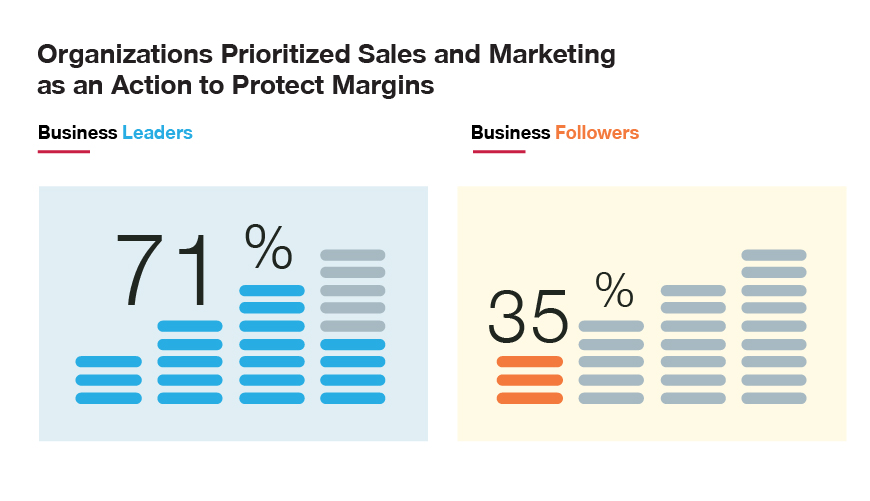 Optimize customer acquisition costs (CACs) by investing and strategically targeting sales and marketing campaigns.
Per SimplicityDX, the edge experience company, as of 2022, e-commerce companies spend nearly $29 for every new customer acquired, up 222% from 8 years prior. As a result, companies must identify ways to drive new customer acquisition while optimizing their CACs to maintain margins.
Immediate Actions

Increase merchandising efficiency by channel: Optimizing physical/online storefronts and tailoring them to channel / customer segments can improve margin returns and topline growth, including improvement of store/website layout and display, cross-merchandising, shelf space/location optimization, and introducing new technologies to digitalize merchandising efforts.
Drive conversion through content marketing, outbound campaigns, behavioral nudging:

Investing in content marketing will establish authority and credibility with your audience, as well as help generate organic interest.
Outbound campaigns can help generate brand awareness and affinity and can prove crucial in developing your competitive edge.
Behavioral nudges can incentivize prospects into purchase and upsell; pricing at psychological price thresholds (e.g., $99 instead of $100), the power of free, price anchoring, and social proofing can drive prospects to convert through behavioral science.
Drive CLTV by retaining and deepening current customer wallet share and winning back lapsed customers.
Immediate Actions

Incentivize "next best offer": Use predictive analytics to anticipate which offers will resonate with individual customers most and trigger offers at the right time, channel, product, promotion, and discount depth to deepen wallet share with existing, win-back lapsed, and acquire new customers.
Develop net retention / win-back tactics: Use segmented retention tactics, like loyalty programs and a personalized CRM to drive engagement and desired purchasing behaviors, and segmented promotional win-back tactics to re-engage lapsed customers.
Consumer businesses need to act now and implement strategies that will deliver immediate results and long-term growth opportunities. These tactics are just a starting point - to establish a foundation that will make you a growth leader year-over-year, partner with our growth expert.