In light of adapting to the new normal, more and more industrial companies are finding it crucial to improve their operational processes and introduce new software to align and improve their pricing. However, they often lack the foundation: a harmonized pricing strategy. Find out how to form the basis to get your pricing transformation started.
In coming out of the crisis, many companies are starting to change their organizational approach. In recent months, business processes and systems have been revised and digitized by many companies on an international level. The challenge: A lot of industrial companies lack the foundation to do so successfully; certain basics, like pricing structures, differ widely from country to country. To reach their goal of a smart pricing transformation strategy; they therefore need to define a refined pricing concept. From our industry experience, we were able to extract the three key success factors for the transition:
1. Find your perfect offer design
First of all, it is important for industrial companies to realize that they need to review their revenue model as a whole and not "just" their pricing. In order to do so, we advise to take a closer look at your revenue source, which in turn is defined by the products or services you're offering as well as your offer design. Industry companies need to ask themselves three questions:
What do I offer (e.g. product, service or solution)?
How do I offer the product (e.g. a la carte vs. bundles)?
Who is paying for it (e.g. end customers, OEMs)?
To make your offering and its packaging as appealing to your designated target group as possible, you need to deploy a target-oriented offer design. Putting the focus on customers instead of products allows for an improved sales strategy that not only creates customer need oriented offers with pre-defined target group configuration packages. There is also an increased revenue and profit in store through bundling filler options and modules with leader options and modules. Even more money could be made this way by adding up-selling suggestions based on customer criteria and peer experience. Taking your customers' needs into account also enables you to speed up the offer process by focusing on a few relevant packages to avoid getting lost in long list of elements.
Once you ensure that your industrial company is focused on customer needs, you also need to make sure to package your offer optimally. We recommend an offer design that helps facilitate customers' buying decisions. To make an offering as valuable as well as accessible to consumers as possible, we found three kinds of bundle models to be most effective: target group bundles (created for individual target groups), "onion" bundles (increasing in size), and basic plus add-on bundles (with a basic bundle including all modules plus add-ons for different user types).
2. Discover the appropriate price model for every portfolio
After optimizing your source of revenue, industry companies need to make their pricing more effective. The core element is the right pricing model, as it describes the pricing
architecture. To find the most fitting for your company, you need answers to these questions:
What is the price metric?
How does the price curve look like?
Are prices differentiated? And if so, how?
For maximum value extraction and communication, the perfect price model needs to be based on the right price positioning. For this, companies need to break down price points as well as elasticities for each individual price component. After making sure to have all this information ready, you can then decide on a pricing model. Depending on your offering, we are recommending different models: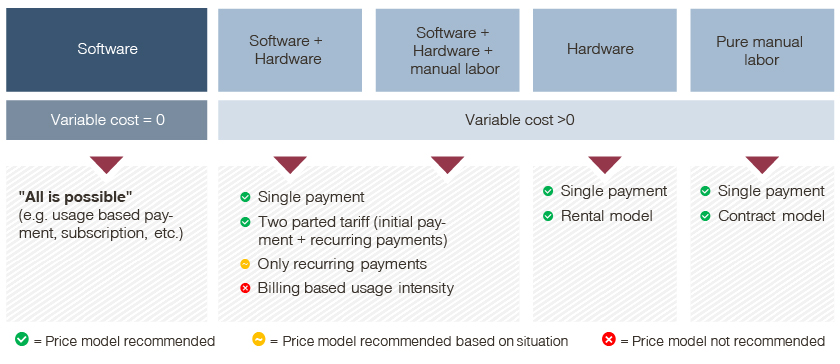 3. Define the most profitable price levels
In the last step, you need to find the perfect price levels. Ask yourself:
What is the actual price level of my company's offering?
How are differentiation drivers parametrized?
How can I set up a precise price equation?
To compare your current price levels to ideal ones, you have to take into account variety of factors. Apart from the basic (manufacturing) costs of your offering, there are other references to consider.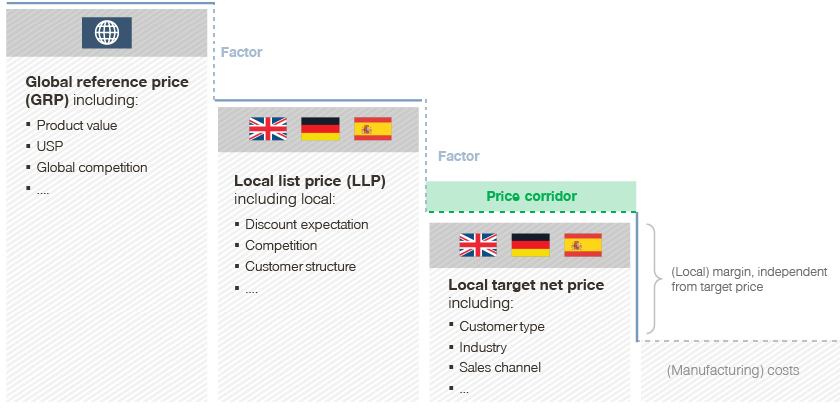 Once you know the global reference price, you can ensure the ideal localization of prices via a value-oriented pricing architecture. This pricing structure can be designed most effectively with the help of digital solutions and tools. PeerPricing, a digital pricing tool based on Machine Learning algorithms, supports local sales to ensure optimal price decisions. Pricing tools like it can not only give price guidance based on the discount distribution of past deals and best practices using statistical analysis. They also combine these data with Machine Learning approaches to cluster deals and the calculation of win/loss likelihoods of price predictions.
Conclusion: Optimal offer design, price model, and price level are the basis for pricing transformation
As you can see, there is a variety of levers you can pull to optimize your pricing concept. Putting customers at the core of your considerations, finding a suitable pricing model, and ensuring the help of digital decision-making tools like PeerPricing enables you to define an effective pricing concept. Once this is into place, you have built a strong foundation for your successful pricing transformation journey and can focus on the additional stages like system strategy, migration concept, and roll-out.