More and more users are joining Threads, discovering a real alternative to Twitter for the first time. With over one hundred million joining the new network within days, marketing departments should take a closer look to leverage the network for their strategic purposes. 
The most trending Twitter hashtag might soon turn into #threads. A real competitor for Twitter is on the rise with countless possibilities for marketing. 
In summer 2023 it's still early in the game, but the potential for future targeted marketing growth could be enormous. Especially when combined with GenAI technology that can deliver fast-paced marketing content tailored to the newest trends. But how can you analyze the actual impact of a new marketing channel? And which strategies can digital marketers use to compare channel performance? We share our top tips in this article.  
What is Thread and why is it a serious alternative for Twitter? 
Since April 2022, Twitter has dealt with lots of pushback after Elon Musk bought the platform and made hundreds of adjustments to Twitter's algorithms. Many users started opting out and Meta sped up their project to develop their alternative, Threads. 
Threads follows a Twitter-look-alike concept, but instead of starting from scratch, Instagram users can use their existing accounts, making the network instantly available to millions of users.  
This is an opportunity your marketing team should not miss out on.  
How to incorporate Threads in your marketing strategy 
From a business point of view, Threads comes with many benefits for your marketing: 
Algorithm-based feed recommendations that reflect shared interests 

Option for users to take the company pages they follow on Instagram with them 

Low competition for digital marketing (published in summer 2023)  
Possibility to clone/adapt your Twitter marketing strategy for Threads 

High potential user base 

High potential for improved employer branding 
Advertising is not available on Threads yet, but with the growth in its user base passing the 100 million mark within days, this might quickly change.  
On the other side, reports by Twitter indicate the social media platform has suffered 50 percent losses in their global ad revenue. The reason? Marketers are afraid their posts might appear next to inappropriate content, so many companies are looking for a reliable alternative. 
Threads comes without #hashtags so far but with a customized feed 
Threads provides an ideal opportunity for marketers to pick up on topics where they want to share content. The posts can be up to 500 characters and can include pictures, links, and videos of up to five minutes in length. Although there are no specific hashtags, the feed algorithm analyzes your texts and forwards your content to users that share interests related to your company's business and marketing focus.  
Twitter users have the option to only include people and brands they follow in their feed. In contrast, Threads shows users one consistent feed that incorporates a combination of "followed" as well as the algorithm's own recommendations.  
However, who knows how this social media platform will evolve. Meta could soon add this function as well as trending topics and its own kind of hashtags.   
Certainly, all this falls into the category of organic marketing. But keep in mind: Meta has always shown that their biggest business strength lies in providing excellent marketing tools and opportunities to their customers across the globe. It will most likely only be a question of time until performance-based marketing features will be available.  
Our advice on finding the right marketing strategy for Threads with GenAI 
Marketing departments can easily use social media platforms like Twitter and Threads to create their own trends or jump on existing trends with video campaigns that can be powered by GenAI-driven marketing.  
Our experts from Simon-Kucher Elevate can help you set you up a generative AI algorithm that allows you to feed in keywords of current trends. Based on your input, the algorithm generates ideas and supports you to streamline images, texts, and video-based campaigns with the potential to go viral and be picked up by your target demographic. It's also possible to regenerate variations of your most successful posts. 
Threads also offers immense potential for event-driven marketing, where you can publish many "Threads" within a short time. Alternatively, if you have an existing Twitter strategy in place, you can clone the strategy, double up your efforts and compare performance in later stages. 
In a typical marketing mix model, Twitter and Threads would be categorized in the same box, but this amplifies a myriad of opportunities. Just create a company account on Threads or use your existing Instagram account and see which platform in long-term benefits the most in terms of engagement. 
What is a marketing mix model and why is it important to try out different channels? 
Let's take even a step back and analyze why it's so important for companies to understand their different marketing opportunities, trying and testing different channels. Often, it's not clear what your output in spending on marketing really brings, but it is possible to optimize these efforts using a marketing mix model powered by AI: 
Establish comparability of individual channels 

Identify external and internal baseline effects on your sales performance 

Measure individual channels by outcome KPI (e.g., return, conversions, …) 
Measure how the budget for an individual channel impacts the overall business results, and whether it can be used to improve your visibility, reach, and sales 

User target measurements to distinguish seasonal peaks and lows and to create real comparability when introducing new strategies 
Through a marketing mix model, you can optimally discover which marketing approach works best for which targeted markets. In the European example below, you can see how Meta's Facebook has a low return on investment. In the US and Asian market, this can significantly fluctuate, so the analysis needs to be readjusted for each target market.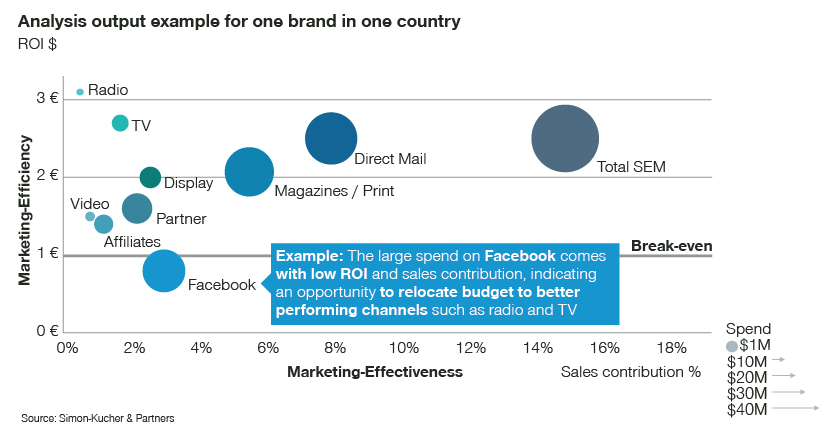 How Simon-Kucher Elevate can help you optimize your marketing  
At Simon-Kucher Elevate, we have the tools at hand to improve your marketing efforts: 
We optimize the marketing budget across markets, brands, products/stock keeping units, and channel 

We analyze and optimize your strategy for new channels like Meta's Threads and integrate them into your marketing mix  

From the marketing mix model, we derive insights to increase your reach and sales 

We provide recommended marketing spend allocations to maximize your ROI 

We combine your marketing strategy with the most cutting-edge GenAI content strategies to drive your business growth 
With these tactics, we can increase the effectiveness of your marketing budget by up to 20 percent!  
At Simon-Kucher Elevate, we are always on the lookout for innovative concepts and solutions for our client. We know how to determine the ideal marketing budget for each channel and region. From radio to optimized digital advertising – we use your data to optimize your marketing efforts.  
Interested in learning more? Contact us today.