Streaming, once an exponentially growing market is now weighed down with competition and struggling to retain subscribers. But not all is lost – super bundles can save the day! Experts Jochen Krauss and Peter Hartlieb outline what's to gain from this strategy and how to create optimal super bundles for growth.
The times of seemingly limitless growth in the streaming market appear to be over. Now, even the market's top dogs must adapt to a tougher competitive landscape to stay relevant.
Netflix reported a loss of 200,000 subscribers in the first quarter of 2022 and is expecting to lose another two million in the current quarter. On top of that, in the last six month alone, Netflix's stock price has decreased by 70 percent, indicating fading trust from investors. The company's biggest competitor Disney+ is no better off since Disney stocks lost 30 percent of value over the same time. After a doubling in streaming sales from 2017 to 2020, sales growth in video streaming is declining. This is expected to decrease further, leveling at around 7 percent in the next five years.
Meanwhile, more and more players are trying to establish themselves in the market. At the beginning, Netflix and other players were focusing on gaining market share quickly with plans to dominate the market. Yet today it's clear that this winner-takes-all strategy has failed, as more and more competitors enter the market. Especially in the US, where a market share of around 80 percent is held by five companies.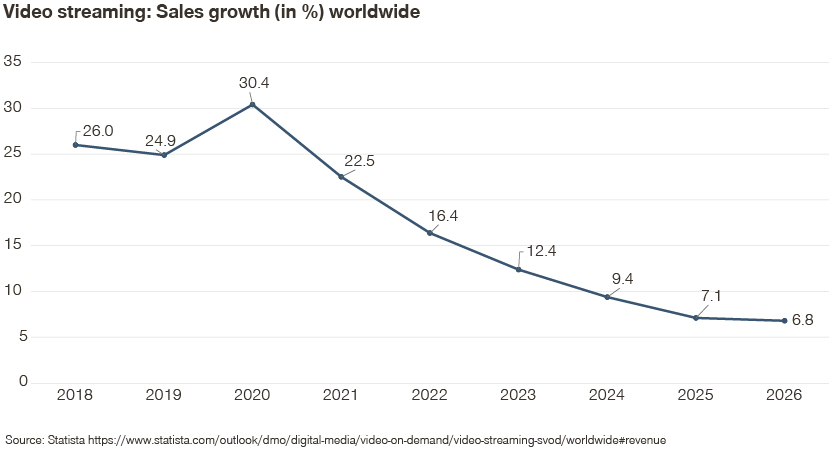 One reason for the declining growth is that the average number of subscriptions per user has increased around the globe. In the US, the average internet user has around two subscriptions, while 58 percent of users have even subscribed to three or more services.
However, foreseeing that in the long run users will not be willing to pay for several subscriptions at the same time, the market approaches saturation. As of today, around 20 percent of Germans would like to reduce their number of subscriptions (a relatively low number compared with other markets). Moreover, several factors – including the end of global lockdowns (keeping users streaming at home), increasing inflation, and the difficult geopolitical situation – are limiting the entertainment budget and are further dampening growth.
User engagement: Key to differentiation in streaming
User engagement is increasingly becoming a key differentiating KPI in evaluating a streaming platform's success. As such, streaming players have already reacted by carrying out various activities.
The most prominent one is the so-called "streaming war" – an excessive spending on original content to differentiate from the competition. Netflix alone has doubled its content spending from 2016 to 2020 and is expected to spend even more over the next years. Disney is joining the race and plans to invest 8 to 9 billion US dollars on Disney+ content alone until 2024. However, this tactic has yet to prove its worth, as it isn't a guarantee of a safe market position.
Another avenue companies are trying is the introduction of additional revenue streams. It's been rumored that Netflix is planning to introduce ad-based video on demand (AVOD) monetization models by the end of this year. However, even these commercial strategy innovations might not be enough to offset the loss in subscriber revenues in the short term. 
Emergence of super bundles
A potential way out might be combining previously individual platforms, offering additional value, increased convenience to customers, and boosting engagement. This model has come to be known as "super bundles", enabling the user to access various streaming platforms such as Netflix, HBO, or Disney+ with one subscription.
Streaming providers and pay-tv players aren't the only ones to be designing their own offers. Telecommunication providers are also trying to further monetize their existing customer relationships by using this strategy. The concept seems simple: Users pay for a subscription that gives them access to multiple streaming services (or – for telcos – to multiple services ranging from voice, data, to entertainment).
Who is riding the wave?
Established players such as Sky, Magenta TV, HBO, Paramount, and Waipu.tv, but also new competitors such as ScreenHits TV are joining this trend. All are offering integrated bundles of more than one streaming provider.
Important questions and challenges
Operators need to answer the following questions for their portfolio: How do you create value for your customers? How can you monetize this value? And how do you maximize the total value per customer in the long run?
These questions also help to create optimal super bundles, but they need to be more specific:
Which platforms deliver the most value for your customers and which should be included in the bundle?
Which kind of bundling strategy will best utilize customer willingness to pay?
Which combination of platforms should be bundled? 
What's an effective way to monetize a super bundle (e.g., subscription vs. credits)?
What's the best way to communicate bundles to (potential) customers?
How to design a high-value super bundle

1. Valuation of platforms/offers
In the first step, the value for customer of different offers and platforms is estimated using the proven Simon-Kucher Content Valuation Approach, which helps to understand the customer and to evaluate a platform's value:
Customer: Identify what paying customers come to the platform for and why they stay
Value: Analyze which content offers create value (e.g., through the retention of paying members)
Offer: Define which content offers generate attention and, consequently, increase the acquisition rate of new customers
2. Super bundle design
In order to maximize the value of the super bundle, it's critical to decide which offers and platforms should be included. Crucial activities required to design an effective bundle are:
Customer segmentation: Segmentation of customer base. Derive needs-based segments based on preferences (entire market) and map needs-based segments to the customer base
Portfolio offer optimization (including pricing strategy): Design alternative bundles and price points based on customer segments and company goals
Financial model: Set up a financial model based on sound market research that simulates take-rates under various portfolio scenarios and impact on KPIs
3. Go-to-market and communication / line-up
Once the super bundle is designed, the next stage is to develop a targeted go-to-market approach to bring the value to the customer:
Customer experience: Develop guiding principles for customer communications (e.g., tone of voice, key value selling messages) by segment as well as the actual line-up of the offering
Go-to-market strategy: Define the customer segments and corresponding channels
Implementation: Develop a roadmap to roll-out new portfolio offering
Opportunity: Differentiation and thriving through targeted super bundles
Following a structured approach in implementing a super bundle enables streaming players to differentiate themselves, increase retention, and acquire new customers.
This offers companies not only a chance of survival, but also an opportunity to thrive in an increasingly competitive streaming market.