The economic outlook continues to be volatile for B2B companies and it is in these times that we count most on our sales force to secure profitable volumes. Our recent study amongst 1000 business leaders amplifies the importance of a well-performing sales team, as the sales related topics top the list of business challenges in 2023.
This comes as no surprise, given the current labor shortage and aging B2B sales team population in combination with long lead times to train knowledgeable sales representatives. 
In this article we delve into four levers to organize your sales team and prepare your company to navigate turbulent times. 
Four critical sales levers to boost sales
1. Segmentation: The foundation of commercial success
In B2B sales, getting customer segmentation right is vital for success. It forms the foundation of the commercial strategy, the structure of the commercial team and the allocation of resources. To illustrate, a former client in fine chemicals was confronted with a volume drop during previous economic downturn and hunted all possible volume in the market. This led to a very diverse customer base with opportunistically grown servicing by the sales force: customers of little value received too much service at the cost of the high value key accounts. A revision of the segmentation and a thorough reallocation of sales reps and resources to customers was required. Although this initially rose significant friction in the sales team, it did bring back the right focus on securing profitable volumes and above all, increased customer satisfaction of the key accounts.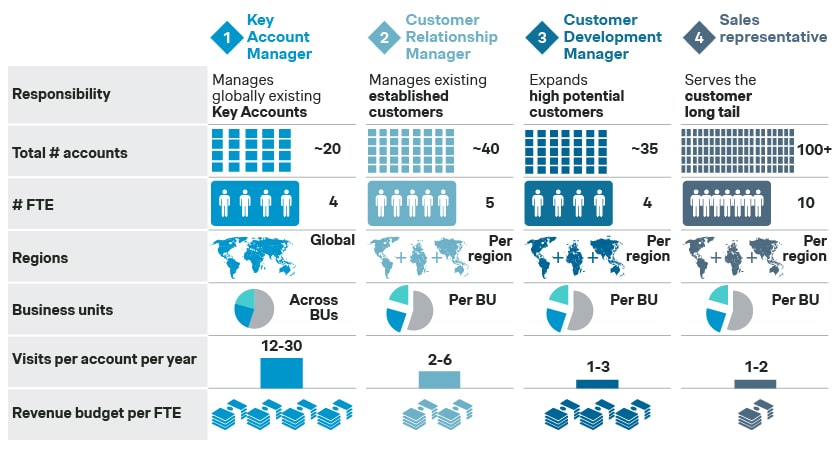 2. Sales time: Maximizing sales efficiency
Especially with a shortage of sales FTE, the question for B2B companies is how to maximize the efficiency of the current sales team. Practice shows sales reps spend significant time on administrative tasks, inefficient travel, and answering customer questions that should be answered by customer service. This way sales reps have too limited time for hunting new customers and upselling current customers. Identifying these time sinks in the commercial organization is key to maximize sales efficiency. Efficiency gains typically lie in optimizing - often digitizing - lead generation, building a strong support team to address customer questions and scheduling capabilities to avoid unnecessary long travel times. And above all, make sure the sales reps focus on high-value interactions. Clients are willing to explore websites for product info in the explorative phase, but need advice and support on selecting the right solution and decision making. That is where the sales rep needs to be.

3. Incentives: Motivate sales in line with company objectives
Sales incentive programs can be a true booster of the sales team motivation, but only if designed correctly. If not, sales incentive programs can turn into a major source of frustration. A successful incentive scheme should firstly contain a limited set of KPIs to prevent a "layer cake" of criteria, in which sales reps do not know which KPI to pursuit. Secondly, it should allow sales reps to always understand and track their personal performance to avoid surprises at the end of a period. And finally, sales reps should be able to control their performance. A common pitfall is to include margin as a KPI while sales reps have no influence over costs. Instead, pricing should be at the core of each incentive as it is the key driver of profitability and the sales rep's key objective to defend. 

4. Pricing guidance: Let the rest learn from the best through PeerPricing
Sales reps are trained deal makers who like to close deals and move on to the next. With this, sales reps tend to become flexible on prices to accelerate closing of the deal. This is pure profit loss. To improve price performance, the sales team needs clear price guidance and monitoring by a pricing manager. The pricing manager sits on a very valuable pricing asset: transactional data. The history of closed deals provides the organization with fact-based insights on market fit pricing, value-delivered and customer behavior. This in contrast to competitive offers received from prospects, who will only share low-priced offers. Of course, the past does not predict the future, but the past gives an anchor for the commercial team to steer pricing. PeerPricing is the price guidance tool to incorporate this and support the sales team with decision making.  
The tool provides the sales rep with a color-coded price range calibrated to each deal situation; Green being the target price and red the floor price for that specific product, customer, and deal type. This can concern standardized products, compiled bills of material, complex services as well as bespoke projects. Besides having clear guidance, PeerPricing adds the element of gamification and competition for the sales team as the aggregated color coding indicates the quarterly performance of each sales rep, which can be applied as KPI for the sales incentive. Past projects show implementation of the PeerPricing results in 2-3 percentage points margin improvement.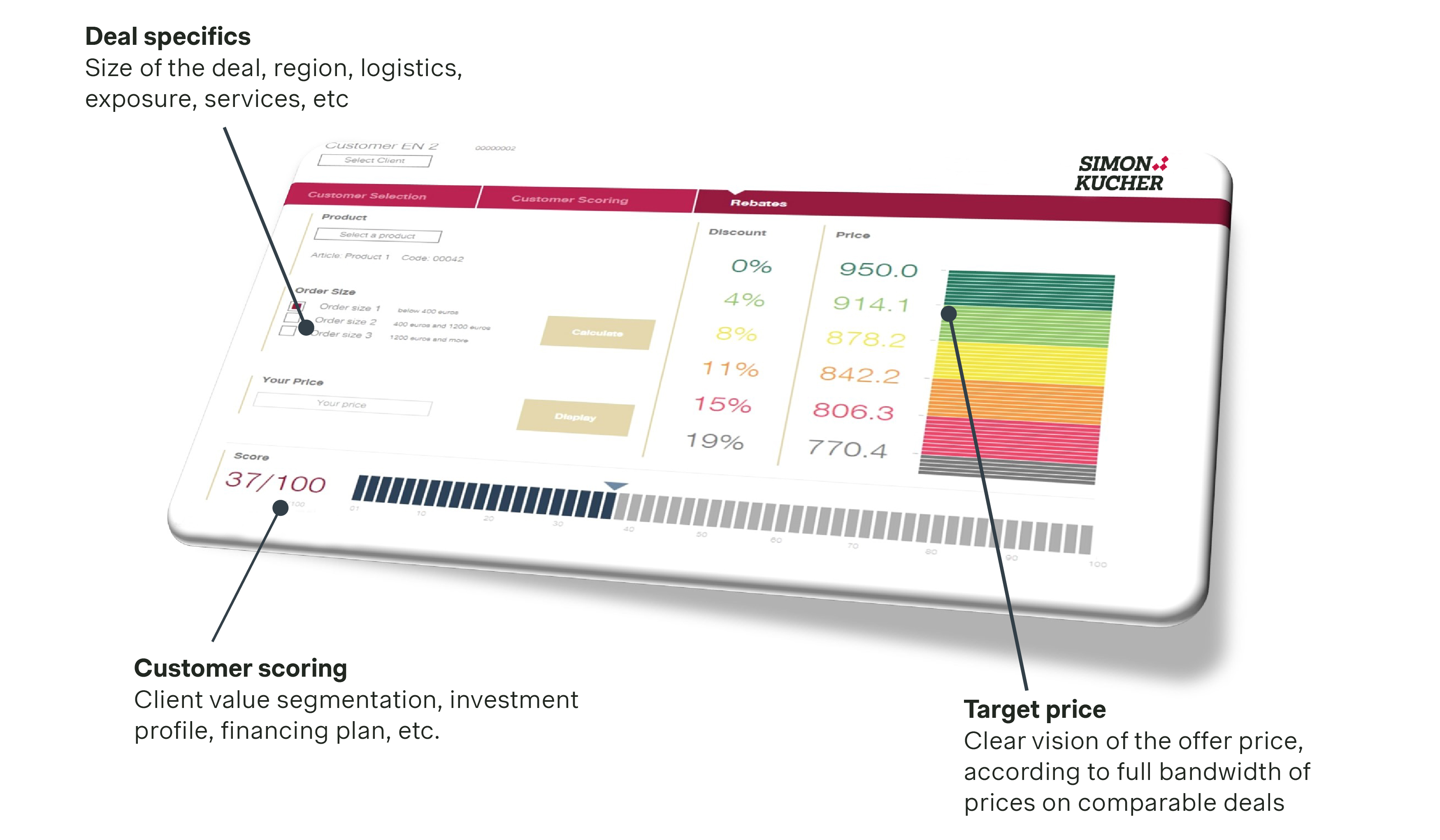 Start maximizing commercial success
In short, business leaders can maximize commercial success by directing the sales team's efforts to the right customer (segments), facilitate focus on high value interactions and motivate sales reps to actively achieve company objectives – especially on pricing. By implementing these levers successfully, companies prepare themselves to navigate turbulent times.
If you are interested in discussing how to apply these insights to your business, please do reach out to us.