The FDA's expedited approval pathways were created to enable access to therapeutic regimens for serious conditions in high unmet need areas. Experts Stephen Dunbar, Morgan Gryga, and Sabrina Ocasio outline how manufacturers can ensure long-term success by considering a product's value proposition when pursuing FDA approval.
In an effort to encourage manufacturer innovation and aid in fulfilling unmet need for serious conditions, the FDA developed four expedited review and approval programs. These four programs are:
Fast Track Designation
Breakthrough Therapy Designation
Accelerated Approval
Priority Review
Each program expedites drug approvals for serious diseases, though each one has a different set of criteria for qualification. While these programs were created with generous intention, the associated risks and subsequent pricing and market access (P&MA) ramifications of an expedited approval process have been observed across several product launches since each program's inception.
This article will focus on Accelerated Approval, Fast Track Designation, and Breakthrough Therapy Designation, and will examine how striving for an expedited approval may not always be the most optimal business move for manufacturers.
The FDA's Accelerated Approval Program
Amidst the HIV/AIDS epidemic, the FDA developed the Accelerated Approval Program after advocates urged the FDA to expedite access to innovative drugs for serious and incurable diseases.
The FDA's Accelerated Approval Program allows for approval based on surrogate or intermediate clinical endpoints that are reasonably likely to predict a drug's intended clinical benefit. However, these surrogate endpoints are not always a definitive predictor of clinical benefit.
While some stakeholders support the Accelerated Approval Program to bring breakthrough therapies to market in disease areas with high unmet need, others worry that manufacturers are not thinking of their patients' best interests. Critics question whether the program instead enables manufacturers to generate revenue for products with uncertain benefit.
FDA's Fast Track and Breakthrough Therapy Designations
In addition to the Accelerated Approval Program, the FDA created the Fast Track and Breakthrough Therapy Designations with a goal of facilitating development and expediting review. To qualify for the Fast Track Designation, drugs must treat a serious medical condition or address major unmet medical need.
A drug that receives Fast Track Designation is eligible for potential benefits. This includes more frequent meetings with the FDA to discuss the drug's development plan and ensure the collection of appropriate data needed to support approval, and approval possible after a single Phase II study with rolling review. 
Products that qualify for the Breakthrough Therapy Designation are those that treat a serious condition and have preliminary clinical evidence indicating substantial improvement on a clinically significant endpoint over available treatments. Products with this designation are usually in Phase 2 clinical trials and are eligible for all Fast Track Designation features. 
As such, products awarded either designation may have significantly limited data packages, which typically results in pushback from insurers and providers. Critics further argue that the FDA is too liberal with its designations given its approval of most drugs submitted, and in a shorter timeline than several other countries (e.g., EU, Japan, Canada).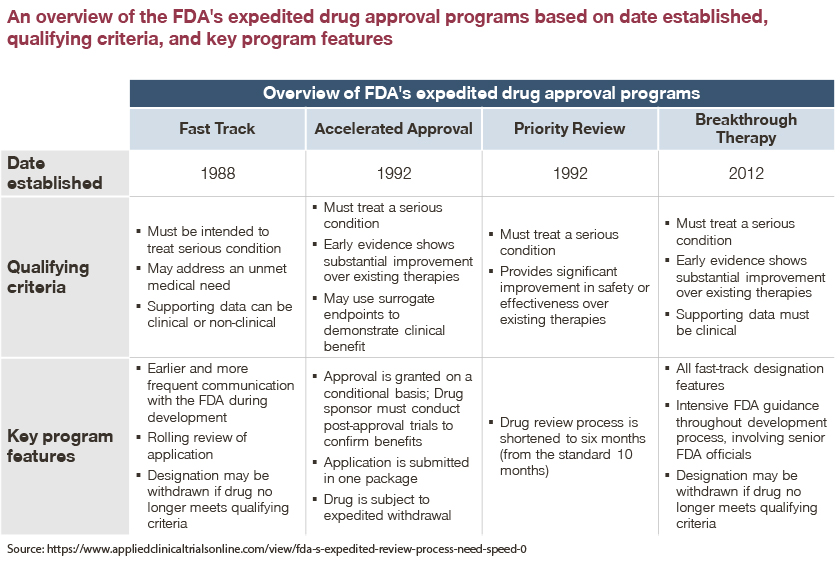 How beneficial are these programs for manufacturers?
The Accelerated Approval Program, as well as the Fast Track and Breakthrough Therapy Designations may seem appealing to manufacturers as they offer the possibility of expedited launch ahead of competitors. However, given the hastened timeline and limited data packages, provider uptake may be low, or payers may implement significant restrictions until real-world benefit is demonstrated.
The question remains: In what instances will these expedited approval programs maximize price and market access potential for manufacturers and when will they not?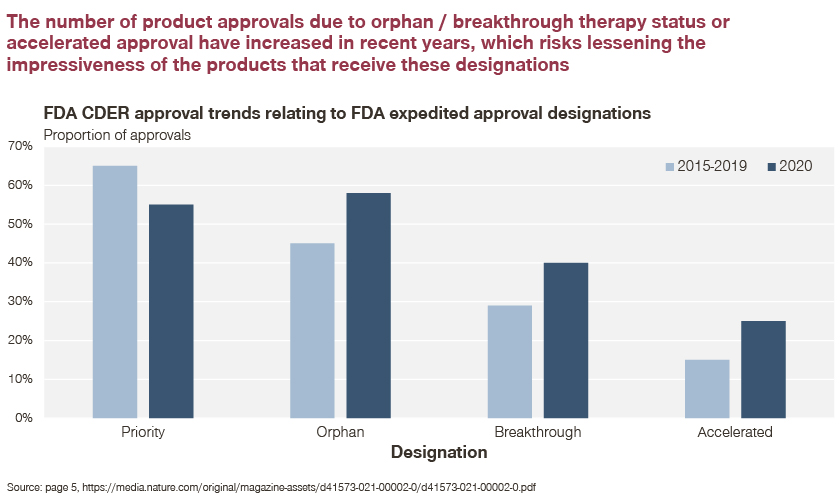 With expedited approval, some products ultimately achieved successful P&MA outcomes due to strong clinical profiles and confirmed effectiveness.
Gleevec and Sovaldi exist as "success stories" after receiving FDA expedited approval
In 2001, Novartis' Gleevec was granted Accelerated Approval for the treatment of chronic myelogenous leukemia after only three single-arm studies and 2.5 months of FDA review.
Despite its limited data package at launch, Gleevec has since been widely recognized as a "miracle drug" due to its high success rate. A five-year follow-up study demonstrated that 98 percent of patients showed a complete response and the overall survival rate was 89 percent. Gleevec was then subsequently approved in several other oncologic indications.
In 2013, the FDA granted Breakthrough Therapy Designation to Gilead's Sovaldi, an anti-viral medication to treat chronic hepatitis C. Though many found Sovaldi to be promising, a swift FDA approval process in addition to a steep price tag of $84,000 per course of treatment for a highly prevalent disease encouraged significant pushback from health insurers.
However, Sovaldi was ultimately able to overcome this resistance by demonstrating strong clinical efficacy via multiple Phase 3 studies. This, as we discovered through our projects, ensured a dramatic reduction in downstream healthcare costs.
Though Gleevec and Sovaldi secured successful market access outcomes, opposing examples also exist that caution against striving for expedited FDA approval.
Aduhelm may be considered a "cautionary tale" when it comes to the FDA's expedited approval process
Aduhelm, the novel Alzheimer's Disease product, faces several access restrictions due to uncertain clinical benefit and a high price tag at the time of approval. Access developments have continued to evolve as the medical community reacts to this high-profile pharmaceutical launch.
Initially, in May 2019, the manufacturers of Aduhelm, Biogen and Eisai, announced the discontinuation of global Phase 3 trials given the expectation that this product would not meet its primary endpoints.. Subsequently, in October 2019, the pair of manufacturers reversed their earlier announcement and explained that FDA approval would be pursued for a subset of patients in the Phase 3 ENGAGE study where patients received a high dose of Aduhelm.
In June 2021, the FDA granted Aduhelm Accelerated Approval, the first novel therapy approved for Alzheimer's Disease since 2003, despite recommendations from several committees against the approval.
Since Aduhelm's 2021 FDA approval, the product faces non-coverage for approximately half of all covered lives in the US (e.g., Commercial, Medicare, Medicaid), according to the market insights company MMIT.
When Aduhelm came to market, data supporting the reduction of amyloid beta plaques for the treatment of Alzheimer's Disease was evident in one subset of patients in one of two global Phase 3 clinical trials. Given the nuances of Aduhelm clinical benefit, there has been a general uncertainty of consistent clinical benefit among patients. Due to this uncertainty, several major hospitals and clinicians have decided not to administer the drug.
Furthermore, many insurers will only cover the product, if at all, with substantial restrictions. In particular, Medicare has made a landmark coverage decision based off of Aduhelm's accelerated approval that not only affects this particular product, but all future monoclonal antibodies directed at amyloid plaques for the treatment of Alzheimer's Disease.
In early April of this year, CMS announced that it will cover Aduhelm, along with future accelerated approval products in the same class, only in the case of Medicare beneficiaries participating in FDA or NIH approved clinical trials. CMS finalized this Medicare coverage decision under what is called Coverage with Evidence Development (CED). This coverage determination is only in place for around 20 drugs and medical devices and supports further rigorous studies to prove if this class of drugs provides significant clinical benefit for Alzheimer's patients.
Uncertain clinical benefits coupled with a controversial decision to grant Aduhelm Accelerated Approval has significantly impacted the product's overall P&MA potential -- a result that is likely irreversible.
This explains why in recent years, payer and provider stakeholders have reacted cautiously to various accelerated approval products.
Over the years, through Simon-Kucher project work, payers and providers have weighed in on what they think about FDA expedited approval programs
At its core, mechanisms for expedited approval are in place to bring novel, potentially life-saving products to market in disease spaces with minimal therapeutic interventions. However, products that are approved in an expedited fashion may not have enough initial data to support claims that the product will provide meaningful therapeutic benefit in the space.
Several stakeholders have cited how they are increasingly cautious when reviewing accelerated approval products, as opposed to standard FDA-approved therapeutic interventions. Concerns usually stem from the perception that accelerated approval products lack robust data packages and have uncertain clinical benefit.
"Accelerated approval products face a more thorough review as the trial data is usually not as strong as products with a full data package." – National MCO
"There are some reservations with accelerated approvals where we have not seen a complete data set." – Pathway provider
"Accelerated approval has made payers a little more cautious. It's difficult when there is not enough data. If the primary trial isn't published yet, its challenging to understand what the benefit is versus existing treatments." – Pathway provider
"It seems like the FDA is giving breakthrough designations to everything these days…" - MCO
When manufacturers are pursuing expedited FDA-approval, it would be beneficial to educate payers and providers on the reasoning and evidence behind a product's accelerated approval to ease common misconceptions and concerns.
The question remains: Is expedited FDA approval the optimal route for manufacturers to maximize revenue in disease areas of high unmet need?
Novel, first-in-class products in a high unmet need disease area are often at an advantage and quickly gain market share and revenue. Expedited FDA approval is an avenue that manufacturers can explore to achieve such outcomes.
However, maximum revenue may not be realized if a first-to-market, expedited FDA-approved product does not have a robust data package. Uncertain clinical benefit and high price tags often associated with innovative, expedited approval treatments can result in concerns amongst the medical and insurance communities. This in turn may lead to slow uptake and coverage restrictions as stakeholders wait for additional data to confirm clinical benefit. Initial provider and payer actions affecting coverage and access of a product can have lasting consequences.
Therefore, taking into consideration expedited FDA approval's overall impact on a product's P&MA potential is vital to shape the product's overall success. Manufacturers should take careful consideration regarding whether their product has a clear value proposition in an FDA expedited approval situation.
In order for an expedited FDA-approved product to be successful, products likely need a robust data package in which multiple clinical endpoints prove ultimate clinical benefit. If clinical outcomes data is questionable, unclear, or is only viable for a particular patient sub-population – such as it was for Aduhelm – it may be beneficial to wait until there is stronger clinical data to support product use.
There is only one opportunity for a product's launch in the US pharmaceutical market. Health insurers', providers', and patients' perception of the product at launch will follow the product throughout its lifecycle.
If you wish to find out more about pricing and market access in the US, feel free to reach out to our authors!