China's cell and gene therapy industry has seen dynamic changes in recent years. Bruce Liu, Ivy Jiang, Justinian Liu, Duo Xu, and Miranda Wang give a detailed overview of the changes and challenges ahead, and outline what companies need to do to succeed.
In recent years, China's cell and gene therapy (CGT) industry has developed substantially, contributing to around half of the registered CGT trials worldwide with some world-class breakthroughs. Future growth will be shaped by an evolving regulatory environment, as well as improved access, and emerging funding pathways. Global major players and upstarts alike will need to develop a solid understanding of China's CGT landscape to better navigate future development.  
After a wobbly start, China's CGT industry has gained momentum in recent years
According to a recent Nature research, CAR T-cell therapy clinical trials in China have accounted for over 50 percent of registered CGT trials worldwide.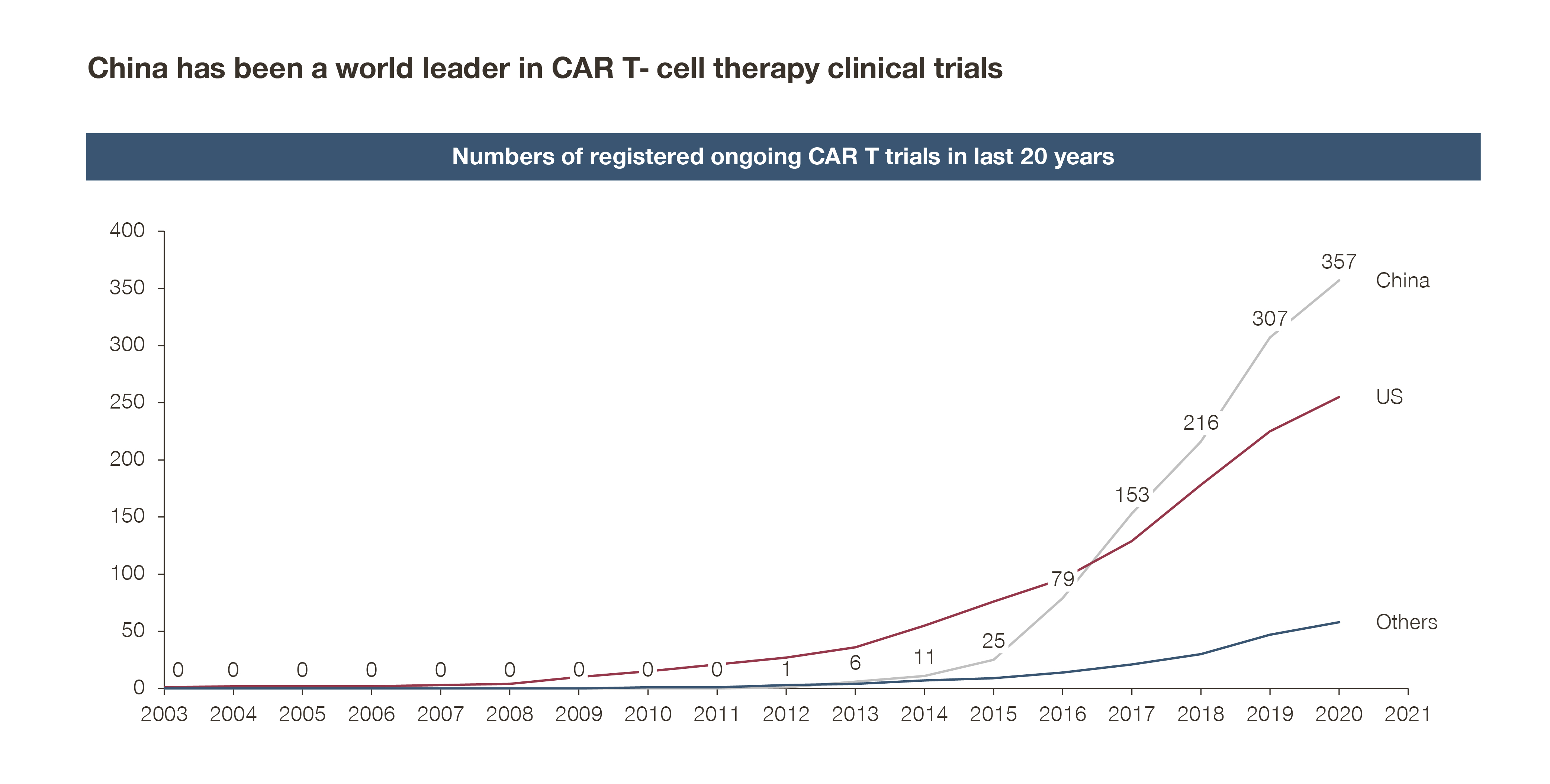 This isn't surprising when taking into account the increasingly encouraging regulatory environment, improving R&D infrastructure, as well as the influx of capital and talent in this space.
In this article we will look into the latest developments in China's CGT space, and the three key drivers that will shape its future.
Developments in cell therapies
Among cell therapy front runners, Yescarta from Fosun Kite and Relma-cel from JW Therapeutics are the first two CAR-Ts that received regulatory approvals in 2021. This was great news for relapsed/refractory large B-cell lymphomas patients and unveiled a new era for cell therapies in China.
Hot on their heels are more innovative cell therapies for different indications. Among them, Cilta-cel from China's Legend Biotech stands out with impressive clinical results for relapsed/refractory multiple myeloma patients. Legend went on to partner with Janssen to take Cilta-cel to the global stage, and received FDA approval on February 28, 2022, living up to its name as a poster child for indigenous innovation from China.
In addition, as of 2021, there are over 200 ongoing CAR-T trials in China, with targets ranging from CD19 and BCMA, to CD22, MUC1, Claudin18.2, and GPC3, across diverse indications from hematology oncology to solid tumors. Some of these indications are highly prevalent and relevant to China – such as gastric and liver cancer, which are the primary focus of Chinese biopharma like CARsgen and Eureka Therapeutics.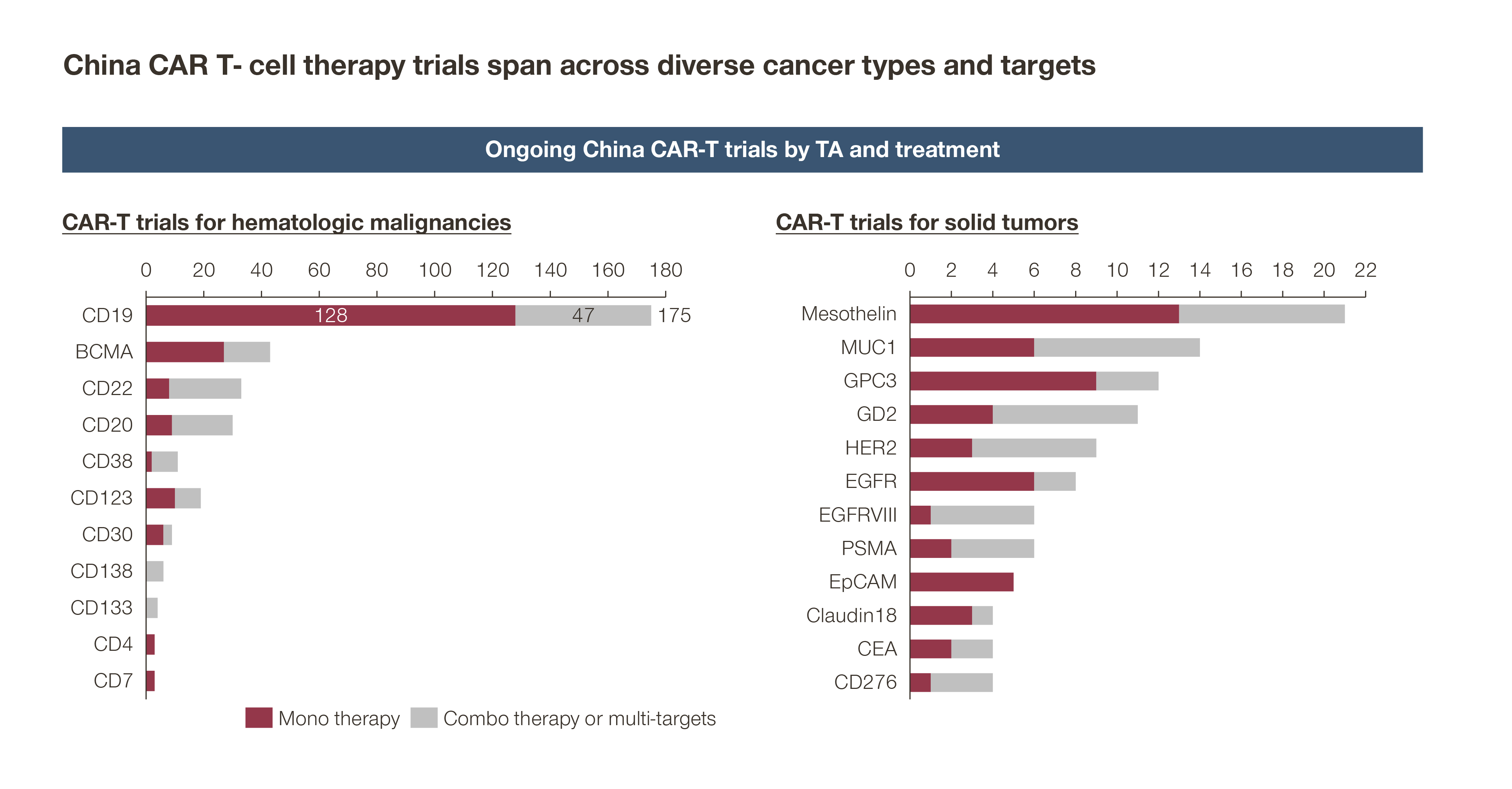 There are also companies focusing on new platforms to address current CAR-T pain points. Gracell Biotechnology, for example, is developing an autologous platform that, among other solutions, aims to create next-day manufacturing. Called FasTCAR, this platform improves turnaround by over 90 percent. A breakthrough in manufacturing time and expanded access to patients in need.
Besides, CAR-T, CAR-NK, TCR-T, and stem cell therapies together account for one third of the ongoing cell therapy trials in China, and there are more incoming. The Chinese biotherapeutics company Neukio, headed by Dr. Richard Wang (former CEO of Fosun Kite), acquired angel financing to the tune of 40 million US dollars, to develop allogenic immune cell technology from the iPSC-CAR-NK axis, seen by many as the next frontier in cell therapy.
Developments in gene therapy
China's gene therapies are at a relatively early stage of development but with great potential. Gene therapies for rare diseases are of particular interest, as the large population base and ready patient pools could be an inherent advantage for China to begin with.
Neurophth, founded in 2016, has been a frontrunner in China's gene therapy space. In January 2022, its leading gene therapy drug candidate NR082 (rAAV2-ND4) for Leber's hereditary optic neuropathy (LHON) associated with mtND4 mutation received US FDA IND clearance and EMA orphan drug designation
EdiGene is tackling Beta thalassemia, initiating a multi-centered Phase I trial of CRISPR/CAS9 modified BCL11A gene therapy  
InnoStellar Biotherapeutics submitted its IND application to China's Center for Drug Evaluation (CDE) in January 2022 for its AAV2-RPE65 to treat Leber's congenital amaurosis – potentially as local answer to the global superstar Luxturna
Hemophilia is another area of interest, with several players leading the way. In January 2022 alone, Belief Biomed accomplished first patient dosing, and Shanghai Vitalgen Biopharma submitted its own IND to China CDE
In Feb 2022, the CDE accepted another IND from GeneCradle for its GC301 to treat Pompe disease. In addition, the company boasts an impressive pipeline ranging from spinal muscular atrophy to metabolic diseases like familial LCAT lecithin-cholesterol acyltransferase deficiency
Meanwhile, Wuhan HumanWell and NorthLand have been developing hepatocyte growth factor gene therapies to target critical limb ischemia, a major peripheral artery disease with large unmet needs in China and other markets alike. They are both currently in Phase III of trials
Going forward, China's CGT industry will be shaped by three key drivers
Despite an encouraging regulatory and policy environment, the industry is facing mixed messages  
Key policy makers like the State Council, the National Health Commission, and the Ministry of Science and Technology have issued a series of policies highlighting CGT as one of the nation's strategic priorities and key R&D focus areas.
At the same time, China's CDE has granted breakthrough therapy designations and priority reviews to developing some CGTs. It has also issued a series of technical guidelines to provide detailed guidance to China's CGT development, ranging from pre-clinical research and evaluation for gene editing, to CGT trial design considerations and long-term follow-up studies for gene therapies. 
Amidst these positive developments, recent guidance from the National Development and Reform Commission and the Ministry of Commerce stated that foreign investors can't collaborate with Chinese companies regarding "human stem cell, genetic testing and gene therapies". This will constrain cross-border collaborations and may stand in the way of healthy growth for an industry that is global in nature.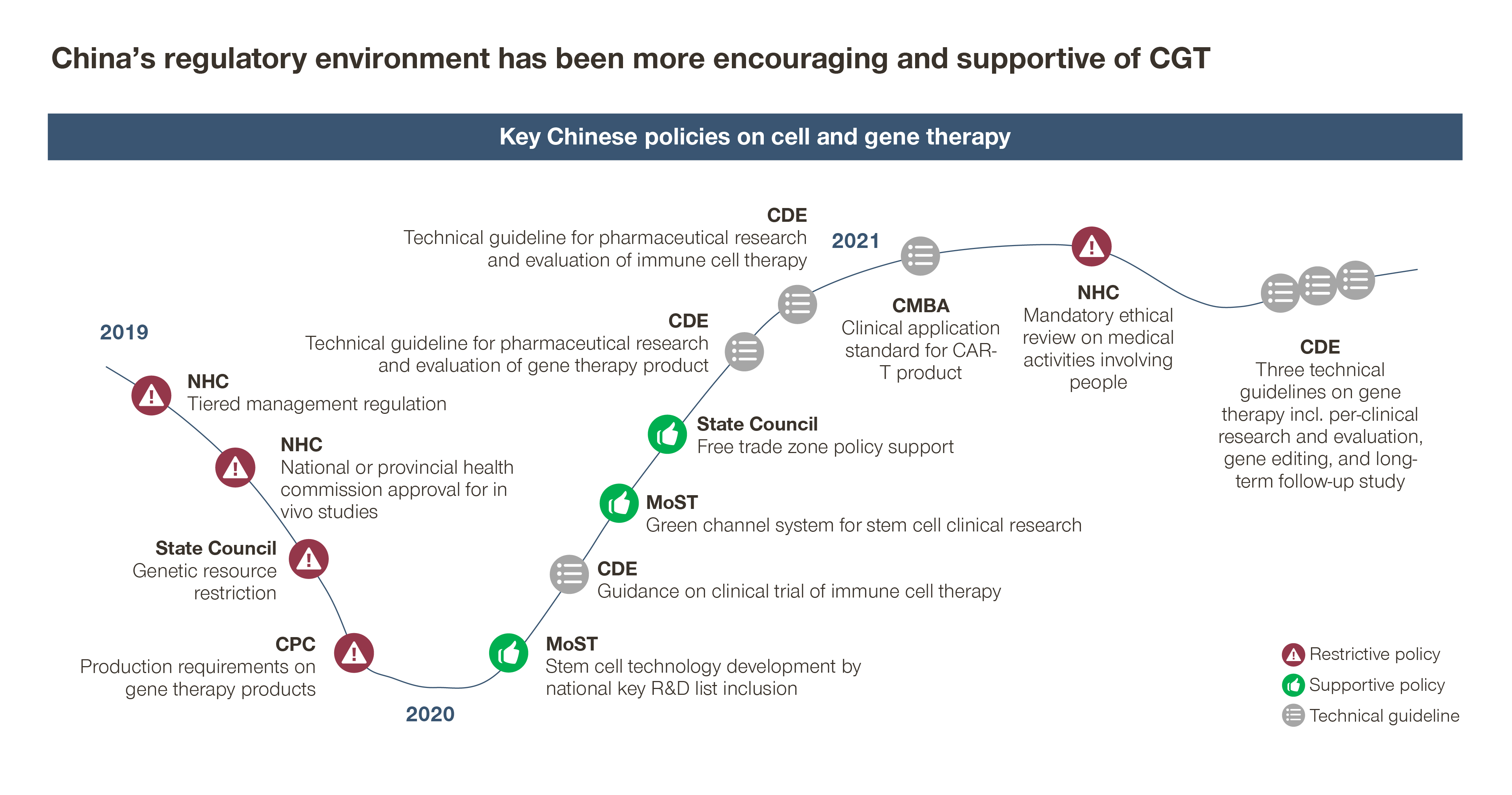 At the same time, China's access environment is evolving quickly, creating early access opportunities to innovative CGTs approved overseas 
A number of companies who have acquired CGT approvals in other major markets are proactively exploring Hainan Hope City for early and partial access to the China market. The Hainan Boao Lecheng International Medical Tourism Pilot Zone (Hope City) is a region dedicated to a variety of international medical services, including cutting-edge technologies.   
Supported by the State Council, Hope City provides a unique opportunity to treat patients with innovative therapies that have been approved overseas, but not yet in China (as highlighted in our recent PharmExec article – Maximizing China Access for Innovative Therapies).   
In parallel, CGTs approved in Hong Kong and Macau may become available in the Greater Bay area by going through the Medicine Connect program (a similar Pilot Zone to Hope City). The program has been endorsed by the National Medical Products Administration (NMPA) and seven other regulatory bodies.
The Greater Bay area is one of the most affluent and populous regions in China and will be an important port for China access. It will help generate real world evidence (RWE) that could, in turn, encourage formal approvals in the country.    
More recently, some free trade zones (FTZ), like Shanghai Pudong, are also emerging as new access opportunities. The local government in Shanghai recently published policies to support local access and RWE studies regarding innovative therapies. The policies also cover measures on CGT development and investment within the Pudong FTZ, creating:  
Tax exemption for R&D spending
Green channels on regulatory evaluation
And, most importantly, genetic resources security management at local level
It remains to be seen how these measures will play out after the aforementioned guidance from the National Development and Reform Commission, and the Ministry of Commerce. To progress, it will be important to monitor the situation closely, engage stakeholders, and go through some trial and error.  
Last but not least, to improve affordability and relevance to Chinese patients, companies pursuing cell and gene therapy will need to proactively explore innovative funding pathways
CGTs are typically expensive. The industry will need to be proactive and creative to overcome the affordability gaps in the Chinese market. While China's National Reimbursement Drug List (NRDL) has included rare disease drugs and innovative therapies, there are still limitations and implicit price ceilings for high-priced therapies. To date, no CGTs have been listed in the NRDL.
Fosun Kite became the first company to have its CAR T-cell therapy be approved in China. The company has been exploring innovative funding pathways with insurance majors and achieved formulary listing with several Commercial Health Insurance (CHI) schemes. These include:
The Million RMB CHI
The Specialty Drug CHI
Various city CHIs such as Beijing, Changsha, and Suzhou
JW Therapeutics joined forces with MediTrust, a pharmacy benefit management company, for innovative financing solutions for its CAR-T therapy Relma-cel. The scheme include:
Installment payments
Credit and mortgages from family members
Outcome-based payments
Adverse reaction coverage benefits
The scheme has gained good initial traction, benefitting over 30 patients within one month of launch.
Gene therapies may see more challenges with the treatment cost. To overcome the potential sticker shock, companies would need to be proactive in demonstrating the unique value as a one-time cure and exploring different options to improve access and affordability for the patients in need. 
In summary, China's CGT industry has seen vibrant growth, and will benefit from collaborative and creative approaches to shape policies, accelerate access, and improve affordability in parallel.
If you would like to find out more about China's cell and gene therapy industry, read Bruce's column in Pharmaceutical Executive's quarterly magazine.
---
Our Cell & Gene Therapy Insights
Further reads: 
Cell & Gene Therapy: Curing the "Incurable"
Launch planning for cell & gene therapies
International Price Referencing in CGT 
How Pharma can Overcome Barriers to CGT Diagnostic Testing 
Value-based care toolkits for cell and gene therapies