Sustainable products aren't the forte of most logistics companies. To encourage latecomers and enable frontrunners to reap their sustainable product's full potential, optimal monetization is key. Defining the perfect price model is the basis for this – we show you how to go about it.
The need for more sustainability has reached the logistics industry – however, the response of the companies is still rather restrained. It's high time for this to change – that's why we're explaining in the first part of our four-part blog series why awareness for sustainability is now important and in the second, how to develop a sustainable logistics product.
Next up is how to monetize those sustainable logistics products most effectively and which potential price models are suited best for this endeavor.
Customers want companies to provide them with simple sustainable solutions
As we pointed out in the last article of this series, when it comes to monetizing sustainability, companies (e.g., GLS) often simply add a surcharge to their price. On top of that, it is quite common to offer additional incentives to increase sustainability: From the Qantas group, consumers receive ten frequent flyer points per dollar spent on carbon offsetting. 
How are different monetization models evaluated by consumers? According to our Green Logistics B2B study (where we surveyed over 400 companies across the globe that use logistics service providers), customers like simple solutions, such as a uniform green product for everyone. This is indicated clearly in our survey, where participants allocated on average 27 out of 100 possible points towards a standardized green product. With only 17 and 16 points, optional surcharges are by far the least attractive price model.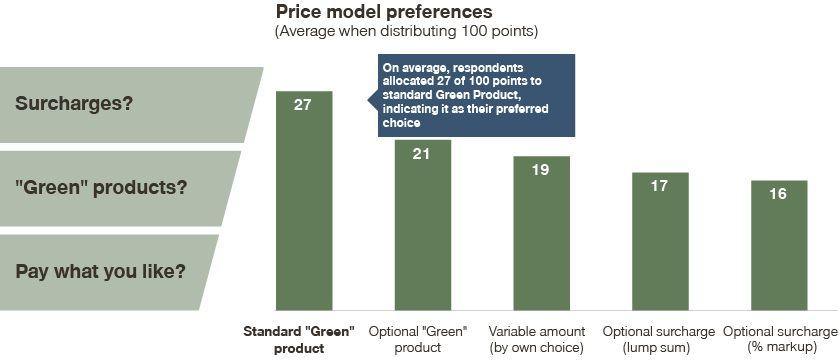 Why is that? Customers seem to prefer leaving the decision whether to use a sustainable product to the logistics provider. Transferring the responsibility for sustainability from the company to the customers could create in their point of view a competitive imbalance since costs won't be distributed evenly. From the customer's point of view, it is not realistic to rely on voluntary action by the industry.
Differentiated customer segments and their willingness to pay
Switching back to the supplier's point of view, even when offering a standard sustainable product, price differentiation is still a must. After all, not all customers have the same needs and willingness to pay can differ greatly. In our study, we divided companies into four segments:
the "Climate Activist", with an extremely high importance of sustainability and an associated high willingness to pay
the "Dutiful", who considers being more sustainable an important ask, but doesn't see it as a personal passion
the "Follower", who appreciates simple access to sustainable products and will use them if readily available
the "Ignoramus", who is relatively indifferent to the topic of sustainability and accordingly has hardly any willingness to pay for it

As you can see, regional differences exist, although it seems that the extreme positions are most popular.
Since all these segments show a different interest for carbon-neutral logistics solutions, as well as different willingness to pay, it is crucial for logistics companies to know the different customer segments and their corresponding sizes. Only then it is possible to design tailored solutions and to monetize sustainability effectively. 
Effective monetization strategies addressing different customer segments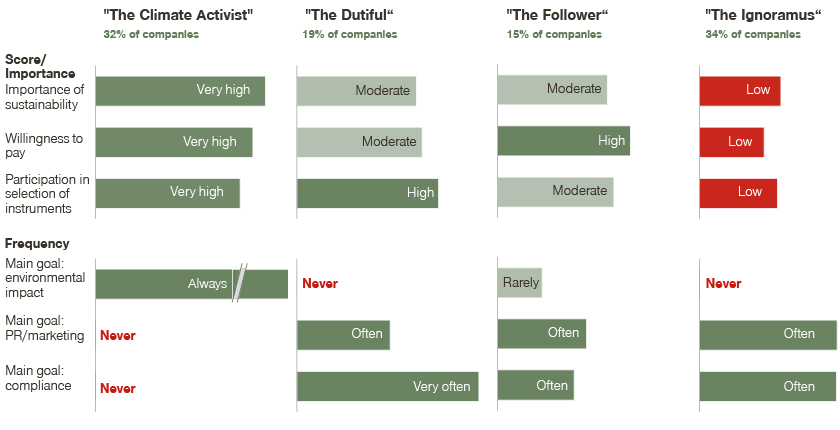 When considering how different the needs really are between the customer segments, it is obvious that a "one size fits all" offering cannot be optimal: Investments into a CO2-neutral service by the logistics provider are never appreciated or even compensated by a certain customer group, whereas for other customers, the service isn't even "green" enough.
On the other hand, giving the customers the possibility to select sustainable service components purely voluntarily is likewise suboptimal: Not only does it add complexity to the purchasing decision, which the customer often rejects, it also increases the perceived risk that a freely chosen, non-standardized surcharge will lead to a competitive disadvantage.
In contrast to that, offering different standard packages for different degrees of sustainability has distinct advantages. A clear portfolio, e.g., in the form of three different options (Good – Better – Best), can offer both simplicity and clear guidance towards an upsell path (if designed properly). It allows logistics companies to exploit the willingness to pay of e.g., the "Climate Activists", but at the same time provides a less expensive alternative for the "Ignoramuses". 
The challenge, however, is to integrate such a concept just for the sustainability aspect of a logistics service in the existing service portfolio – which might already show a certain complexity: How could e.g., a sequence of sustainable offers look like for a customer of 3PL services, using trucking, warehousing, and logistics management services? There might exist a multitude of measures, ranging from usage of different fuel types or e-vehicles to solar panels on the warehouse roof or travel policies for the staff.
The more complex the services (and their different features and varieties) are, the more challenging it is to design an appropriate portfolio. This is where it helps to have a high degree of experience and expertise in the field of packaging and bundling.
Summary: Start now – but with a phased implementation
Monetizing a sustainable logistics portfolio is not trivial. Above are a few of the existing options, which need to be adapted to each company's specific conditions in order to work. Before implementing any new, sustainable product, every logistics provider should therefore prepare carefully and identify existing (sustainability-related) segments in their customer base, as well as their corresponding sizes today and in the near future. Only then they can simulate (price) implications to ensure that the portfolio is correctly designed and optimally priced. A stepwise or even pilot testing approach is generally recommended for this type of implementation to avoid the risk of dissatisfying or even losing customers.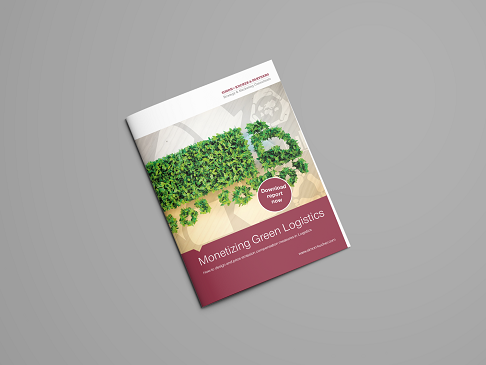 Monetizing Green Logistics
How to design and price emission compensation measures in Logistics