In this article, we provide an overview of the telehealth landscape in Asia, focusing on China, India, Singapore, and Indonesia (ASIA-4), and discuss steps that telehealth providers can take to fully capture their monetization potential.
There's no arguing that telehealth exploded last year– the category received funding worth 4.3 billion dollars in 2020 globally. Although the COVID-19 crisis catapulted telehealth into the spotlight, in Asia the industry has been quietly developing over the last decade, largely driven by growing internet penetration and increasing demand for better health systems.
Who provides telehealth?
Telehealth is provided by a host of players in the healthcare ecosystem – from hospitals and clinics, to insurance companies and venture-backed online telehealth platforms. Core offerings include e-booking of tests and appointments, e-consultation with healthcare professionals, and e-pharmacies, while supplementary offerings may also include disease management programs, packages and portals, own insurance plans, and business-to-business or business-to-healthcare provider offers. Typically, venture-backed online companies lead the way in ASIA-4 and are the focus of our case studies throughout this article.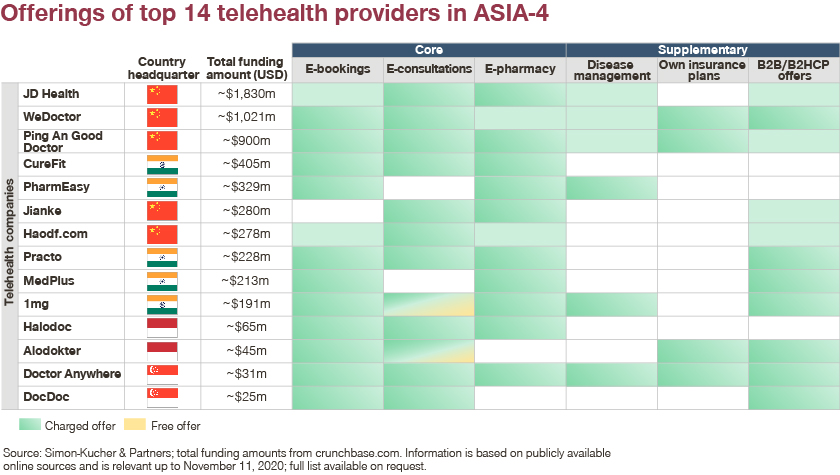 Looking at the top 14 venture-backed telehealth providers in ASIA-4, there are three key takeaways:
1. Just the basic offering is not enough:
The majority of companies provide the core offers in their efforts to become the "one-stop shop" for key healthcare needs – all provide two out of three of the abovementioned core offerings and around 80 percent provide all of them. Companies have also customized these offers to local taste, illustrated by family doctor packages in China and Ayurveda consultations in India. The task at hand is to fine-tune their offers, while competitors have to at least match their offers and potentially carve out niche offers to stay competitive.
2. B2C monetization is just the beginning:
About 80 percent of companies are making inroads into B2B or B2HCP models. Practo in India offers a selection of products such as clinic management software, integrated healthcare records, and in-app advertising to clinics, hospitals, physicians, and corporates. WeDoctor Cloud in China provides a range of offers to clinics, governments, and corporates, from pension management and data processing to Artificial Intelligence diagnosis. These are promising routes that companies should continue to pursue as key revenue streams, or begin considering if they haven't done so yet.
3. Growing need for vertical integration along the value chain:
Although around half of companies offer disease management services, there is a long road ahead for these to become truly comprehensive offers. Examples include 1mg's diabetes care subscription plan, Doctor Anywhere's chronic disease management program, and CureFit's multitude of wellness offerings. In the same vein, only few companies provide their own insurance packages. Companies should either consider filling these gaps with their own offerings or by collaborating with partners, depending on their strategy.
Four actions toward sustainable profitability for telehealth providers
Based on Simon-Kucher's observations and experiences in the field, telehealth providers should focus on four key actions:
1. Unlock the right access:
It is crucial for telehealth providers to re-examine funding and partnership models so that they achieve scale. Although users in Asian markets traditionally pay out of pocket, there is significant interest among private payers to get involved – a huge access opportunity that some companies have already tapped into. WhiteCoat partnered with private health insurer AIA HealthShield to cover 50,000 video consultations per insurer and 1mg has partnered with seven private insurers. Full integration within private insurance ecosystems, such as HaloDoc's integration within Prudential's digital platform, is an avenue to take this a step further.
Although most governments are at early stages of interest for funding, with China as an exception, this too is picking up given the COVID-19 crisis. With public health in the spotlight, companies should take this opportunity to capitalize on partnerships and funding opportunities unique to their market setting.
2. Think customer-first:
Although customer-first is a well-known business principle, tech companies often evaluate the needs of customers after the product is designed or is in the market. In contrast, when following a customer-centric approach, the offering is designed the other way around. This is all the more complex as telehealth providers typically deal with several types of stakeholders, including patients, physicians, payers, and advertisers. Here, companies need to ask themselves several key questions: Does the current offer address key unmet needs for stakeholders? Does it contain features which stakeholders do not value? Are the current features suboptimal? Does the offer cater to the key segments? Are there opportunities to bundle or package offers by segment based on value?
Taking disease management subscription plans as an example, such as 1mg's diabetes care subscription plan, customers can benefit from savings on several purchases (medicines and delivery fee, lab test, consultation), early access to promotions, and digital health monitoring tools and analytics. Broadly speaking, these plans have done a good job of covering the key needs along the patient journey. However, more often than not, they can sell themselves short by overfitting too many features that customers either do not value (e.g., digital health monitoring tool) or value much more than the current price tag (e.g., free medicine delivery). Additionally, configuration of bundles and plans may be leaving money on the table by not establishing premium features for high willingness to pay segments (e.g., e-consultation with top well-known endocrinologists on panel). All these topics should be explored and examined for each offering, supported by a solid business case.
3. Review revenue models:
At Simon-Kucher, we typically advise our clients that how to charge is even more important than how much to charge.
How to charge is mostly about selecting the right price metrics and models. Revisiting price metrics may be worthwhile to fully capture offer value. For instance, although price per e-consultation is the most common metric, companies can consider different metrics, such as pay as you go (per minute), or flat rate (per month). Companies should also consider differential pricing by bundling different features. Keeping the e-consultation example in mind, features could be type of doctor (e.g., specialist, general practitioner), popularity of doctor, urgency of queries, communication method (e.g., video call, text, email), and inclusion of follow-up appointments, to name a few. While we do not attempt to cover the world of price models in this article, here are some typical models: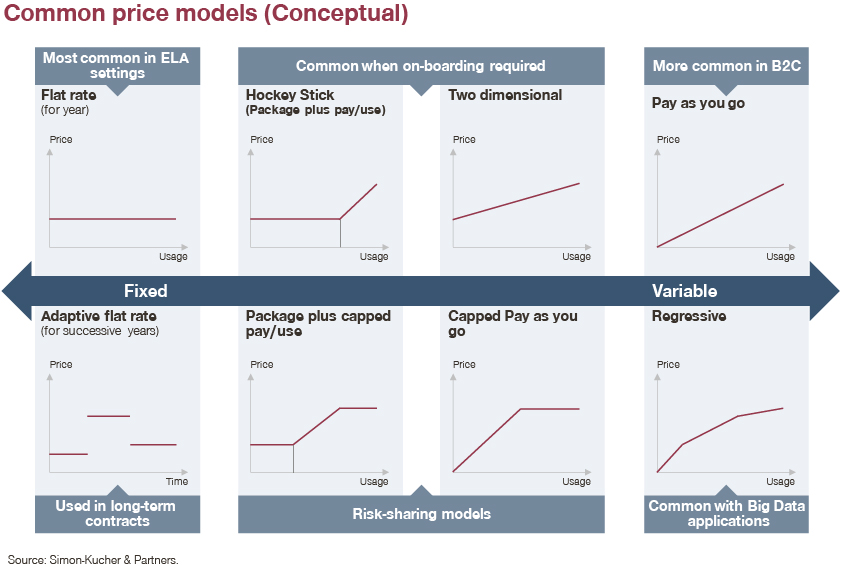 On the other hand, how much to charge is centered on understanding customers' willingness to pay. We are staunch believers in having the willingness to pay talk early on in the product and feature development phase, rather than only post-launch.
4. Unleash the power of value communication:
Clear communication, behavioral economics, and targeted messages by segment are often underestimated. Something as simple as clear communication to articulate unique selling points (USPs) can be the differentiator from competitors, while using behavioral economics and leveraging human biases and tendencies can be the gentle nudge that customers need to make a decision. Segmenting communication can also be very useful to retain customers at key points along the purchase journey – for instance, to prevent drop-off from cart to purchase.
Monitoring value communication of competitors in the broader field of e-marketplaces is a great starting point. Deliveroo and Uber are examples of companies with clear communication, applying behavioral principles such as time pressure, loyalty status, gamification, and use of differential value communication. Keep in mind that value communication is not a one-time activity, but should be re-evaluated regularly based on empirical evidence (e.g., A/B testing).
Simon-Kucher's behavioral economics toolkit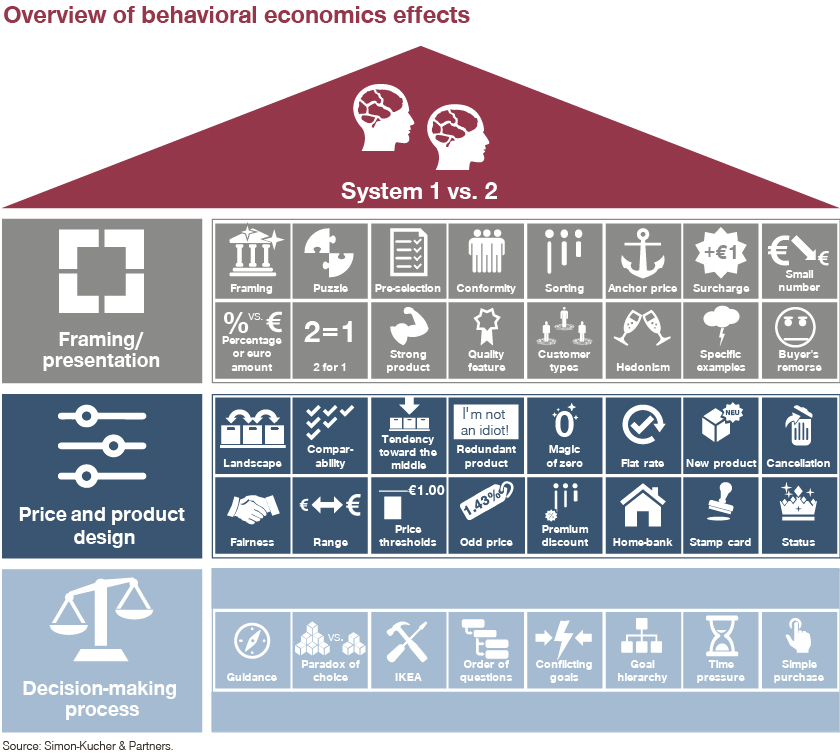 Companies that begin the groundwork for these four actions will build a competitive advantage in the field by knowing their customers and tailoring their offerings as part of a broader monetization strategy. 
Special thanks to Winnie Tan for her valuable research contributions.