Trends 2021: How Business Will Change as the Crisis Persists
December 09, 2020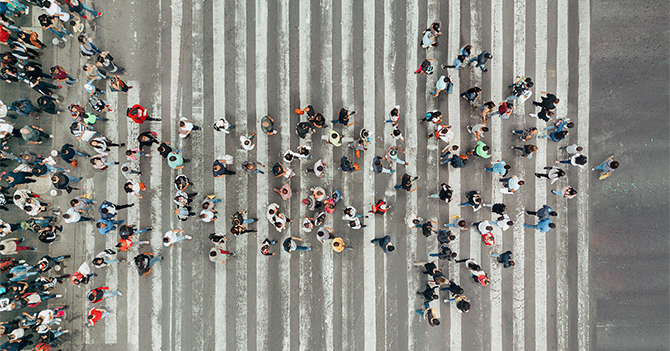 The COVID-19 crisis will continue into 2021, and businesses will need to be agile to keep up. A reorientation toward profitability, remote selling, and a new definition of value are just some of the trends that will require commercial agility in the coming year. However, beyond the crisis, agility can also be a major competitive advantage, unlocking new opportunities for businesses as the world changes.
Since the severity of the COVID-19 pandemic became clear in the second quarter of 2020, at Simon-Kucher we have emphasized the crisis would be a resurgent crisis, with multiple episodes of government interventions, sudden stops, and uneven restarts. Unfortunately, this assessment has borne out, and it is now very clear that this crisis will continue in its current form at least into the first half of next year. After that, we will start to see the true damage inflicted on our economies and the resulting fiscal tightening programs. We are still a very long way from any kind of normality and equilibrium, and until we get there, companies must take urgent steps to improve their commercial agility and make resilient design, sales, cost management, and pricing decisions with unprecedented speed and flexibility.
Reorientation toward profitability
Last year, when anticipating the trends for 2020, it would have been impossible to foresee how the world would be changed by the pandemic. However, we made one prediction and we believe that it still holds true. The immense growth of the previous decade had to eventually give way to a drive towards more sustainable business models, rather than simply "growth at all costs". The crisis has only accentuated this message, with sustainability evolving into a much more decisive term: resilience.
When the furlough and support schemes end, there will be a clearer picture of a company's ability to withstand the crisis – separating those propped up by government intervention and support schemes from those with a resilient business model. Tech guru Scott Galloway hit the nail on the head when he said "I believe we are seeing the mother of all shifts from a focus on growth to margin. Value stocks, as of late, have outperformed growth stocks as investors return to margins and the markets reel from the scars of peak growth."
Resilience is used in many business contexts, but in terms of surviving a resurgent crisis, it has two very specific meanings. First, it means a strategic trade-off to consciously re-prioritise away from revenue growth at any cost towards a drive for underlying profitability. Businesses with incredible revenue growth but no underlying way of actually making money were simply not resilient enough in this crisis. The time for razor-thin margins is over, as is the time of preserving "strategic" customers through cross-subsidization and holding onto loss-making products.
Second, this is the ideal time to implement – and even force – shifts to recurring revenue models such as subscriptions. The coronavirus has exposed that many businesses are hopelessly transactional, meaning when the demand goes so does the revenue. For many businesses, the idea of recurring revenue models has been residing on the list of "down the road" transformations that seemed too difficult, expensive, or disruptive in a stable or growing market. But right now, the advantages of shifting to a subscription model can be a matter of survival, even if the initial transition is not yet optimal in terms of execution.
The advantages of having a locked-in, dependable, and forecastable revenue stream are multifold, and are now recognized even in industries where subscription was the less obvious path. In September, Pret a Manger launched its £20 monthly coffee subscription service and welcomed 16,500 subscribers on its first day. "We need to move fast and we need to evolve and we need to innovate. And I think we need to take some risks," explained CEO Pano Christou in his interview with the Guardian.
This crisis shows more clearly than ever why capital markets have consistently valued one dollar of recurring revenue at around four times as much as a dollar of one-time revenue. Higher quality revenue streams like subscriptions are simply more valuable – in good times but especially in bad. All businesses should look very hard at their revenue model and make 2021 the moment to move from theory to reality when it comes to recurrent revenue.
New economics
Commercial agility doesn't come for free. Rebuilding products and sales teams, developing new revenue models, adapting to new regulations, and overcoming a range of unexpected hurdles requires investment. Earlier this year, we at Simon-Kucher anticipated that the pandemic would lead to a cost surge coming through the value chain. However, so far, inflation has remained very low. The question is, how long can this last?
We are starting to see the early signs of inflation in some markets and that is no surprise as we suspect that the cost inflation is there, it is just not being passed through in price (yet). From a publicity and price elasticity perspective, 2020 was clearly not the time to be increasing prices. However, cost inflation is simply being stored in the P&L until conditions normalize and government intervention falls away, and then businesses will need to increase prices to offset the cost increases. Knowing how to approach this in a professional way will be crucial, but, having been in a low inflation environment for so long, the art of price increases might be a forgotten skill for some organizations.
It will be crucial that businesses (re)learn their pricing skills in 2021, and it will also be an important point to critically assess where and how the process of pricing works in the organization. Amidst the chaos of 2020, entrepreneurialism and decentralization was the winning formula, as the ability to make quick, local pricing decisions became vital. This should give pause for thought to all those organizations who had started to embark upon plans to centralize pricing into large, corporate silos. Pricing agility will come from a careful balance of decentralized decision-making paired with thoughtful central oversight and guidance. The right people need to be empowered to make commercial decisions, which requires guidance, flexibility, and dynamism. We believe that this crisis has written the business case for investment into pricing automation and pricing software as this is the only way to make the central-decentral combination work in reality.
Rethinking sales
On the topic of commercial empowerment, agile sales is another vital trend that has been accelerated by the crisis and will continue in 2021. Our analysis pre-COVID-19 showed that almost 25 percent of field sales reps' time was spent on travelling to meet customers. When we measured compensation, we identified 40 to 60 percent lower costs for an inside sales team compared to field sales. This crisis has been an opportunity to bust wide open many of the myths about traditional sales set ups and think hard about new ways of selling that are more productive, more efficient, and lower-cost. Most sales teams have spent the past nine months selling remotely and have proven it can work. They should not snap back 100 percent to selling how they did in the past. These changes in buying and selling behaviour could unlock an entirely new economic model for sales forces in many organizations in 2021.
Furthermore, as founder of NBK Retail Natalie Berg put it "COVID-19 is going to finish what Amazon started." Companies need to accept that direct to consumer e-commerce selling is here to stay and they have to embrace it rather than fight it. No industry is Amazon-immune and COVID-19 has obviously accelerated the shift to the online model. The pandemic has forced companies to finish putting the infrastructure in place, but that does not mean that the "digital" work is done. On the contrary, the really hard work starts now as companies wrestle with digital monetization. Nobody can take their offline business model and simply transfer it to the online world even with their investment in digital assets. Digital has different profit dynamics: customer lifetime value and acquisition cost are the money-making drivers here. This will require businesses to find new talent and new capabilities, such as CRM, a new offer, new pricing, and a new brand promise.
Once the dust settles in 2021, the real digital challenge will be laid bare: how to make the economics of digital work and deciding whether and how to two run models in parallel. Some businesses will make the move to a fully digital model and will close down physical operations. Others will explore ways to make digital a value-added addition to their channel strategy. But everyone will have to work out how to make money from digital one way or the other.
New definition of value
Of course, once we are free to leave our homes without restriction in 2021, there will be a shift back toward physical buying channels. But it won't all shift back. And even if just five percentage points of sales fail to return to the high street in 2021, fixing the economics of digital channels will be necessary for long-term survival. Surprisingly to some, even in very mature ecommerce markets like the UK, online retail was still only a relatively small part of the overall retail economy (only 19 percent in 2019). That has now shot up to 26 percent during the crisis. The question is how many of these shoppers will remain online? And of the ones that return to traditional channels, will they still have the same attitudes and buying preferences as before?
One clear side effect of a global health crisis is that it fundamentally changes deeply held attitudes and perceptions of things such as safety, security, community, and value. Customers are placing a new value on knowing the supply chain, with an increased emphasis on supporting businesses in their local community. Many will be willing to pay a premium for knowing how their products got to them, where they came from, and that the services they consume are safe. A question that every business should be asking is what will your brand and value proposition look like in a world where the pendulum swings from a transactional society and economy built on ever lower prices, lower costs, and a disposable mindset to a relationship-based society that places higher values on family, community, and safety? Businesses need to re-evaluate the value of trust and the premium customers will place on it.
Meanwhile, there is no denying that many customers have also witnessed first-hand the incredible value of convenience over the last nine months. Amazon has shown us all how a proposition built entirely around customer convenience works and they have used this crisis to double-down on their promise to bring the shop to customers with rapid delivery times and a reliable refund process.
We anticipate a bifurcation of the retail landscape between premium/local/relationship players and ecommerce/convenience players. The middle market – brands without a world-class digital proposition or high-quality customer relationships – will likely come unstuck. In 2021, a large retail footprint won't be enough and those businesses who already work on razor thin margins of two or three percent will find themselves in real trouble.
Key takeaway for businesses in 2021
Commercial agility has been a survival requirement for the last six months. However, beyond that, companies are also starting to realize there is a major competitive advantage in being more agile on the commercial side. They must keep agility, build on it, and transform their business because, whatever the economic climate, being agile enough to adapt to an increasingly complicated world is now a business necessity.